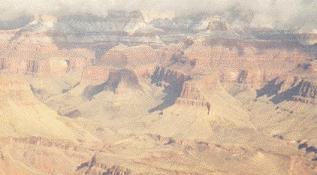 ---
Alan and Jonna's New Year's Eve trip to the Grand Canyon
For our first New Year's Eve together, we wanted to do something special. Since it was the start of Y2K, we thought we should also go somewhere spectacular to watch the end of the world (should it actually occur). We decided on a long weekend at the Grand Canyon. We called and found lodging at the Yavapai Lodge (aka the Guava Pie) for New Years Eve. We drove down from Boulder in one long day and arrived in the early evening to check into the lodge. We spent New Year's Day seeing the lookouts along the South Rim and hiking some of the trails. A couple of Jonna's friends work for the park service, so we stayed in their cabin the next night. Then we stopped in Moab, UT for a final night before returning home.

Here are some of our photos from the trip.

1) The highlight of the drive was definitely going through Monument Valley and seeing all the beautiful rock formations. Here Alan is demonstrating how the rock formation in the background looks like the Sphinx.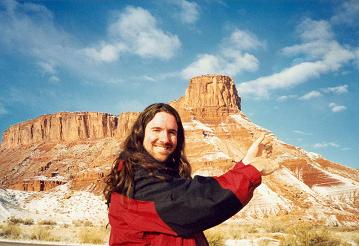 2) We stopped at many of the overlooks along the south rim to enjoy the amazing views. I think this photo is from Yavapai Point.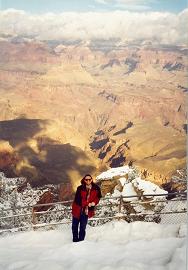 3) We knew ahead of time our budget wouldn't allow us to stay at the El Tovar or the Bright Angel lodges, both right on the rim, but we did walk through them to see the grand buildings and we also walked along the rim in Grand Canyon Village to enjoy the views from there.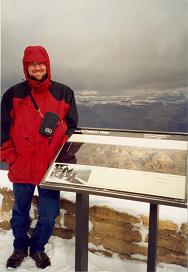 4) While the fresh snow made the panaramic views even more spectacular the wind blowing across the frozen landscape made it a big chilly.
5) We went out to the end of West Rim Drive and hiked around to Yuma Point so get the view of the west end of the canyon.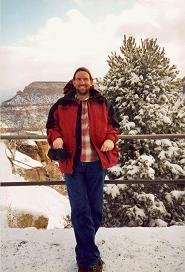 6) Our second day was a little warmer Jonna which meant less snow on the canyon but sunshine to keep us warm while we hiked the upper part of the Bright Angel Trail.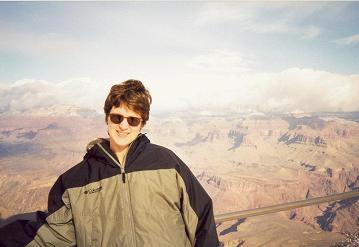 7) The Navajo Code talkers are a fascinating part of World War II history. As we drove through Kayenta I saw that the official monument to them was in a Burger King. Definitely not a fitting memorial to such an important group of veterans. It is admirable that the son of one of the code talkers build the original display in his fast food restaurant but I think a dedicated museum would be more fitting.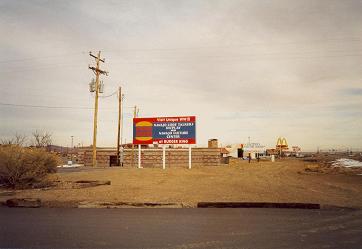 Return to Alan and Jonna's Travel Page

Return to Alan's Home Page
---
Alan Fleming