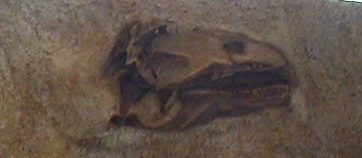 ---
Alan and Jonna's motorcycle trip to Dinosaur National Monument
In our effort to see as many National Parks and Monuments as possible we took a weekend motorcycle trip to Dinosaur National Monument in northwest Colorado over the Memorial Day holiday. We stayed at a Bed and Breakfast in Craig, CO which turned into its own story. Craig was hosting both a parade and a rodeo to celebrate Memorial Day. The clowns for the rodeo were staying at the same BnB so we had a chance to talk with them over breakfast. Those are some tough hombres and we were inspired by the conversation to go to the rodeo the next evening. For our first day we rode west to the Colorado section of Dinosaur National Monument, entering at the Canyon Visitor Center and riding Harpers Corner Road to Harper's Corner. There we did the hike out to the Yampa River Canyon overlook. After returning to US-40 we continued west into Utah and visited the Quarry Visitor Center where we saw the dinosaur bones that give this national park its name. We finished off the long day with the lengthy ride all the way back to Craig. We spent Memorial Day checking out the Craig history museum and watching the parade before going to the rodeo that evening. After getting our fill of rodeo (and Indian fry bread) we called it a day. We rode back home happy with our holiday weekend excursion.

Here are some of our photos from the trip.

1) The desert climate in northwestern Colorado leads to some cool tree shapes. The pinyon pine and Utah juniper are gnarled from the wind and dry weather, as Jonna demonstrates in this photo.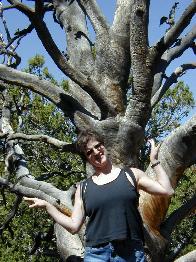 2) The view down onto the confluence of the Yampa and Green Rivers as seen from the hike out to Harper's Corner. The rear half of Steamboat Rock is visible in the lower righthand corner of the photo. This whole area, refered to as Echo Park, contains dramatic geological features and some of the state's best river rafting. Unfortunately, we decided not to tackle the 4x4 road that goes down into Echo Park on the GS so we could only enjoy the views from the hiking trail up above.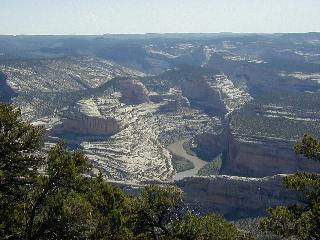 3) Looking west from the Harper's Corner trail for another view of the Green River (after its confluence with the Yampa, as seen earlier looking to the east).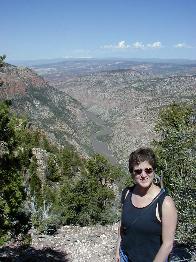 4) Making our way down the trail. The shade from the pine trees was appreciated.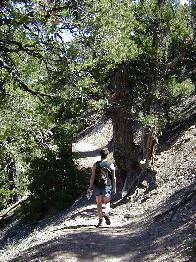 5) What an amazing geological sight! This is again looking to the east. The Green River is in the foreground while the Yampa is visible just over the top of Steamboat Rock. The confluence of the two rivers is happening just out of sight.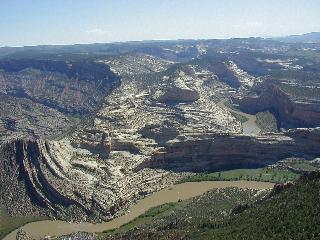 6) The bike is part of the view as well.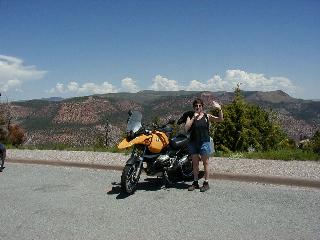 7) Dinosaur bones at the archelogical dig area at the Quarry Visitor Center in Utah. Seeing an entire wall of fossilized dinosaur bones is just pure nerd cool.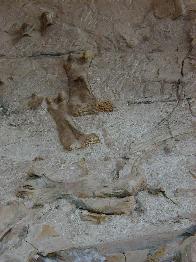 Return to Alan and Jonna's Travel Page

Return to Alan's Home Page
---
Alan Fleming