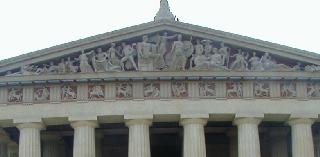 ---
Alan and Jonna's weekend trip to visit Vaughn and Dara in Nashville, TN
Nashville was on our list of cities to visit since Alan's childhood chum Vaughn was living there with his wife Dara. All the more reason to visit with Dara pregnant with little Gus.

Here are some of our photos from the trip.

1) Jonna, Vaughn, and Dara creekside behind the Old Spencer Mill at the "Southern Heritage Festival".... kind of a creepy confederate celebration.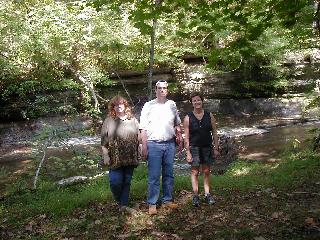 2) Vaughn and Dara at a playhouse at the Old Spencer Mill. It was made by spraying foam on a two story tower, then carved to look like wood.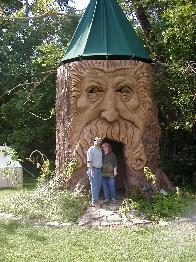 3) More of the festival grounds.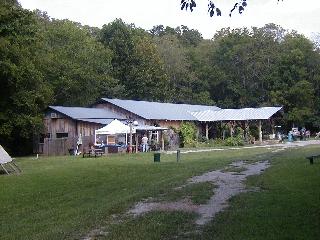 4) A peacock that lived outside the restaurant at Old Spencer Mill and seemed remarkably calm given the noise and bussle of the festival.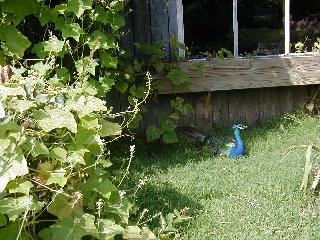 5) Jonna on one of the Nashville catfish: decorated statues that are scattered around the city.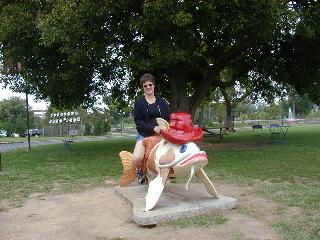 6) Alan and Jonna in front of the replica of the Parthanon, now an art museum, in Nashville's in Centennial Park.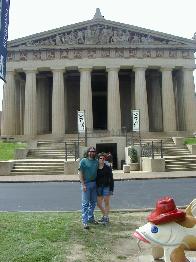 Return to Alan and Jonna's Travel Page

Return to Alan's Home Page
---
Alan Fleming