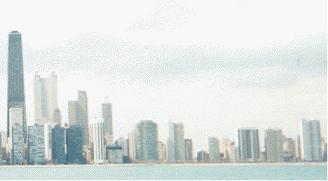 ---
Alan and Jonna's trip to Chicago, IL.
We took a weekend trip to Chicago March 26 - March 29, 2004. Jonna booked us a room at the Monastery of the Holy Cross Bed-n-Breakfast. This apartment is built into the bell tower of an active Benedictine Monastery so in addition to a comfortable, spacious living area you get the added atmosphere of hearing chanting monks and periodically catching the faint smell of incense wafting up from below. A memorable experience for sure! For our visit into Chicago we rode the CTA train into downtown (including riding The Loop). We started out by heading south along the lake shore to explore Jackson Park. We walked through the Garden of the Phoenix and then visited the Museum of Science and Industry. From there we headed north to Millennium Park and the Art Institute of Chicago to get our art fix. We had dinner with friends that night in the Greek district. A great meal and loads of fun catching up with the Jon and Sue. Our second day we headed to Navy Pier. On a whim we booked an architecture cruise with Shoreline Sightseeing and this ended up being the highlight of our trip. Fascinating. Unfortunately, I lost all of our photos from this trip except just two - both taken from the deck of the boat as we waited for the architecture tour to start.

Here are some of our photos from the trip.

1) Alan with the Chicago skyline in the background.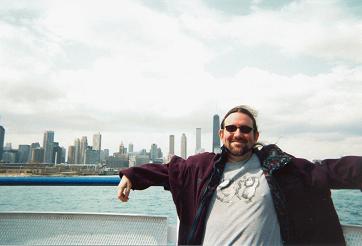 2) Jonna on the Shoreline Sightseeing architectural cruise.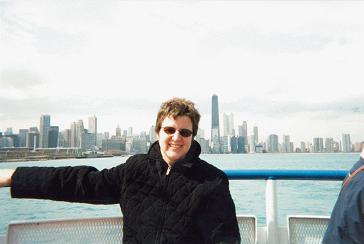 Return to Alan and Jonna's Travel Page

Return to Alan's Home Page
---
Alan Fleming