---
Alan and Jonna's Anniversary trip to Sand Dunes National Monument
To celebrate out 4 year anniversary we drove down to southern Colorado for a long weekend near Crestone. We stayed at a friend's Bed 'n Breakfast in Moffat and explored the Great Sand Dunes National Monument, the town of Crestone including a beautiful Tibetan stupa and had a great dinner in Salida.

Here are some of our photos from the trip.

1) Alan starts up a sand dune in Great Sand Dunes National Monument. The visitor center is visible in the background but the picture doesn't convey the altitude gain very well!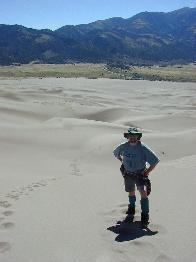 2) Alan on top of one of the dune ridges with the Sangre De Cristo mountains in the background.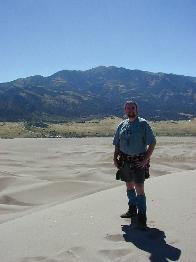 3) Jonna on top of 650' tall High Dune. The water in the camel back was crucial since it was quite warm, even in September.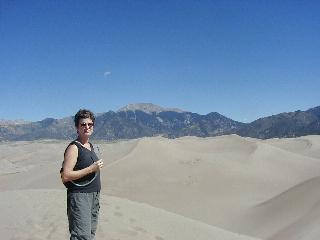 4) Jonna hiking down the creek at Zapata Falls. The 30' high water fall is in a cave so we had to wade up the creek bed to a chimney in the cave to see the fall.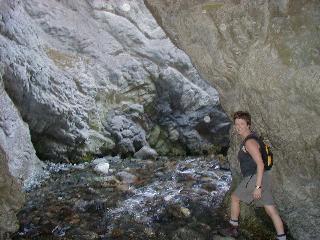 5) South Zapata Creek below the water fall.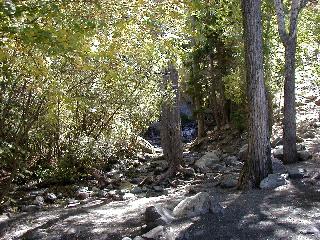 Return to Alan and Jonna's Travel Page

Return to Alan's Home Page
---
Alan Fleming