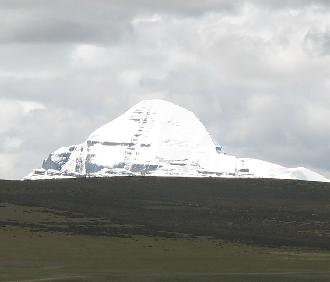 ---
Alan and Jonna's trekking trip to Tibet
Here are some of our photos of various motorcycles I saw while we were in China and Tibet, along with some road shots to hopefully show what the riding environment was like.

1) This is one of the first motorcycles I saw in Beijing. It was parked behind the China Post building across from our hotel (I had to zoom to get the photo which is why it is grainy). Despite looking "big" this bike is probably a 125cc or 150cc. The Chinese cruisers are made to look big by using a big tank and big side covers but the engines are universally small... I particularly like the USA paint job, the chromed tail trunk and the dual stacked head lights.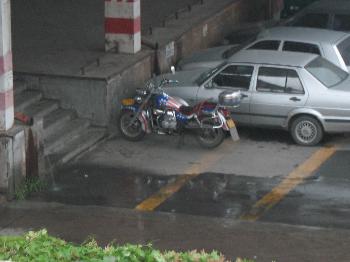 2) I saw a few "big" bikes in Beijing, like this Guanlin sidecar rig. This is a replica of a 80s era BMW...positively high tech compared to anything else I saw motorcycle wise in China. I have no idea what displacement it is but its probably also the "biggest" bike I saw there.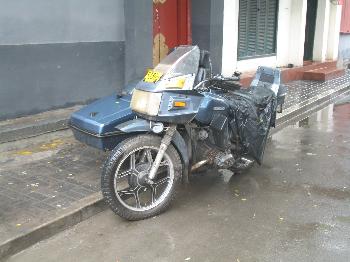 3) This is more typical of the "big" bikes. A Chinese made copy of the same model BMW used by Ural in the Soviet Union (which are made from the tooling taken from Berlin at the end of WWII). This was being ridden down one of the back alleys of Beijing by a Chinese soldier but I think this is his personal bike rather than an official military bike.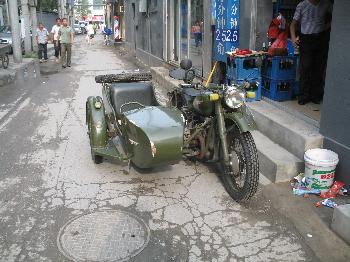 4) The Beijing airport had this big "BMW Lifestyle" shop. Move over Harley, its time for us radical BMW riders to adopt a lifestyle. Bitchin' black textile gear and a "Loud ABS motors save lives" sticker for the $600 Schubert anyone?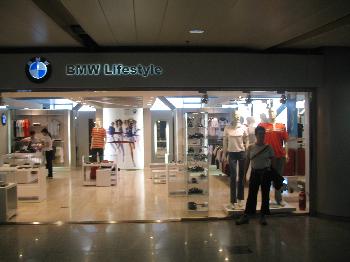 5) The Chinese police in Lhasa ride a variety of bikes. I think this is one of the Suzuki GN125s but it could also be a Chinese made bike. I saw officers riding both.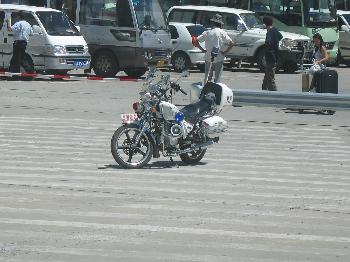 6) A real life Honda. You see hundreds of the Honda "wing" stickers in Tibet, on everything from bicycles to tractors to trucks to motorcycles, but this one is the real thing. Even more interesting, it is one of only three sport bikes I saw in Lhasa (the other two were Chines made Zhongshens).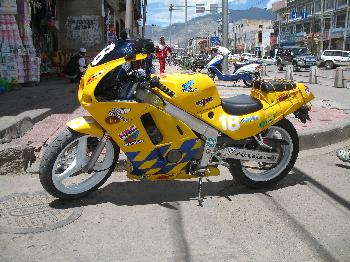 7) Here is the first road shot of the series. About an hour outside of Lhasa is Kang Bala pass. Unlike most of what we saw in Tibet, this road is paved. It is incredible. 50 miles of switchbacks climbing up 3,000 ft of elevation to a stunning view. However, was prevents this from being motorcycle heaven are the myriad obstacles to be found: dirt, gravel, wild animals, stopped vehicles, big trucks, water, and much, much more.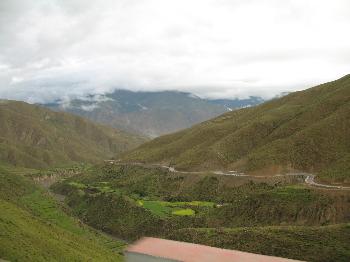 8) This is photo of Kang Bala pass, this time looking up from one of the lower switchbacks. On our driveback down, we nearly earned a motorcycle hood hornament going around one of the switchbacks when our Land Cruiser and a motorcycle both tried to occupy the same section of pavement at the same time.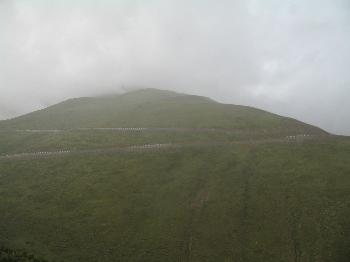 9) This is perhaps the most common form of transportation in Tibet. These tractors put along at a walking pace on any road in any conditions. However, this photo is mainly to show the layout of the paved roads. There are no shoulders and instead there is usually a three foot deep block ditch on both sides of the road. Since there is no where to pull over, vehicles just stop on the road when they need to stop. You don't want to crash a motorcycle on these roads and you definitely don't want to go flying around any blind corners at top speed.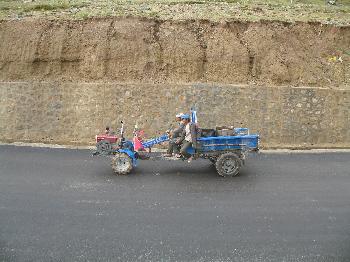 10) We were on paved roads for two of our five days of driving through Western Tibet. The rest of the time was spent on something glamrously described as "dirt" but, as this photo shows, it was really a lot of mud. There isn't any kind of road base, just a trail going out across the tundra.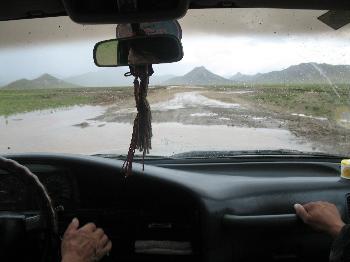 11) Don't ever have solid plans in Asia. Sometimes bridges get washed out or roads are under construction. Sometimes there are ways around and sometimes there aren't. Fortunately there was another way across this river further upstream, so we weren't stopped cold by this bridge outage.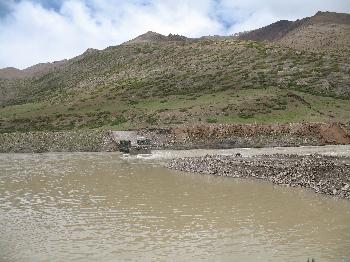 12) This is a typical road. In the summer the permafrost melts, turning the tundra into a mud bog. In a Land Cruiser you just pick a line, shift into 4 wheel low and churn your way through. Motorcycles sometimes go around across the tundra and sometimes just churn their way through.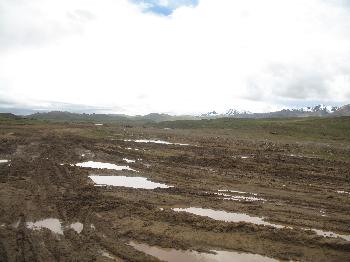 13) Okay, so the photos above show what things are like in the valleys. The roads up on the passes are usually a little firmer (but not always). Still, its the views that make the drive worthwhile. I don't remember the name of this pass but as you can see, the view back down the valley is pretty impressive.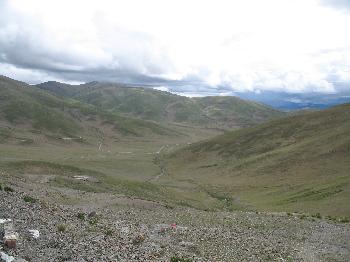 14) This is typical. We slog all day long through mud filled valleys and over 16,000 + foot high passes in our Land Cruisers. There are times I'm sure we'll get stuck and be there for days. Then, while parked at the top of 16,500 ft high Saga La Pass, some guys rides by on a little Chinese 125. I'm convinced these guys are dropped in by parachute. This is also the most common bike of Tibet...I'll describe it more below.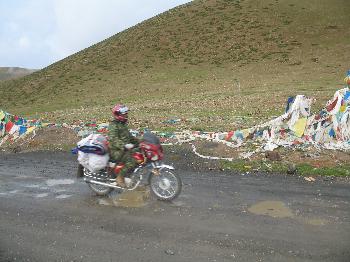 15) This kind of stream crossing is just constant. We easily did 20 of these per day. The fact that guys could get across these water crossings on 125cc street bikes still amazes me.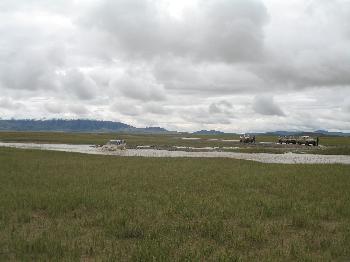 16) You might think this is a phot of the roadside but its not. This is the road. There were three distinct channels in this stream crossing, each a few feet deep.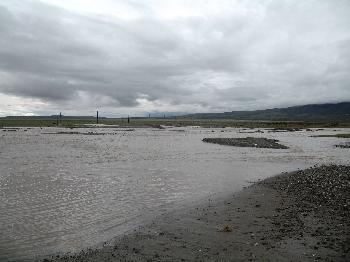 17) This cruiser (with stylish Pepsi can exhaust gasket) was parked in front of a tea house tent we stopped at on the Mt. Kailash trek. The tea tent was located about five miles up a river bed. We hiked a single track goat trail to get there, yet there it was, another little (150cc four stroke) motorcycle. It suffered on the trip up, though. The left side was pretty beat up and the headlight shell was busted open.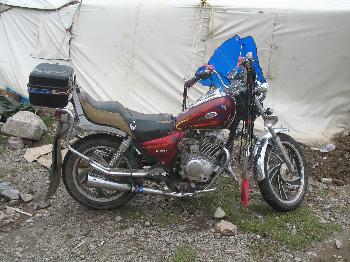 18) This one is my favorite bike photo. We'd hiked 14 miles this day and were on the north side of Mount Kailash. This guesthoust tent is located at 17,000 ft and, despite the ease of the trail on top of this ridge, it had been a pretty difficult hike up. Yet there was a little 125cc street bike parked at the top of the hill. These Tibetan riders are world class enduro riders...lets put David Knight on a little Chinese 125 street bike and see how he does riding up a river bed!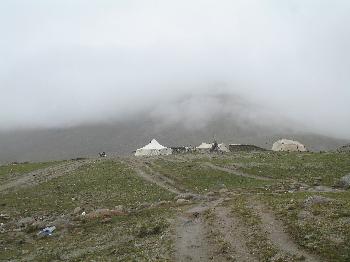 19) This is a clearer photo of the universal motorcycle of Tibet. This guy is riding his JiaLin 125 to the Chiu monastery at Lake Manasarovar. About 15 different Chinese companies all make the same bike...bolt for bolt copies of each other and all based on a Honda 125. This one also has all the customary accessories: Leg protectors (made from paper thin metal), a luggage rack (which can easily carry a couple of people and a big pile of luggage), rear mud flap, universal fairing (a square headlight opening mounted on a bike with a round headlight). Missing is the plastic spoke protector on the front wheel, prayer flags mounted on the handle bars and a rug covering the seat. There are probably Buddhist prayers decorating the rear mud flap as that was another common accessory.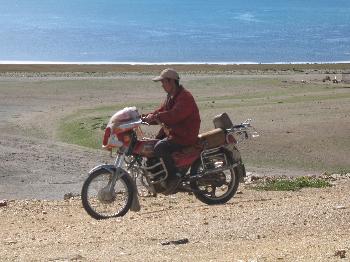 20) Note the similarities between this bike in Purang and the one shown above at Lake Manasarovar. This one has the ubiquitous Honda "wing" sticker and has a rug for a seat cover. I don't know which brand it is but its quaranteed to be different from the Jailin shown above (Zongshen, Loncin and Yonlin were the most popular brands in Far Western Tibet). .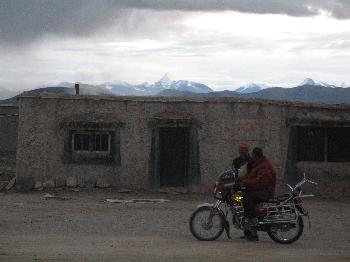 21) This guy is styling! This bike was owned by a Chinese army officer who we saw at a gas station near Mazhong in the middle of nowhere...and I mean middle of nowhere relative to Far Western Tibet which is already the middle of nowhere. He was trying to get the flat front tire fixed. This bike has some fancy styling touches (the curved five spoke wheels, the fancy rear passenger "foot guards" and multi-colored gas tank. In fact, any motorcycle any color other than red was already pretty distinctive.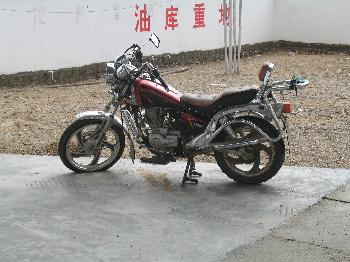 22) Just a shot of the gas at the fancy gas station in the middle of nowhere near Mazhang. If you do the math, gas is around $2.60/gallon in remote Tibet or around $.40/gallon cheaper than it was in the US when we left.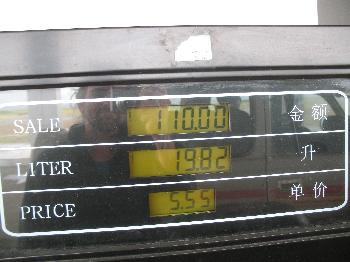 23) This is the best the road got for the five days we were driving off paved roads. This stretch of road is in a valley with very sandy soil, so there was less mud but a lot more stream crossings.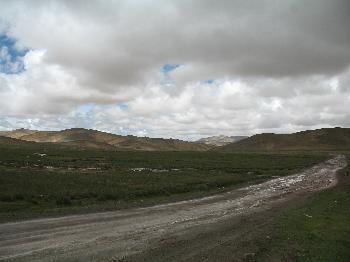 24) Another pass, this one west of the town of Saga, which gives some small glimpse of the sense of scale. The top of this pass was spectacular, with massive mountains (19,000 and 20,000 ft high peaks) visible around valley that was on the other side.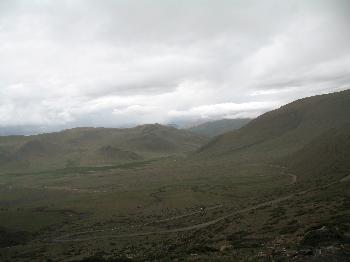 25) This is a picture that almost captures the great riding of Tibetan motorcyclists but a few key details aren't obvious. First, this is climbing up a pass which tops out around 16,500 ft. Second, the bike is being ridden two-up. The passenger is one of the two guys standing to the left of the photo watching the oncoming Land Cruiser negotiate a 12" deep mud hole. Third, the road was mainly covered with snow but mud from the afore mentioned mudhole has coated the road here. These guys are impressive riders.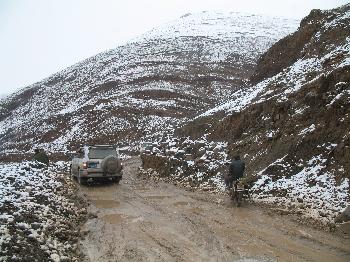 26) Snow, check. Mud, check. Stream crossings, check. Dodging stuck vehicles, check. Just another average day driving over passes in Tibet.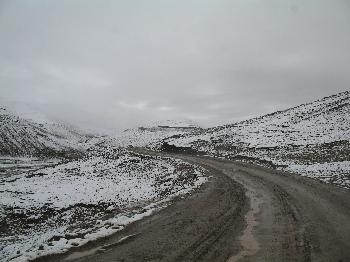 27) This was biggest river crossing of our drive. The big truck parked on the other side is waiting for the water level to drop but our driver just drove right in. The water flowed up over the hood, come in through the doors, and pushed us about 15 foot down stream. After we were across we then crossed it five more times.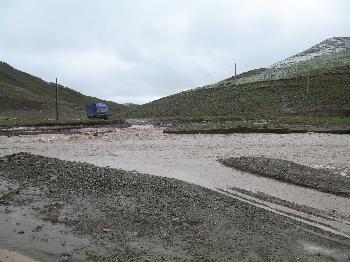 28) This part of the road is pretty mild but this section is just built up on a shelf over the Raga Tsangpo river. At places, its probably thirty or forty foot above the river. The river steadily eats into the cliff below the shelf, collapsing the road, and construction teams steadily dig the road further into the mountain side to keep it open.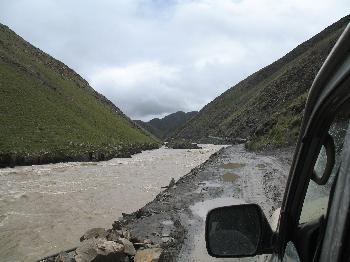 29) This is a photo looking down Gar La Pass. We came up this in a blinding fog with large nuggets of hail falling. This is one of those times when its probably nice not to see how deep the gorge is alongside the Land Cruiser. Just churn your way up through the white clouds in first gear and pretend its a flat plain in Nebraska.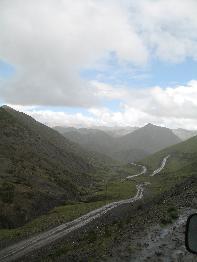 30) This is the other type of tractor that you see all over China. What I didn't get a photo of is just how much stuff gets piled on these things. My favorite was one of these we saw getting used to move grain from a field. It was piled at least twenty foot high with hay and then had three guys sitting up on top of the pile. Road hazards are common in Tibet.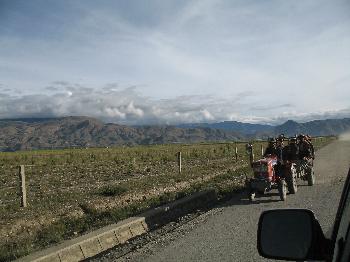 31) This is a sample of the roads we were bicylcing on north of Beijing. What I like about this photo is that is shows some of the common road signs. The sign above the road shows that its a curvy roads (the zig-zag sign) and that there is a danger of falling rocks (the...uhh...falling rocks sign).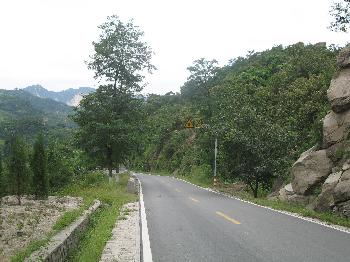 32) Another example of why you don't want to crash a street bike on the roads of China. Trees, curbs and ditches all lining the road. Talk about putting the Snell's rounded avil impact test to the test.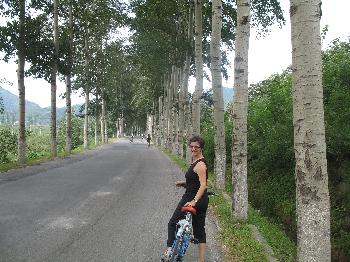 33) While Jonna was in the town of McLeoud Ganj in northern India a tour group made up of British riders stayed at her today. Here is a photo of all their Royal Enfields parked out front.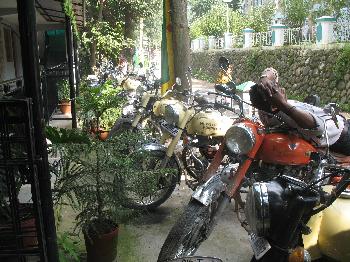 Go to the first '06 Tibet trip Photo Page.

Return to Alan and Jonna's Travel Page

Return to Alan's Home Page
---
Alan Fleming