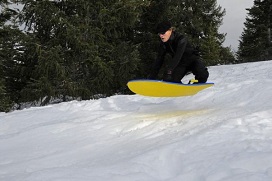 ---
Alan and Jonna's 2009 Graeagle, CA trip
For New Year's Eve we joined Jonna's brother Jamie and his kids Larkin, Brianna and Rosie for a long weekend at Jamie's in-law's cabin in Graeagle, CA. We went hiking and sledding twice up at the abandoned Eureka ski resort outside Johnstown and did a hike around the town of Graeagle.

Here are some of our favorite photos from the trip:

1) For our first trip to the old Johnsville ski area we were greeted with gorgeous weather - warm and sunny. We spent the morning sledding on the lower parts of the hill then later in the day we made a big hike up to the top. Larkin and Jamie pose at the summit just before plunging down the steep face of the ski slope on the sleds.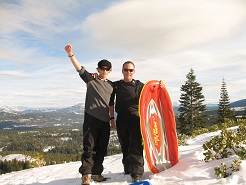 2) Photographs always flatten out the landscape but at least in this shot you can at least see how beautiful the panorama is from the top of the old ski slope. The green pole is part of the old ski lift but it has been decommissioned for years so the only way up is on foot.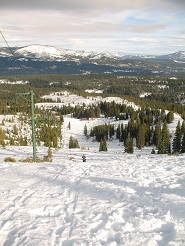 3) The snow was a few days old and it was pretty crusty. The warm daytime temperatures, combined with the mercury going below freezing at night, turned the once fluffy snow into "Sierra Cement". This made for some fast sledding! (Note how Jonna isn't kicking up any snow as she flies by in this photo - that plastic sled is just skimming across the top.)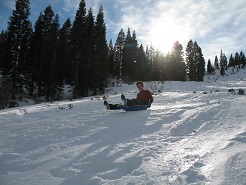 4) After a day of risking life and limb on the sleds, we slowed things the next day by going for a hike around Graeagle. Gray Eagle Creek flows through the valley next to the cabin so we did a hike to a "Swimmin' hole" on the creek and then hiked the creek all the way into town.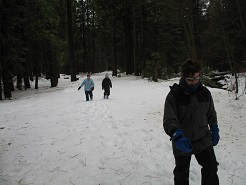 5) Brianna proving that the Graeagle Mill Pond is frozen over in the winter.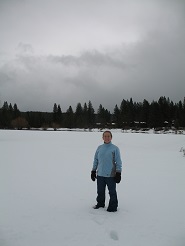 6) From the Mill Pond we hiked over to Middle Fork of the Feather River. We walked along the bank where Jamie and Brianna posed for a cute father-daughter photo.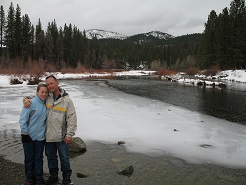 7) Rosie and Jonna built snowmen looking out across the river. Rosie even posed with hers for a photo.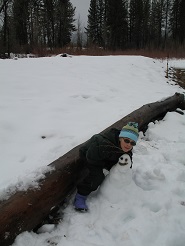 8) Back at the cabin we spent the evening playing games. Jonna and Alan taught the kids how to play charades. Here Rosie demonstrates having us guess a short word.
9) For our final day we returned to Johnsville and again made the big hike up to the top. The weather was even better and we got a great group shot before making our second run all the way down the old ski slope.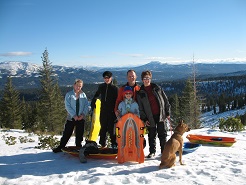 10) We also hiked down to Eureka Lake where Jamie pointed out snow covered Eureka Peak in the distance.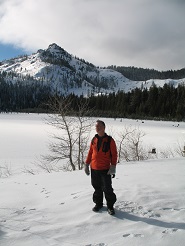 Return to Alan and Jonna's Travel Page

Return to Alan's Home Page
---
Alan Fleming