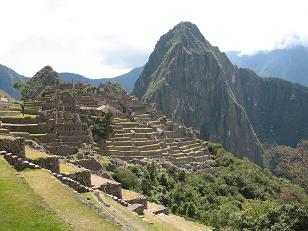 ---
Alan and Jonna's Peru and Ecuador trip
For our 2009 vacation, Jonna and Alan decided to do a trip with Alan's parents, Brenda and Harvey. After much discussion, we decided on a tour to Peru and Ecuador with Overseas Adventure Travel. This was an 18 day trip split roughly half and half between Peru and Ecuador. The Peru portion started with a couple of days in Lima then moving to Cuzco for a few days and then a train trip to Machu Picchu, finally returning back to Cuzco for a few more days. For the second half, we started the Ecuador portion with a day in the capital of Quito. Then we flew to the Galapagos islands and spent the rest of the trip island hopping on a boat. Here are some of our favorite photos from the trip (each photo is a thumbnail linked to a higher quality picture. There are six pages of photos in total):

1) To start our first day of the trip, we did a walking tour around the Miraflores district of Lima, including a visit to the Parque del Amor. The park lived up to its name with all the affectionate couples.

Lima's kissing park.
Get away from parent's house.
Frequent PDA.
2) The best meal of the trip occured on our first night. Nine of us walked to Astrid y Gaston, considered one of the best restaurants in all of Lima. The atmosphere, service, food and presentation were all exquisite. In this photo, my parents admire their appetizers before digging in.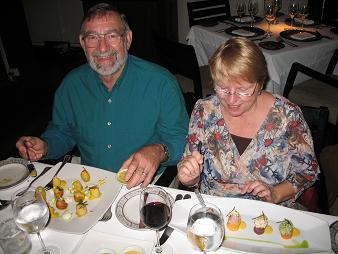 3) Our second day in Lima was a van tour of downtown which started with a visit to Museo Nacional de Antropologia, Arqueologia e Historia (the National Museum of Anthropology, Archeology and History). Jonna got this photo of Harvey and Alan sitting on a bench at a courtyard inside the Museum.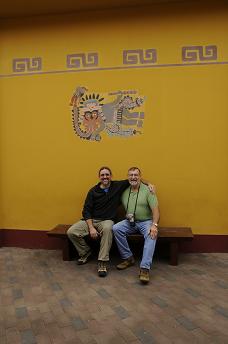 4) Among the sites we visited in Colonial Lima was the monastery of San Francisco. Inside, we toured the main church, including the world famous library and the catacombs.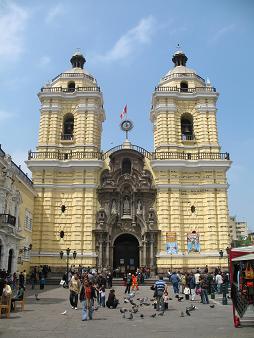 5) While driving around Lima, we stopped to try out one of the local delicacies...the Chirimoya fruit. This stand also had avacados the size of a human head.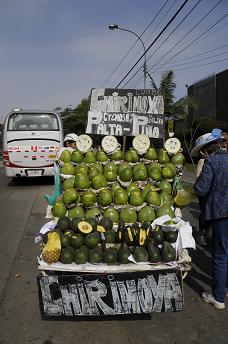 6) We finished our second day in Lima with a visit to Huaca Pucllana, a partially reconstructed eighth-century ceremonial pyramid.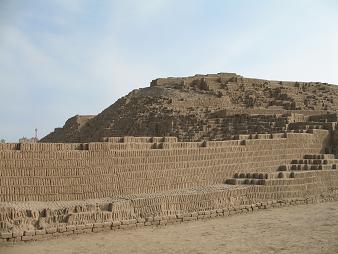 7) Our final day in Lima started with a trip to a working fishing market in the Chorrillos district. Here some of the fishermen repair their nets after fishing all night.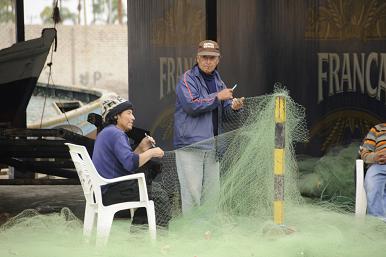 8) In addition to nets, the fishermen also use traditional hook and line but without a rod, instead holding a small wood handle. A dockside vendor was selling these pre-made lines.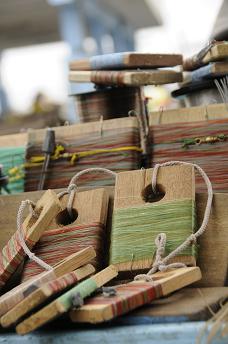 9) Much of the fish was already sold by the time we arrived in late morning but a few stalls still had displays with the night's catch for sale. I'm sure it is a tough life eking out a living by fishing all night and selling whatever you catch in a small market like this.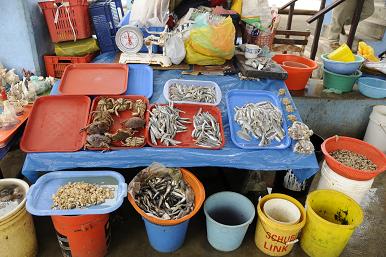 10) OAT provides a full time guide but also provides specialists for some excursions. Here are both our Peru guide Robert (left) and the guide for our day trip to Chorillos and El Salvador Jose (right).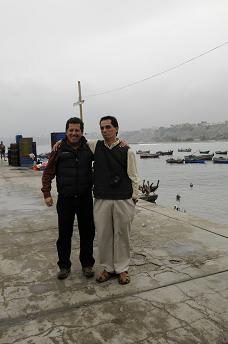 11) In addition to doing net repairs, the fishermen also have to repair their own boats.
Some work and some sleep.
Companionship at the pier.
A dying lifestyle.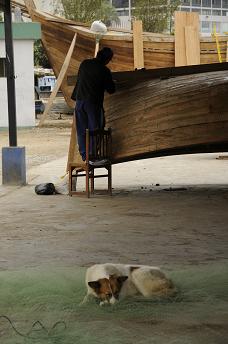 12) One of the most moving experiences of the trip was our visit to the El Salvador community, a squatter district formed in the 1970 and now housing nearly half a million people. We started our trip with a visit to the relatively new Santa Rosa area, created by now adult children of the original squatters.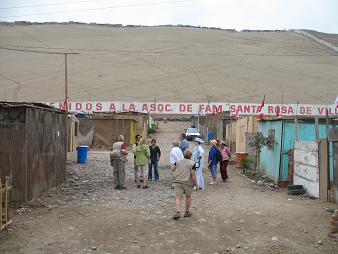 13) This small room is a community soup kitchen in Santa Rosa which provides meals for the families living in the community which can't afford their own food. The families living there provide donations of around $.50/day to fund the kitchen.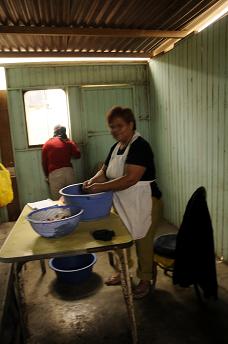 14) In Santa Rosa, we also got to visit one of the homes, in this case the two room home of Marta. Her son Enrique had completed his schooling at the communities' school and his completion certificate held a place of pride on the wall inside the front room.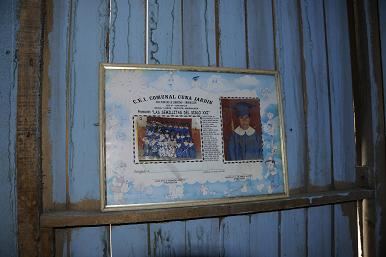 15) In the afternoon, after our visit to El Salvador, Jonna and I had the afternoon off. We went on a tour of art galleries and had amazing experience at a small gallery in the Barranco district. They were between exhibits but the owner let us into his private storage area where we spent nearly half an hour perusing the incredible paintings in his collection.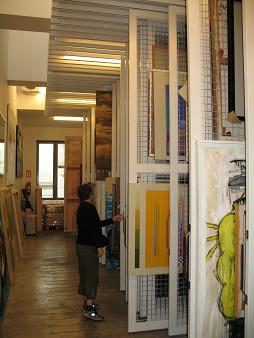 16) After Lima, we flew to Cuzco. We started spent our first afternoon with a quick walking tour around downtown. Jonna and I split off to check out the San Blas artesan district, where we found this crucifix altar.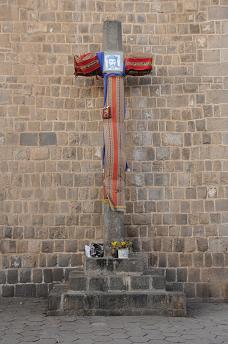 17) We started off our second day in Cuzco with a visit to the Caja Municipal market. This covered market has everything. Fresh fruit, vegetables, butchered meat, grains, nuts, spices, baked breads, packaged food, toys, and even a small deli.
Highlight of Cuzco. A morning market visit.
Many smiles and smells.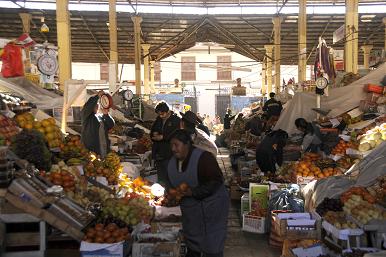 18) Alan and Harvey checking out the market.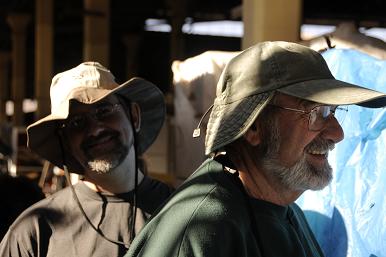 19) A woman in the market cutting yucca.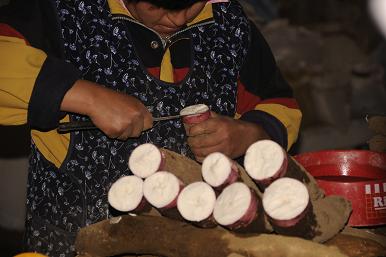 20) Traditional masks at Cuzco's city market. Some of these are masks of representing the Spaniards. These makes were made with white skin, big noses and red cheeks to poke fun at the invading Europeans.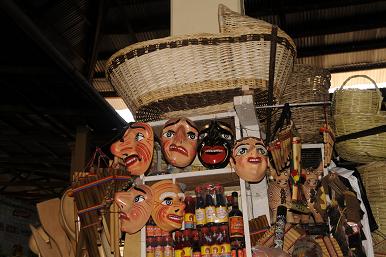 21) One of the booths in the market had these bags of dried goods for sale.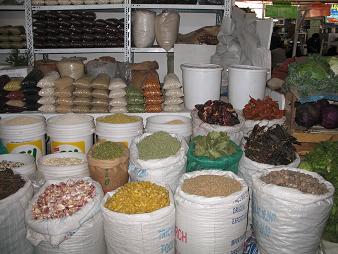 22) One of the legacies of the Inca is a huge diversity of vegetables. This woman is selling a multitude of different types of dried corn.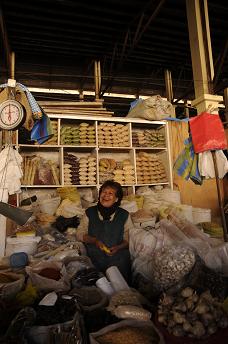 23) In addition to the Inca ruins upon which many of the colonial buildings in Cuzco were built, neary are the ruins of the temple of Sacsayhuaman. Here is Jonna at the site, across from an Incan wall built 900 years ago. The stones were so large and so well assembled that the Spaniards were unable to destroy most of it.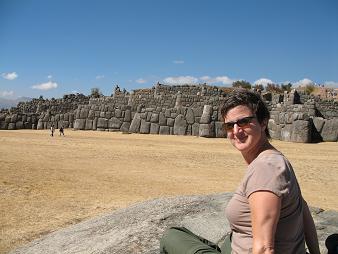 24) Alan on top of the ruins at Sacsayhuaman, where excavation is currently being carried out.
25) Group photo at Sacsayhuaman. Note the size of the stone behind our group. Massive!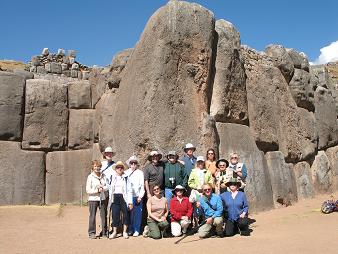 26) Restoration work being carried out on the hillside above Sacsayhuaman.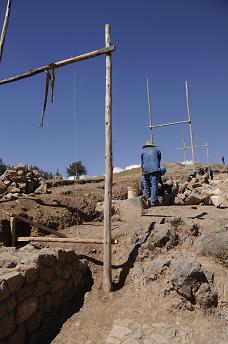 27) Just outside the Sacsayhuaman site, we found this young man in traditional dress cooking potatoes. Definitely a tourist trap but still interesting to see how potatoes would have been baked without conventional ovens.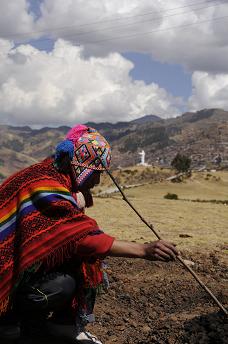 28) Our guide set up a meeting with a Inca healer. The shaman performed a healing ceremony which included this offering to Pachamama, the Incan Mother Earth goddess.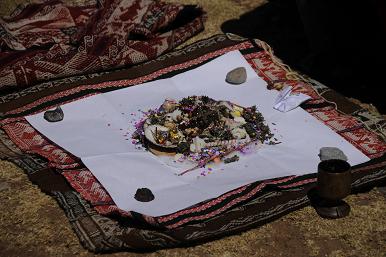 ---

Go forward to the second '09 Peru & Ecuador Trip Photo Page.

Return to Alan and Jonna's Travel Page

Return to Alan's Home Page
---
Alan Fleming