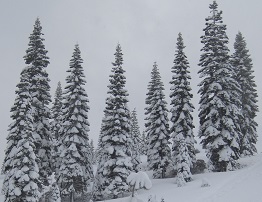 ---
Alan and Jonna's 2011 Graeagle, CA trip
For New Year's Eve 2011 we again continued our tradition of joining Jonna's brother Jamie and his three kids: Larkin, Brianna and Rosie for a long weekend at Jamie's in-law's cabin in Graeagle, CA. It was an epic year for snow - we got a fresh dump the day we arrived so the sledding conditions were perfect! We did our annual hiking and sledding at nearby Johnsville and spent the rest of the time hanging out together in the cabin - cooking, playing games, sharing stories and then having bonfire to celebrate our final evening together.

Here are some of our favorite photos from the trip:

1) Just look at all that fresh snow! In some of our previous years we were sledding on week old snow - the famous "Sierra Cement" but this year we had loads of fresh powder.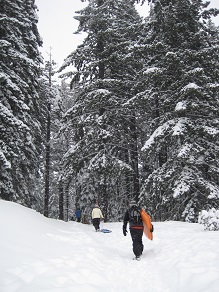 2) After sledding at the bottom of the abandoned Johnsville ski resort we started the hours long slog up the mountain for the big sled run all the way down the mountain.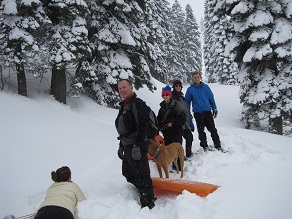 3) See epic! Fresh snow was dumping down by the time we got to the top and the snow as many feet deep on the face of the ski slope.
4) The run down doesn't take long but what a blast. This is Jonna near the top of the hill but already flying on her bonzai run.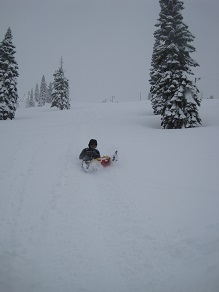 5) Jamie was trying to slow down by sticking his feet out but that just resulted in him plowing snow all over himself. The slope is just too steep to control your speed - you just hang on and hope for the best!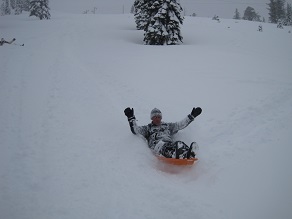 6) Jonna and Rosie heavy into cooking smoores in the final evening bonfire.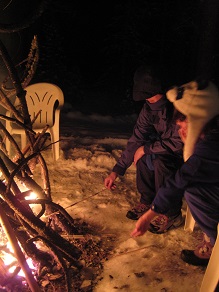 7) Brianna and Larkin also enjoying the fire.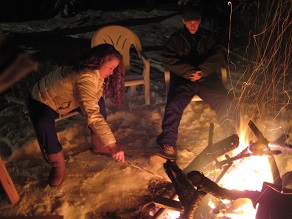 8) Our time together, like sparks from the fire, didn't last long but was beautiful while it lasted.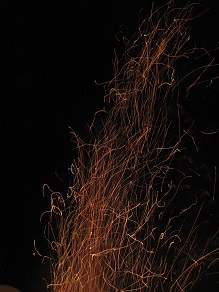 Return to Alan and Jonna's Travel Page

Return to Alan's Home Page
---
Alan Fleming