---
Jonna and Alan's trip to Nepal, India and Bhutan for Jonna's 50th Birthday celebration.
We chose a big trip for our 2015 vacation adventure in order to celebrate Jonna's 50th Birthday - A three week motorcycle trip covering 1,500 miles through Nepal, India and Bhutan with Ferris Wheels (since renamed to World On Wheels Tours) We planned to fly to Kathmandu a few days early to explore the city before the tour started but an airport snafu, caused when an airplane crash closed the Kathmandu airport for three days, changed our plans. Instead, we were trapped enroute for two days in Philadelphia. Fortunately, our niece Rosie was enrolled in ballet school in Philly so we were able to visit with her each day until Qatar Airways could get clearance to fly us to Nepal. Also fortunately, we still had one day of sightseeing in the capital, followed by an amazing tour that took us through Nepal with visits to Pokhara, Lumbini, Hetauda and Biratnagar; then into northern India for a couple of days in Darjeeling; then into Bhutan to visit Phuentsholing, Paro, Thimpu, Punakha, Trongsa, Jakar, Mongar, Trashigang and Samdrup Jongkhar; finally crossing back into India to end the trip in Guwahati in the Assam region.

Here are some of our favorite photos from the trip (each photo is a thumbnail linked to a higher quality picture.):

1) Our trip got off to a rocky start. While we were enroute on the first leg of our trip, from Denver to Philadelphia, a Turkish Airlines plane crashed on the only runway in Kathmandu. All inbound flights were canceled. We were bumped off our second leg so our flight from Philadelphia to Doha, Qater left without us. (Qatar Airlines was fantastic. The put us up for two nights in Philly and rebooked us on the next available flight as soon as Kathmandu's airport re-opened.)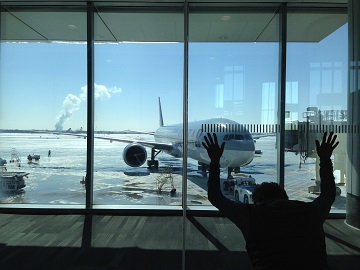 2) We ended up arriving in Kathmandu just one day before the start of our motorcycle tour so we used the small amount of time we had available to see what we could. Our first order of business was to get a cab and head out into the city. Being driven through the chaotic traffic gave us our first taste of what riding in southern Asia would be like - narrow dirt roads filled with people, animals, bicycles, motorcycles, carts, cars, trucks, buses, heavy equipment, etc.
3) We traded vehicle traffic for foot traffic when we visited the Buddhist stupa at Boudhanath. We met up with our friend Judy, who was just ending a month visiting Nepal, to circumambulate the stupa and take in the scene - Tibetan refugees, robed Buddhist monks, Nepalese street vendors and lots of tourists.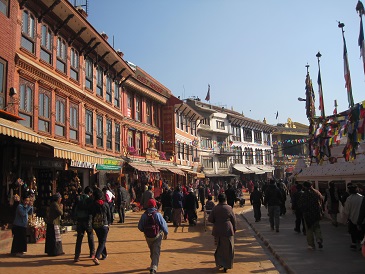 4) We posed under the famous eyes of the Boudhanath stupa for a rare couple photo. Thanks to Judy for being our photographer!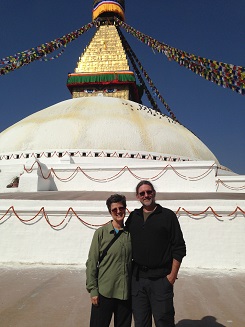 5) Nepal in general, and Kathmandu specifically, is covered with trash. We understood that a country like Nepal that is so challenged to provide its citizens with even basic services doesn't have the money to take care of trash pickup but it is still sad to see garbage dumped everywhere.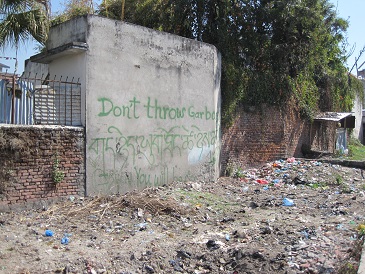 6) While at Boudhanath we visited the nearby Shechen monastery where Judy showed us around the shrine rooms.

7) Nepal's economy (and political system) has been wrecked for years and so the city is generally in a state of disrepair. Where work is being done it is primarily done with pure manual labor - like these two women who are transporting bricks to a building construction site in baskets.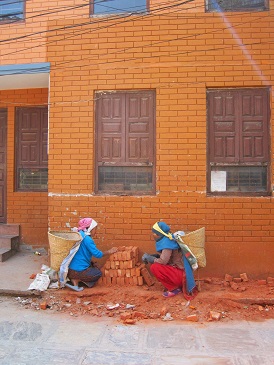 8) While there are plenty of sad sights in Kathmandu there is beauty too. This flower display, floating in a water-filled bowl, was decorating the restaurant where we had lunch.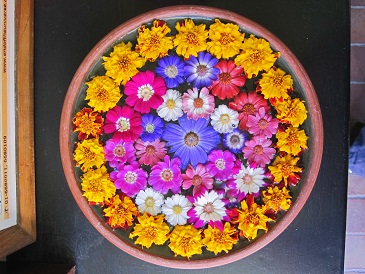 9) Our final stop for the day was the Swayambhunath temple. Here the local monkeys swarm the steps looking for handouts from gullible tourists. (We knew better than to become a target for the gangs of monkeys!)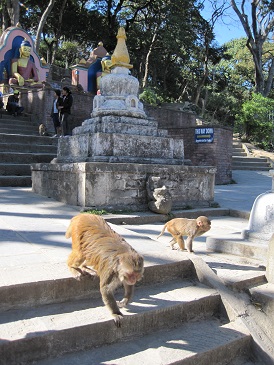 10) The stairs that climb to the top of the hill where Swayambhunath is located are imposing so we got a picture with Judy at the bottom before we all started up. This was our last sightseeing stop with her before she headed to the airport to fly back to Colorado and before we jumped on the motorcycles to start our ride.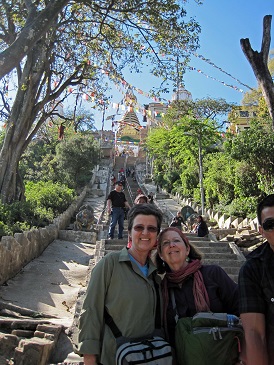 11) The view out across Kathmandu from Swayambhunath is impressive!

12) An artsy shot of the prayer wheels and butter candles that ring the bottom of the Swayambhunath stupa.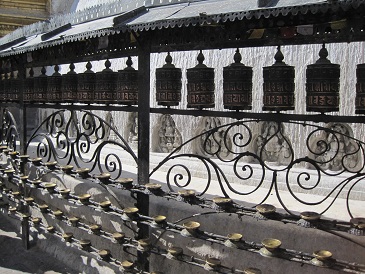 13) Another artsy shot from Swayambhunath - this one of the scissors and tongs used to maintain the candles in one of the inner shrines.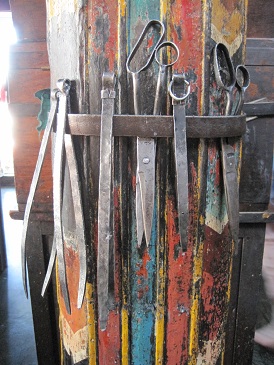 14) Hundreds of candles are lit by devotees inside the shrines at Swayambhunath. The atmosphere inside the dark temples, heated by all the butter candles and lit by all the flickering wicks is impossible to describe accurately.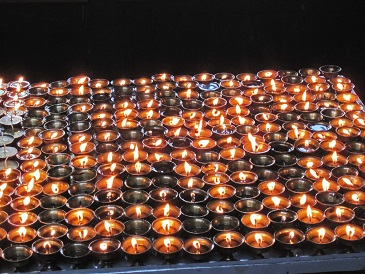 15) The main stupa in Swayambhunath towers over the city.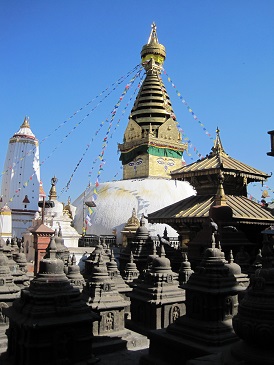 16) Each of the Buddha statues embedded in the base of the stupa are clothed in rich brocades and changed often (maybe daily?).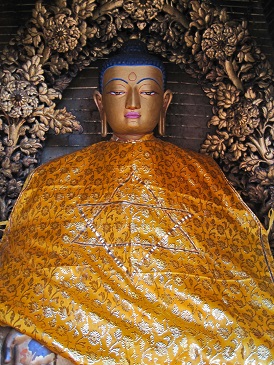 17) There are thousands of strings of prayer flags all around the hill that houses Swayambhunath so in addition to all the other sights and sounds there is the constant fluttering of flags overhead.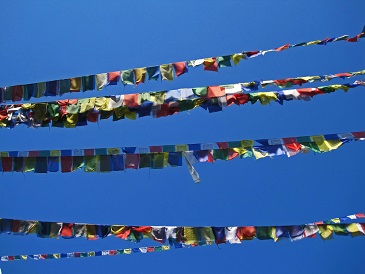 18) After a hard day of chasing tourists for snacks (and sunglasses and cameras and anything else they can grab) a monkey needs to relax. The monks at Swayambhunath maintain a swimming pool so the primates can cool their feet and prepare for another game of intimidate the tourist.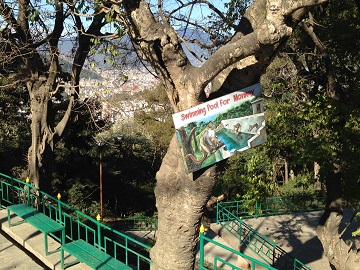 19) Our our taxi ride back to the hotel we passed a Nepalese wedding that was happening at a streetside house. The guests had spilled out into the street where there was music, dancing and a lot of laughter. We only got a brief look as our taxi was stopped waiting for the road to clear but it was clearly a joyous occasion.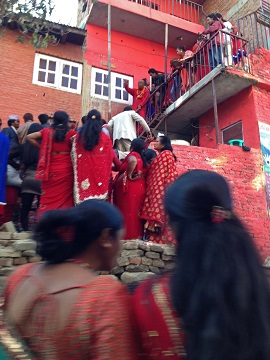 20) When we got back to the hotel we found all the Royal Enfield Bullet 500s lined up at the hotel, waiting for our ride to begin. We spent the evening installing tank bag straps, throttle locks, GPS mounts and all the other little things that we needed for our three week ride.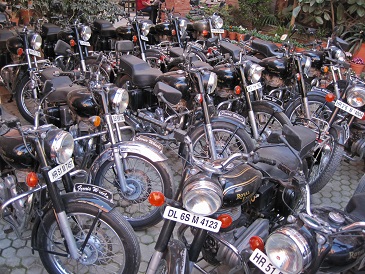 21) The first day of our motorcycle tour was actually a day of sightseeing in Kathmandu and the highlight of that was a scenic flight along the Himalayas, including a close-up view of Mt. Everast.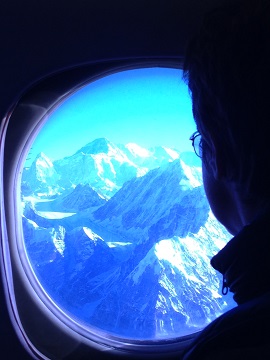 22) In the evening we walked to dinner in the popular Thamel district. Here we had many typical Kathmandu experiences like seeing the tangle of phone and electric lines that cover every pole.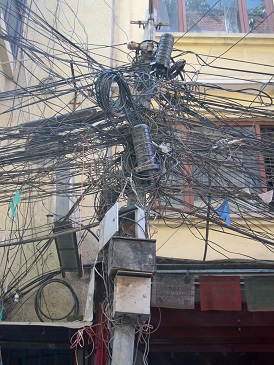 23) We also stumbled into a case of Kathmandu gridlock - which apparently occurs constantly in the narrow streets of downtown. The police were frantically trying to get the motorcycles to filter through so they could deal with perpetually stuck cars and trucks.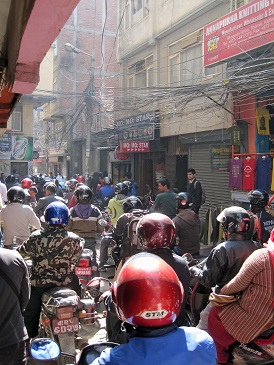 24) The second day of our tour was another day of sightseeing - this time visiting the sacred Hindu temple of Pashu Patinath. From across the river we could watch the burning ghats where the bodies of devout Hindus were prepared, burned and then swept into the river.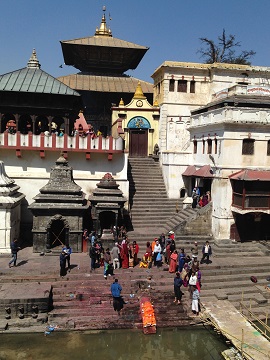 25) The Pashu Patinath temple complex is huge and, as non-Hindus, we were only allowed into the section across the river from the main temples. Even in this section there hundreds of small shrines, each with detailed carvings of the Hindu deities.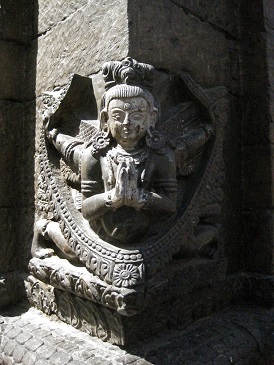 26) The final stop of the Kathmandu sightseeing was Boudhanath. Since we'd visited the day before we chose to visit some of the smaller shrines around the main stupa like this little statue on the edge of the square which was decorated with fresh flowers.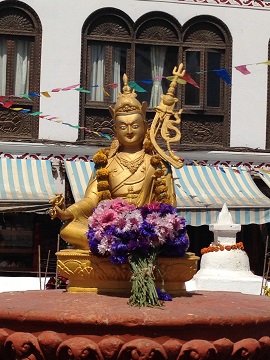 27) Back at the hotel we all suited up and took the bikes out for a short loop around Kathmandu just to shake out any issues with the Bullets and to get some experience dealing with Nepalese traffic. Wow! It was an eye-opener to wade into the chaos on the bikes - we had to learn how to kickstart the big singles, shift with our right foot (the opposite of US motorcycles), keep an eye out for all the traffic (Cars, Trucks and Cows Oh My!), try to read street signs and don't forget to grab a breath (including the dust and smog) when you can. We made it safely to the turn around and celebrated with a photo!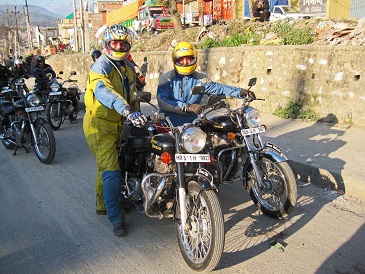 28) The Indian made Royal Enfield Bullet 500 is the superbike of the south Asian continent. It may only pump out about 28 horsepower but it is a rocketship compared to anything else on the road. Every time our gaggle of Enfields stopped a crowd of onlookers would immediately encircle the bikes to gawk.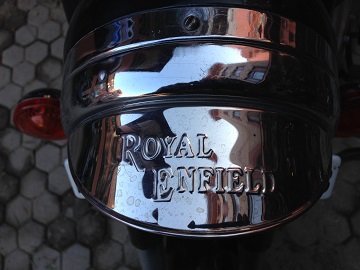 29) Back at the hotel we were served the traditional Nepalese meal - Dal Bhat. Rice, lentils, some cooked vegetables and a salad. (We were experienced travelers so we knew those raw vegetables may have looked innocent but they were probably more dangerous than the Nepalese traffic!)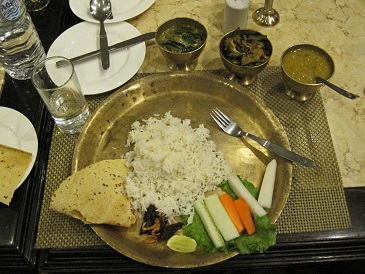 30) For our first full riding day we left Kathmandu and wound our way up into the foothills of the grand Himalayas. We stopped mid-morning for a break and found an interesting local snack. Sel roti was sort of a donut (dough fried in oil) but the dough was made from rice which was quite unusual an texture for us and there was a citrus-y flavor since it is cooked with cloves and cardamom.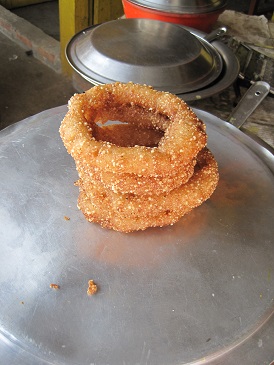 Go forward to the second '15 Himalayas Trip Photo Page.

Return to Alan and Jonna's Travel Page

Return to Alan's Home Page
---
Alan Fleming