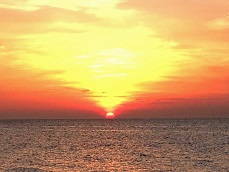 ---
Jonna and Alan's 15th Anniversary trip to Holbox, Mexico.
2015 is our 15th wedding anniversary. It doesn't seem like it has been that long so wow! We hadn't planned to do anything special to celebrate because we'd spent so much money on our trip to the Himalayas in the spring but at the last minute we decided we should mark the occasion. Since travel is what we do, and since Jonna loves the beach, a long weekend trip was planned. Jonna searched the 'net and discovered Holbox, Mexico. We flew down on a Thursday for a few days of beach time. This included swimming with whale-sharks, sea-kayaking in a nature reserve, sipping cold fruity drinks and lazying around in hammocks. A fun trip and a great way to celebrate our 15 years of marriage!

Here are some of our favorite photos from the trip (each photo is a thumbnail linked to a higher quality picture.):

1) Three lovely things that go well together: Jonna, a sunset on the beach and a tasty fresh fruit smoothie. Immediately after arriving on Isla Holbox we walked the 20 feet from our hotel room to the beach side cafe to enjoy a refreshing fruit drink and to watch the first sunset of our trip. A great start to a vacation!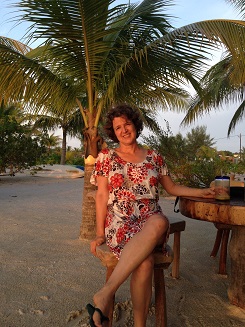 2) One of the appealing things about Isla Holbox was the opportunity to swim with migrating whale sharks. This ended up being a mixed experience. Our boat was one of the first few to the whale shark feeding grounds and our first swim with a small group of three was incredible. The massive whale shark (the one pictured here was a juvenile and "only" about 20 feet long) seemed relaxed and was feeding: its garbage can sized mouth slurping up plankton as it swam on the surface. It was swimming pretty fast so it was an effort to keep up but magnificent to see for the 10 minutes we were in the water with it. Per Mexico law only two swimmers and one guide can be in the water with a whale shark at a time, so our group of eight divided into four pairs who took turns. However, by the time all of us had cycled through our first round of swimming a lot of other boats began to arrive. The boats were moving fast and jockeying for position since there were now so many more boats than whale sharks. It quickly became quite dangerous and the whale sharks were clearly becoming harassed.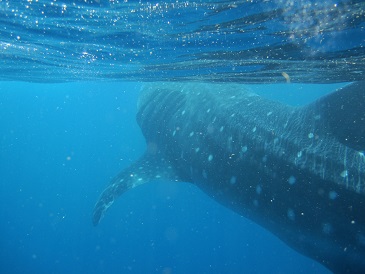 3) By the time we went back into the water for our second swim, this time with a different whale shark, it wasn't relaxed or feeding. Instead, It was down about 10 feet and was swimming much faster and clearly moving away from the nearest boats. Despite being such a large fish, it was moving very fast. Within a minute it was out of sight.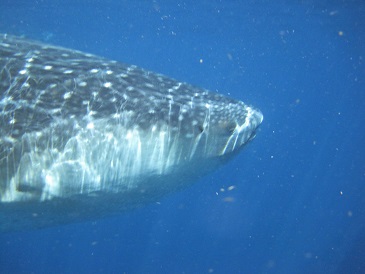 4) Our guide called a halt to our swimming after everyone finished their second swim and instead began to call in other boats for violating the the Mexican maritime laws put in place to protect the whale sharks. Unfortunately, this craziness added a sour aftertaste to what had been a very cool experience. The mighty gringo dollar, especially from the masses of American tourists visiting nearby Cancun, brings opportunistic boat owners out to the whale sharks who haven't had the requisite training and who don't have a conservationist's concern for the animal's wellbeing.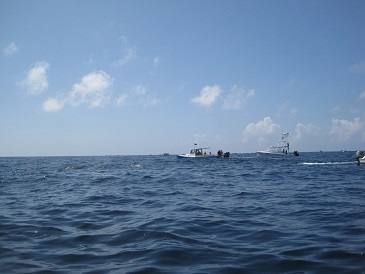 5) Because we left the whale sharks early, we had time to stop at a pristine section of reef for some snorkeling. We spent about 45 minutes in the water exploring this beautiful area. Unlike snorkeling we'd done on a previous visit to Mexico, this section of reef was healthy with a number of different types of coral and with a wide variety of fish. It was also very shallow with the reef just few feet below the surface, and maybe eight feet deep to the sandy bottom behind the reef, so the sunlight was beautiful projecting through the waves above. The snorkeling ended up being one of the highlights of the trip.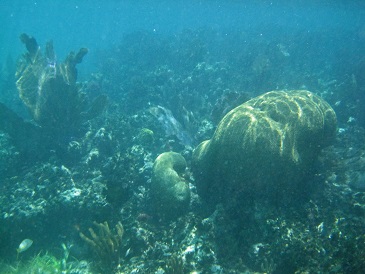 6) Alan spotted a huge lobster hanging out on the reef. This photo doesn't give any indication of relative size but it was over a foot long.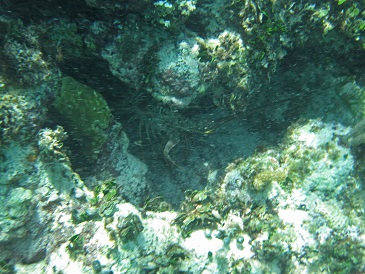 7) Jonna in her element!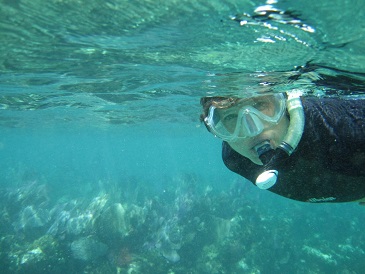 8) This photo sums up the variety of corals that were on this section of reef. It was really gorgeous!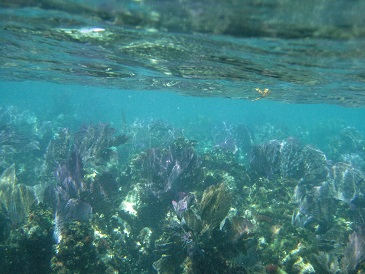 9) The town of Holbox is very touristy but not very developed. In contrast to Cancun (which is 2 hours away) Holbox is focused primarily on Mexican tourists, not Americans. There are no paved streets, no cars (only golf carts and motorcycles), no buildings higher than three stories tall and Spanish is definitely the preferred language. Lovely!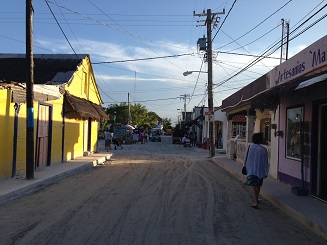 10) Strung out for a few miles to the southwest of Isla Holbox is a series of mangrove islands which are a national wildlife refuge. On our second day on the island we did a four hour sea-kayaking trip through some of these mangrove islands.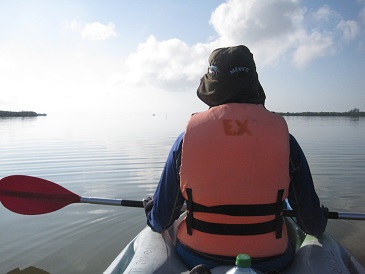 11) It was a beautiful day with the water so calm it was difficult to pick out the horizon!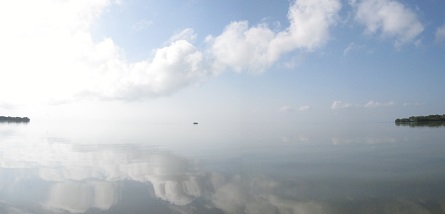 12) We saw lots of different birds but by far the most numerous were the pink flamingos. We saw many different large flocks throughout the islands and all total probably saw well over hundred during the course of the day.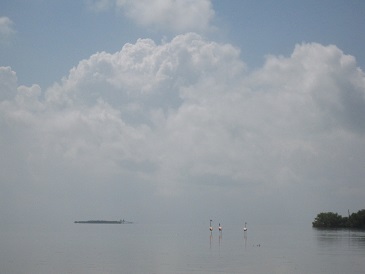 13) Any time we were close to the mangroves a different form of wildlife was equally abundant...mosquitoes! Despite both natural insect repellents and later liberal quantities of Deet the swarms of mosquitoes where not deterred. In sections like this we found ways to move very fast despite it being too tight to use the paddles!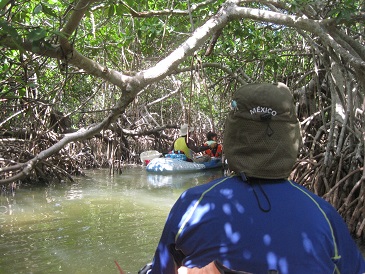 14) Our hotel, Hotel Mawimbi, was a lush tropical haven. The shade from the palm trees kept it comfortable even when the mid-day sun was baking the nearby beach sand.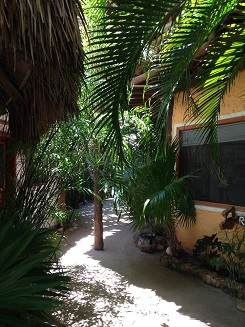 15) Jonna again in her element!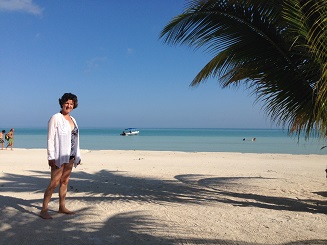 16) The Gulf of Mexico off the coast of Isla Holbox was both shallow and warm. A 100 yards offshore the water was still only a few feet deep and was so comfortable you could lounge around in it for hours (and many people did!). Our third and final day was spent just relaxing on the beach - both in recliners and hammocks.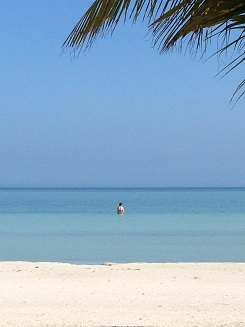 17) Every night we were treated glorious sunsets but the last night was definitely the best. A great way to end our brief time on Holbox.


Return to Alan and Jonna's Travel Page

Return to Alan's Home Page
---
Alan Fleming