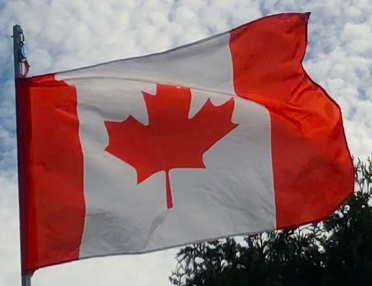 ---
Jonna and Alan's two month summer motorcycle trip across Canada
For our first multi-month post-retirement summer trip we chose to explore the New England region of the US combined with a cross-country trip across Canada. We loaded our new Triumph Tiger 800 motorcycles into a Penske truck and started driving east in the evening of Jonna's last day of work for school year. We stopped a few times during the drive to see family and friends but finally unloaded the bikes in Albany, NY to officially start the motorcycle trip. From there we headed northeast and spent three weeks riding through northern New York, Vermont, New Hampshire and Maine. Then we crossed into Canada and headed to the Atlantic provinces spending three weeks in Nova Scotia, Prince Edward Island and New Brunswick. Then we shifted into nomadic mode for the ride across Canada taking us through Quebec, Ontario, Manitoba, Saskatchewan and British Columbia with a short dip down into Michigan to visit a friend for the 4th of July. Once we reached the Canadian Rockies we spent a couple of weeks checking out Banff and Jasper. From there turned south and followed the Rockies back to Colorado with stops along the way to see the Waterton Lakes, Glacier, Yellowstone and Grand Tetons National Parks.

By the time we arrived back home we had visited seven US states and nine Canadian provinces. We were in the rental truck for 6 days (May 24 - 29) racking up 2,135 miles, then we were on the bikes for 62 days (May 29 - August) riding a total of 10,700 miles (each).

It was a fantastic trip!

Here are some of our favorite photos from the trip (each photo is a thumbnail linked to a higher quality picture.):

1) We started our big summer motorcycle trip by riding the bikes up a ramp and into the back of a Penske rental truck. Then we strapped them down and drove, rather than rode, out of our neighborhood. The idea of the truck was to chew up miles getting to the east coast with out chewing up expensive tires and to have the ability to swap out driving so we could cover more distance than riding the bikes would allow.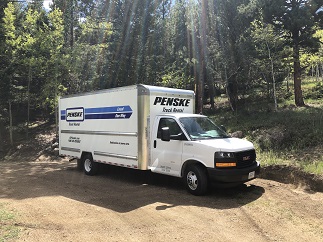 2) Traveling across the country provided Jonna with a chance to stop and see some family along the way. While driving through Iowa we stopped just outside Independence, IA to see Jonna's Aunt Melva and cousin Tracy on their beautiful farm. We ate some yummy fresh veggies, shared fun stories and enjoyed re-establishing the family ties.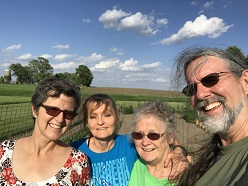 3) Our route gave us the chance to double up on the family visits. Just a half day's drive brought us to Madison, WI were Jonna's cousin Heath lives with his family. We spent two days having a *blast* with Heath, his wife Abby and their three kids Brenna, Hudson and Callen. We had water balloon fights, went for hikes, watched Paw Patrol and visited some of the painted badger sculptures around town.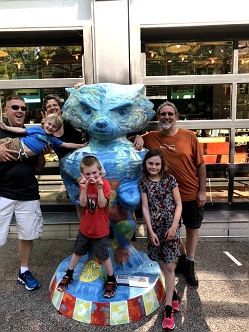 4) Our cross-country road trip wasn't just a chance to visit family but also to catch up with friends. Jonna's college friend Sandy is in Madison so we had very nice dinner with her and while we we were in town.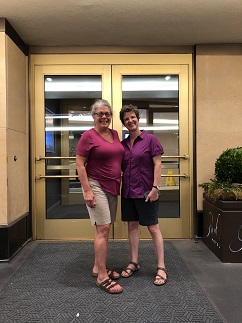 5) Another day of driving and we were in Toledo, OH where we stopped to see Jonna's friend Lesa and her partner Joe. We had lunch and then went for a lovely walk along the Erie Canal and the Maumee River in the Side Cut Metropark.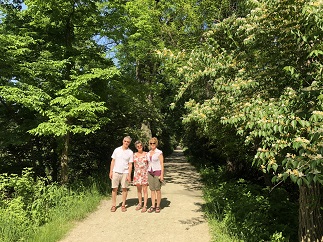 6) Soon the driving portion of our trip was over and we were able to unload the bikes out of the rental truck (without dropping them!) in Albany, New York. After returning the rental truck we loaded up and starting riding!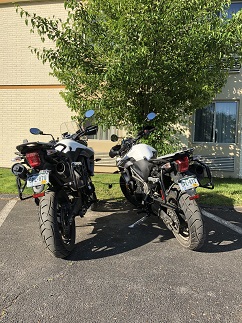 7) Our first days riding was quite beautiful. A great way to start! We headed north out of Albany and then wound through the scenic, twisty two lane roads around Lake George.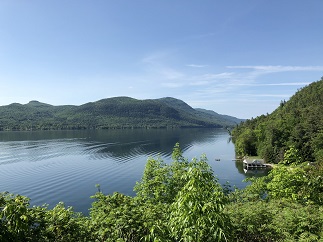 8) We crossed the southern end of Lake Champlain on the Fort Ticonderoga Ferry in order to over from New York to Vermont. The first of many ferry rides we'd take on this trip and this one was perfect - the water was glass smooth, the sun was warm and the views were very nice.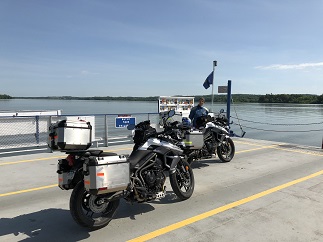 9) Our first stop in Vermont was at Shelbourne Farms just outside Burlington. This provided us with a combination of history, views of the rolling New English countryside, an affordable lunch and some animals to pet. As with the ferry, this turned out to be the first of many farms (and critters!) we'd visit.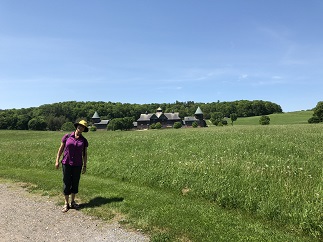 10) Another Vermont tradition that we had to visit was the Ben & Jerry's factory in Waterbury, VT. This was practically a religious pilgrimage for Alan!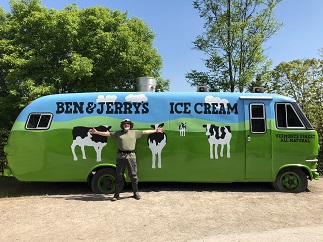 11) Yet another Vermont tradition we had to learn more about was Maple syrup. We headed to the Morse Farm just outside Montpelier, VT to see how maple syrup is collected and prepared, as well as to buy some maple sugar to use on our trip.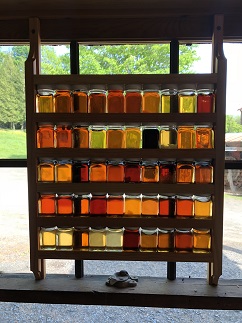 12) A fellow rider that we met at Morse Farm told us to stop on our way south to check out the Warren Store. The store had a quaint historic feel and, better yet, the roads around it were perfect motorcycling routes. We ran into some other riders at the store and took a group photo of all the bikes out front.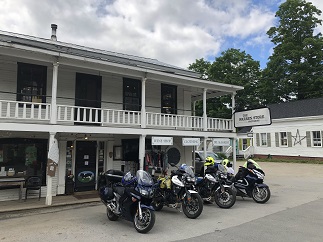 13) The Green Mountains of Vermont are thickly forested and with trees we don't see out west. We took a ride up to Lincoln Gap and then went for a hike on the Long Trail (which, in this area, is also part of the Appalachian Trail). Wow! The canopy above is filled with birch trees, maple trees, beech trees, hemlock trees and pine trees. The ground is covered with ferns, various kinds of brush and shrub and wild flowers. It was splendid!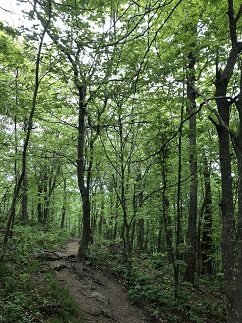 14) Another stop while in Vermont was the Marsh-Billings-Rockefeller National Historical Park in Woodstock, VT. This provided another glimpse into New England history, as well as documenting the roots of the American conservation movement. In addition to visiting the historic buildings and working farm, we also went for a hike through the wooded preserve to enjoy the pristine landscape.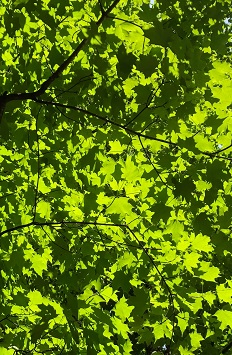 15) When we travel we love to learn about local culture - whether it is international or regional. Perhaps our favorite Vermont tradition turned out to be Maple Creemees - high fat content soft-serve ice cream with maple syrup blended in. Yum! Just the thing for cooling down in the middle of an afternoon motorcycle ride.
16) For all of our time in Vermont we found lodging that was centrally located in Killington. One raining morning we hopped over to nearby Gifford Woods State Park and went for a hike there. It was another beautiful hike and for part of it we again hiked on part of the Appalachian Trail.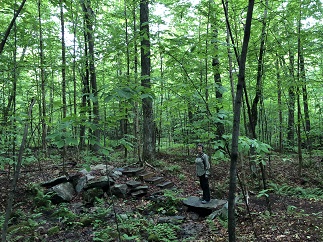 17) Our final day in Vermont was primarily laundry day but we also did a little sightseeing including a visit to the historic Plymouth Cheese Corp in Plymouth, VT (which was owned by President Calvin Coolidge's family.) We learned about cheese making and bought some of their cheddar to eat on the trip.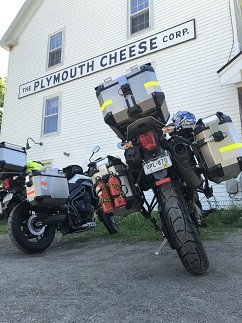 18) Our next stop was a hop across the state line into New Hampshire. We headed straight into the center of the state to ride some of the famous roads there - the Kancamagus Highway and Crawford Notch. Honestly, we were a bit underwhelmed by The Kanc. The road wasn't bad but it lacked the scenic views of the White Mountains that we were hoping to see.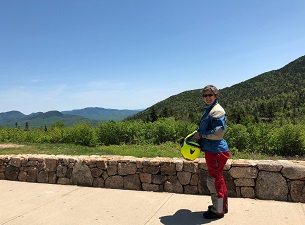 19) We actually enjoyed the ride over Crawford Notch more and had a nice post-lunch break at Crawford Notch State Park.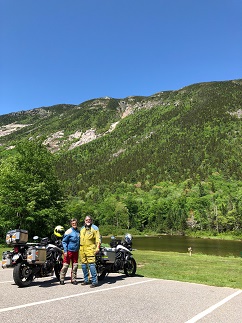 20) We stayed in an old, nicely maintained hotel in Littleton, NH that was run by a friendly motorcycling couple. Our lodging varied widely throughout the trip but when we could find them we always liked affordable hotels that included a kitchenette so we could cook our own meals. For most of the trip we only ate lunch out - generally finding a way to prepare breakfast and dinner ourselves.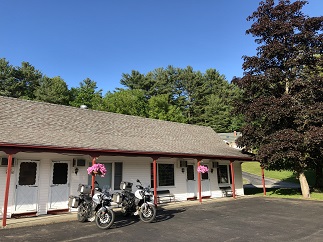 21) Rainy weather in New Hampshire directed us back into Vermont for a morning where we explored the Fairbanks Museum in Johnsbury, VT. Quite the throwback to the turn-of-the 20th century mindset! The bulk of the collection is comprised of a large natural science exhibit all of which was collected by Frank Fairbanks, a rich businessman and politician. However, sprinkled throughout the taxidermy and insect displays are oddball culture artifacts from all over the world.
22) After our half-day weather related exile we returned to New Hampshire to see more of the state. One of our favorite stops was at Flume Gorge in Franconia Notch State Park. We hiked through the park to the gorge and through the forested preserve surrounding it. Another lovely glimpse into New England landscape.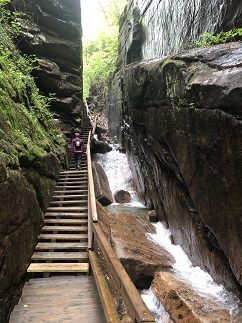 23) Littleton, NH is home to the Pollyanna stories and there are signs, markers and monuments to this cheerful icon of American literature all around town. Here is Jonna showing that not everyone is filled with sweetness and light.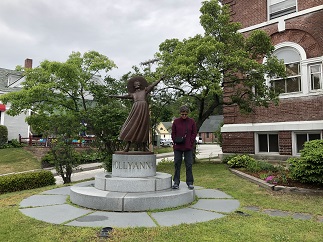 24) The second half of our exploration of New Hampshire focused on the southern part of state. Our first stop as we headed south was at the Loon Center in Moultonborough, NH. We enjoyed learning about the loons but our hike out to see their nests ended early due to the massive swarms of mosquitoes in the marshy area near the pond.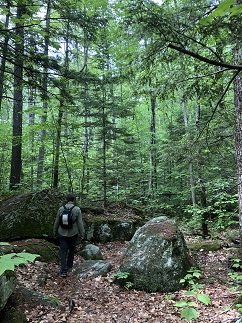 25) We camped for two nights near Squam Lake in a mostly deserted but poorly maintained campground. The quite, private campsite was nice but sleeping on the ground was tough on our aging bodies.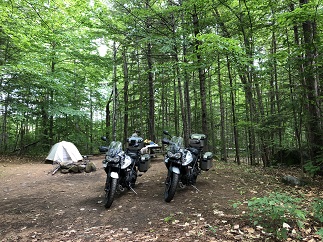 26) We took a boat tour on Squam Lake and finally got to see (and hear) some loons. The boat ride was very relaxing and again gave some interesting insight into the history of the area.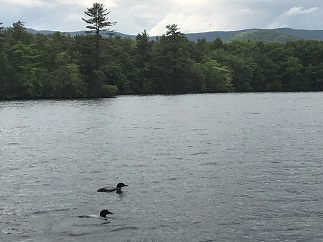 27) Our final day in New Hampshire involved riding lots of state highways but also included a stop in Canterbury, NH where we met up with some of Jonna's friends and then visited the Canterbury Shaker Village - another bit of fascinating history.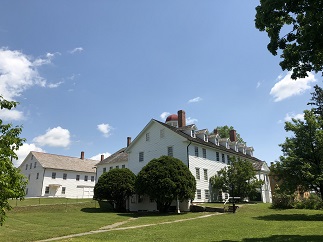 28) Our last bit of wandering around New England was focused on Maine. We started out by setting up camp for a few days at the very cute Maine Idyll Motor Court cabins which we both thought were fantastic.
29) While Jonna got a massage in Brunswick, Alan headed over to Bath to check out the excellent Maine Maritime Museum. This was definitely one of those situations where there wasn't enough time available to really do the place justice as it was huge! It is built on the grounds of a 19th century shipyard and still houses many of the buildings like the lumberyard, ironworks, etc. It is well worth a visit!
30) After a disappointing visit to the town of Freeport (which is basically just a dis-jointed mall) we made a side trip to Wolfe's Neck Woods State Park and were much happier! We did a hike out to the eastern most point in the park and looked out onto Casco Bay where we watched locals rake for clams, saw dew covered ladyslipper orchids and looked through a ranger's spotting scope to see osprey chicks peek over the edge of their nest.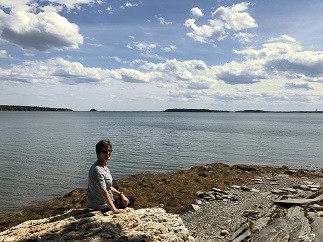 31) By far the highlight of our time in New England was meeting up with our friends Drew, Nancy, Sierra and Jackson who drove up from the Boston area to meet us in Portland, Maine. We had a grand day out with them exploring the Old Port Festival - including eating our best ice cream of the trip at Mount Desert Island Ice Cream.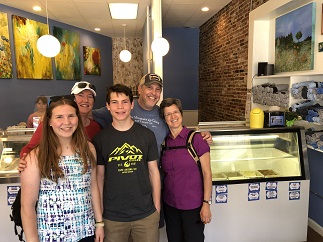 32) With ice cream becoming a theme for this vacation we took the time in Portland to get (temporary henna) tattoos of ice cream cones!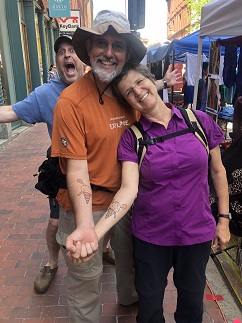 33) After we left Freeport to head "down east" we took an afternoon break in Rockland to check out the Farnsworth Art Museum. This turned out to be a fabulous museum which houses many paintings by the father-son duo NC and Andrew Wyeth.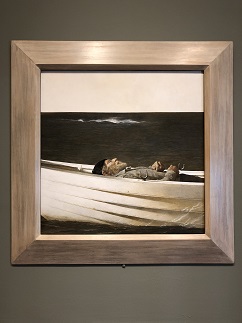 34) The rest of our time in Maine was focused on Acadia National Park. We set up lodging nearby Trenton and then made day trips into the park. We made three different trips to explore as much of the park as time allowed. Our first trip did the traditional tourist loop around the east side of the park including the obligatory ride to the top of Cadillac Mountain to enjoy the spectacular views.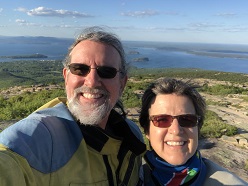 35) On our second visit we targeted the southwestern side of the park where we stopped to do multiple short hikes along the coast.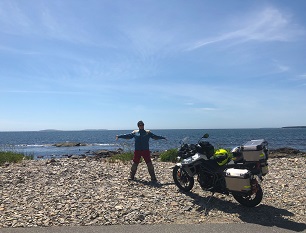 36) Jonna's culinary highlight of the entire trip was our lunch stop at Thurston's Lobster Pound in Bernard, ME - a lobster that went ocean to boat to pot in only slightly more time than it took us to park, get seated and order.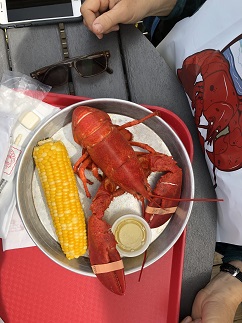 37) Our final day in in Acadia started off with a boat tour out to some of the islands around the park including a drive-by of the Bear Island lighthouse and a top on Little Straweberry Island.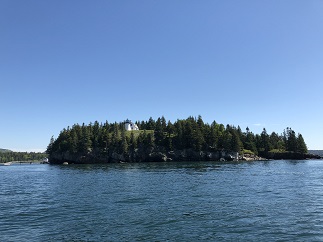 38) We ended our last day in New England with lunch at the Jordan Pond lodge (Yum, warm pop-overs!) and then a fun hike around Jordan Pond.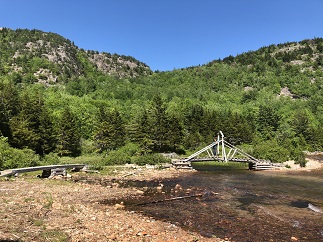 Go forward to the second '18 Canada Trip Photo Page.

Return to Alan and Jonna's Travel Page

Return to Alan's Home Page
---
Alan Fleming