---
The '18 Anchors Cousin's gathering in Chicago
In November, Alan's Anchors cousins got together in Chicago for a weekend gathering. Kelly, Michelle, Alison, Heather, Ashley, Brittany, and Alan, along with Jonna and Brittany's husband Kenny all gathered the weekend before Thanksgiving to spend some time seeing Chicago and sharing time together. We all had meals, saw a play, visited museums and shared stories together.

Here are some of our favorite photos from the trip (each photo is a thumbnail linked to a higher quality picture.):

1) Most of the cousins arrived in Chicago on Friday but we few in on Saturday so the first time we got together was at lunch. We walked to a nearby restaurant and filled up a booth. We spent a couple of hours eating, talking, laughing and just enjoying everyone's being together.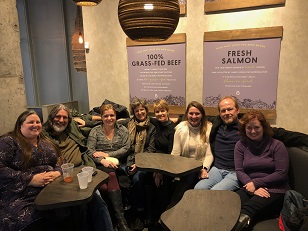 2) Cousin Kelly's son Max was acting in a play so, after some drama caused when a holiday parade split up the group, we all headed to Mary's Attic, a small theater in north Chicago, to see the play "Snowgirls" on opening night. It was raunchy but very funny and we all enjoyed getting to see Max perform. Afterwards we went downstairs to Hamburger Mary's restaurant for dinner and to watch the drag show.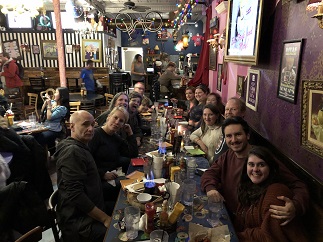 3) Alan's Mom had sent some "Grand Daddy" money so the cousins could do something special in memory of our Grandfather (who would be very happy to see how close this next generation is). We used the money to pay for our group dinner, though we did enjoy the irony of doing something in honor of our genteel Grandfather at a restaurant filled with outlandish drag queens.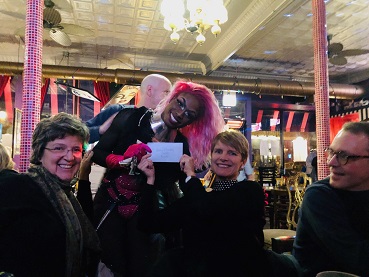 4) On Sunday we headed out to explore some of downtown Chicago. There was a German Christmas market happening near our hotel so we headed there first. We found a good photo op with a Krampus - the mythical deamonic creature who beats children into being nice for Christmas.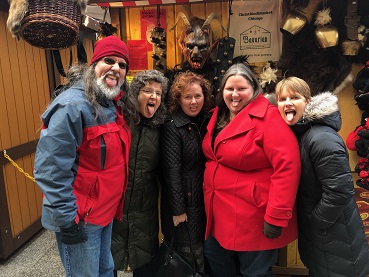 5) After the walking around the Christmas market we walked to Millennium Park to see the Cloud Gate (also known as "The Bean") and to visit the impressive Art Institute of Chicago. Cousin Ashley joined us for a couple of hours enjoying the amazing art collection.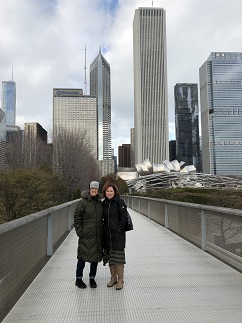 6) All the cousins gathered again Sunday night for a group dinner at a little Italian restaurant. A tasty meal but really just a lovely time spent all together.
7) We flew out on Monday but had time in the morning to walk over to Navy Pier and also to visit the Chicago Cultural Center. The domes and mosaics in the Cultural Center were just fantastic.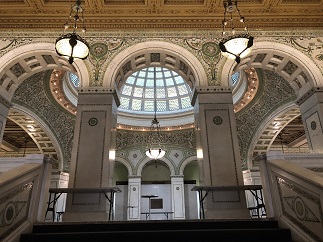 8) Our final stop before flying out was the stereotypical Chicago lunch of a deep dish pizza. Cousin Heather joined us for pizza and for the ride to the airport so we had time with family right up until we walked through the airport security gate!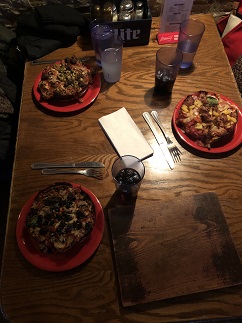 Return to Alan and Jonna's Travel Page

Return to Alan's Home Page
---
Alan Fleming