---
Jonna's Birthday trip to LA
Jonna decided she wanted to take a weekend trip to Los Angeles to celebrate her birthday. The main goal was to see our nephew Larkin and his girlfriend Sophia since it had been more than a year since we'd last seen him. In our spare time we also hoped to see a museum or two and also catch up with our friends Chris and Ansley. At the last minute, Jonna received an email from her birthmother, who lives just south of LA, agreeing to meet face-to-face for the first time. Put all that together and it was a great trip!

Here are some of our favorite photos from the trip (each photo is a thumbnail linked to a higher quality picture.):

1) For our accomodations we rented a 1950s Spartan Grand Mansion trailer in Echo Park through Air B&B. It looked drab on the outside but was beautiful inside.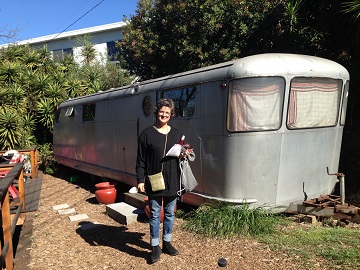 2) See?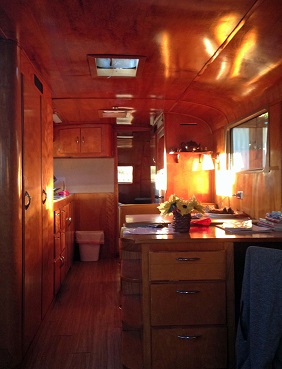 3) For our first outing we headed to the Broad Museum in downtown LA to see the Jasper John's "Something Resembling Truth" retrospective. This was a very comprehensive overview of John's entire career and showed the numerous distinct phases of his art.
4) While we were at the Broad we also checked out their standing collection. We were very impressed by pieces on display and by the beautiful architecture of the museum. Among the impressive pieces on the third floor were these two Jeff Koon sculptures.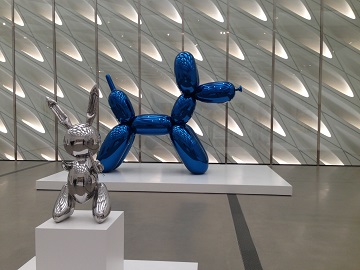 5) We closed out day #1 with an evening dinner at the Grand Central Market with friends Chris and Ansley. Day #2 started with meeting Larkin and Sophia for brunch at Republique. Larkin is a chef at Republique so we got to visit with our nephew and see where he spends his working hours.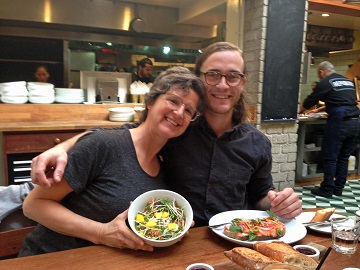 6) After brunch we drove over to LACMA and the La Brea Tar Pits to walk around the grounds.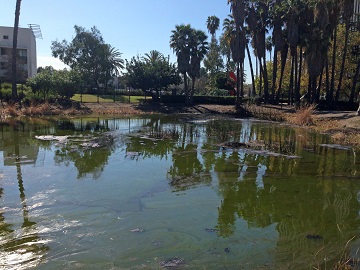 7) The surprise of the trip was an unexpected meeting with Jonna's birth mother Sharon. We arranged to meet at The Beverly Hills Hotel and spent three hours learning about each other.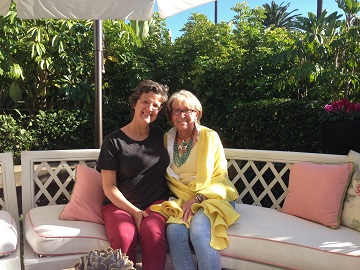 8) We flew out on day #3 but had just enough time in the morning to visit Venice Beach where we took this selfie on the fishing pier.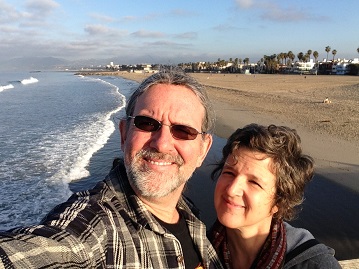 Return to Alan and Jonna's Travel Page

Return to Alan's Home Page
---
Alan Fleming