---
Jonna and Alan's RV trip to Florida
When the coronavirus shut everything down in March we started thinking about how we could safely continue travel in a world in the midst of a pandemic. We decided that if were safe in a bubble at home then a small RV would provide a mobile bubble in which we could drive to see our family. So at the end of April we bought a used camper and then spent May getting if ready to hit the road. Finally, in June, we loaded up to travel to Florida in the RV. Our first day was driving due south through Colorado to Santa Fe, NM. There we parked in the driveway of our good friends Bill and Tracy. The served us a delicious meal and visited with us on their back patio. The next day we drove across Texas before parking for the night in a Walmart in Shreveport, LA. The third day we drove the rest of the way to Shalimar, FL arriving on Alan's father's birthday. We spent a week in FL, then turned north to Atlanta, GA where we parked in longtime friends Troy and Dara's driveway for two nights. Again we safely visited with them and a few other friends. For the return trip we headed north into Tennessee where we made a stop to see friends Wes and Susan in Pigeon Forge, TN and Peter and Julie in Nashville, TN. That night was spent in another Walmart parking lot, this time in Clarksville, TN. The next day was a long drive through the Midwest before eventually stopping at a rest area for the night. A final day got us home again to Colorado.

Here are some of our favorite photos from the trip (each photo is a thumbnail linked to a higher quality picture.):

1) We didn't take many photos on this trip and none before we got to Florida so the drive east and our visit with friends in Santa Fe didn't get photographically recorded. As soon as we arrived in FL we immediately went out to get a COVID test since didn't want to bring the virus as a visiting gift. The testing was free and relatively quick. Getting the results, on the other hand, took nearly two weeks so it turned out getting the test didn't do us any good.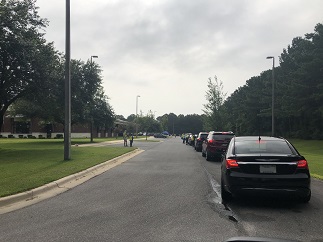 2) Alan's parents Brenda and Harvey have a daily routine of watching the sunset every evening. We had a good one while we were visiting!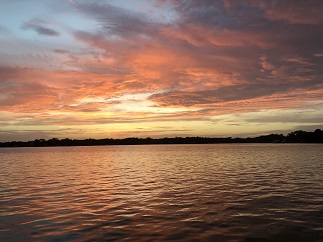 3) Brenda had always wanted to try paddleboarding and outdoor activity was a safe way to get out of the house during "Safe at home" restrictions so we borrowed cousin Michelle's paddleboards so Jonna and Brenda could try it out.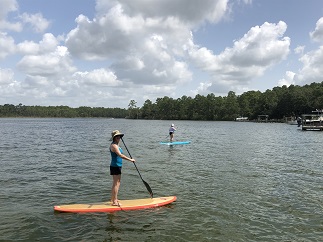 4) Meanwhile, Harvey and Alan borrowed a kayak in order to join in with the paddling.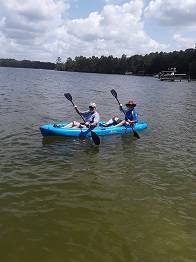 5) After our water adventures, cousin Michelle and her family invited us to join them for lunch. An amazing ice cream and chocolate desert was made but didn't *quite* get enough time in the freezer before we all dug in. It was a little melted but still quite tasty!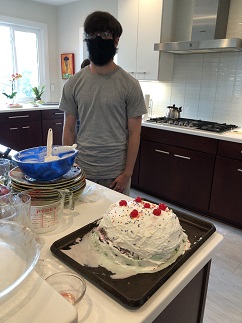 6) Our final stop, before leaving Florida, was at cousin Rusty's farm to visit with he and his wife Robin. We went for a short hike around the expansive property, toured the barn(s) and visited on their deck. An excellent send-off.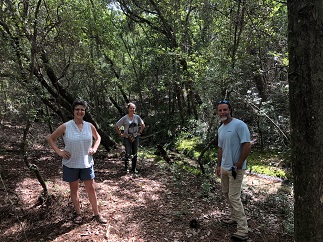 7) Again we didn't take any photos when we visited with friends in Atlanta but did get a shot with friends Wes and Susan's beautiful hilltop home just outside Pigeon Forge. They invited us for a yummy lunch and visiting in the shade of their drive-through garage looking onto their equally beautiful back yard where we were entertained by dozens of wild birds and some squirrels which braved their dogs to raid the bird feeders.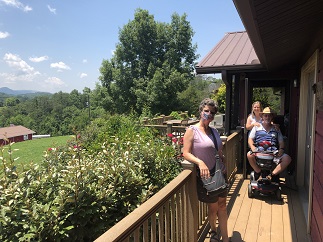 Return to Alan and Jonna's Travel Page

Return to Alan's Home Page
---
Alan Fleming