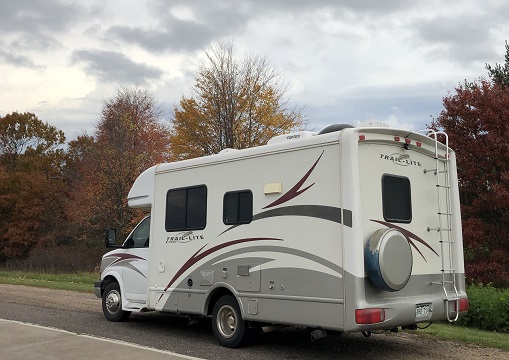 ---
Jonna and Alan's Fall Walk-about RV trip
Jonna and Alan had planned to make a trip to Uzbekistan in the Fall of 2021 but rising COVID numbers and concerning online stories about conditions on airplanes flying into the capital of Tashkent caused us to cancel that trip at the last minute. Suddenly finding ourselves without travel plans spurred us to load up the RV with clothes, food and a reluctant Leon and hitting the road. We'd discussed three possible trips: 1) East into the Mid-West to see family in Iowa, Wisconsin and Illinois. 2) Northwest into the Pacific Northwest to see the Olympic Peninsula in Washington and 3) West to California to see Jonna's brother and his family. Ultimately, given our open schedule as retirees, we decided to just do all three. We ended up putting 7400 miles on the RV driving through 15 states over 40 days.

Here are some of our favorite photos from the trip (each photo is a thumbnail linked to a higher quality picture.):

1) Nederland, CO, October 14, 2021 - Our start to the trip was a bit frantic as a snow storm was closing in as we finished the packing and we drove out of the drive way with snow already accumulating on the RV windshield. Fortunately, we managed to get ahead of the storm as we headed east and our drive across Colorado, Nebraska and Iowa was without any further weather challenges.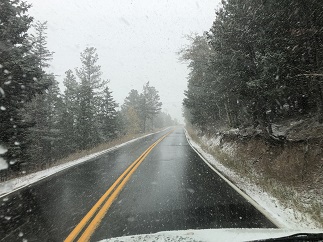 2) Matchstick Marvels Museum, Gladbrook, IA, October 15, 2021 - As we drove through central Iowa Jonna found a website that recommended stopping at the Matchstick Marvels Museum in tiny Gladbrook, Iowa. It was a rather unassuming building but inside was an interesting collection of sculptures all made by one man and all created using matchsticks. The sheer size of the objects makes it impressive - an 11 foot long battleship, a life-size replica of the Mars Rover Perseverance, a 1/4 scale model of the 1969 lunar lander, a massive Notre Dame Cathedral and many more. Definitely worth a stop, if only to see just how productive some people's obsessions can be.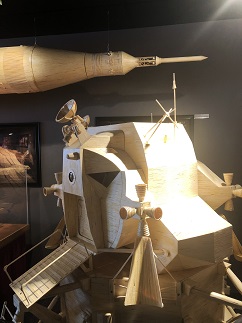 3) Independence, IA, October 15, 2021 - Jonna's Aunt Melva and her daughter Traci live in Independence, Iowa so we always try to stop and see them if we are in the area. We had dinner with them, then camped in Melva's driveway for the night. A good time catching up with family!
4) Ice Age National Scenic Trail, Lapham Peak Segment, Southern Kettle Moraine State Forest, Delafield, WI, October 16, 2021 - We continued the family theme by stopping in Madison, Wisconsin to see Jonna's cousin Heath, his wife Abby and their three kids Brinna, Hudson and Callen. We spent a few nights parked on the street next to their house and doing things with the family. One of the highlights was a day hike on the Ice Age National Scenic Trail where we enjoyed the fall colors and the views across the central Wisconsin hills.
5) Treinen Farms, Lodi, WI, October 17, 2021 - The best of our outings with Heath and family was going to Treinen Farms to go through their massive corn maze and to pick out pumpkins.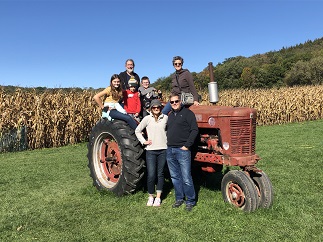 6) Treinen Farms, Lodi, WI, October 17, 2021 - It took us two hours but we successfully completed the corn maze!
7) Treinen Farms, Lodi, WI, October 17, 2021 - The kids all wanted big pumpkins. Jonna picked out a tiny one we had the kids decorate with markers and then displayed on the dash of our RV for the rest of our trip.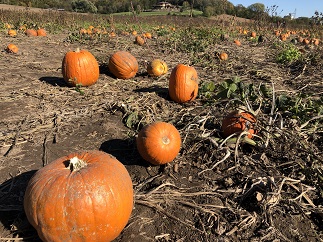 8) Madison, WI, October 18, 2021 - In addition to visiting family Jonna also took advantage of our time in Madison to catch up with her longtime friend Sandy.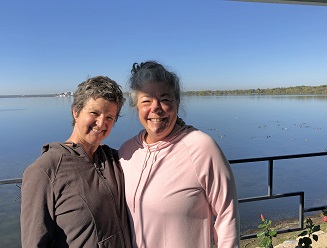 9) The Morton Arboretum, Lisle, IL, October 18, 2021 - After our time in Wisconsin we continued East into Illinois to visit Alan's cousin's Kelly and Allison. We arrived in the Chicago area early so spent our extra time exploring the Morton Arboretum which had a large-scale art installation on display with massive sculptures by Daniel Popper.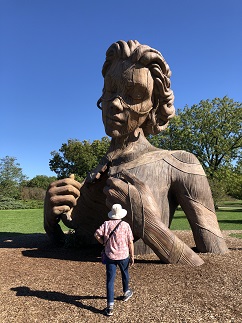 10) Shore Path, Lake Geneva, WI, October 19, 2021 - After our quick over-night trip to Chicago we headed back into Wisconsin. En-route we stopped at Lake Geneva, Wisconsin to check out the lakeside vacation town. We walked around town, grabbed some tea at an interesting non-profit coffee shop and then headed out to hike part of the public hiking trail that goes all the way around the lake. it offered scenic views of the lake and "back yard" glimpses of the fancy lake front homes.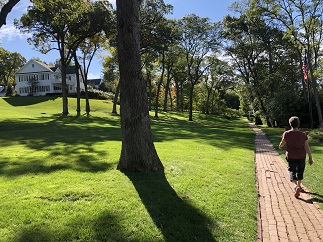 11) US-53, Chetek, WI, October 20, 2021 - After another night parked at Heath's house we then headed north through Wisconsin. The further north we drove the more beautiful the Fall colors became!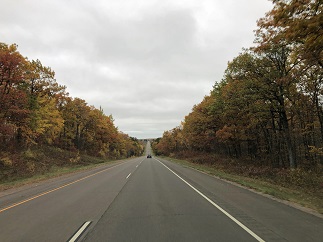 12) Enger Tower, Duluth, MN, October 21, 2021 - By the time we arrived in Duluth, Minnesota the trees were exploding with shades of red, orange, yellow and brown. We drove up to the Enger Tower where we got a lovely panoramic view of Duluth and out across Lake Superior.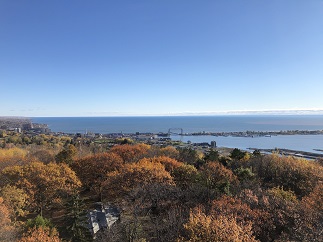 13) Aero Design & Manufacturing, Duluth, MN, October 21, 2021 - While we were in Duluth we also made a pilgrimage to Aero Design, the home of the Aerostich motorcycle suit. We've ridden our motorcycles wearing Aerostich suits for decades and so getting a photo in front of their building was a fun stop while exploring Duluth. The fact that a restaurant half a block away offered a yummy lunch and that an even more delicious ice cream shop was next door to that was a bonus!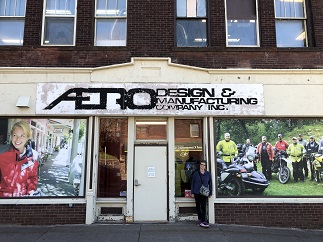 14) Waabizheshikana Trail, Indian Point Campground, Duluth Parks & Recreation, Duluth, MN, October 21, 2021 - The campground where we camped for our exploration of Duluth was right on the St. Louis River and also right on the Waabizheshikana Trail. Both days we were camped there we went out for hikes on the trail which provided peaceful views of ducks swimming on the river and colorful trees reflected on the calm water.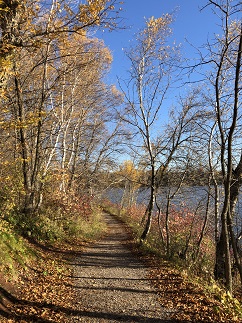 15) Minneapolis Sculpture Garden, Minneapolis, MN, October 22, 2021 - After leaving Duluth we headed south to Minneapolis where we spent a couple of nights camping in Bunker Hills Regional Park. We took the afternoon of our arrival day to explore the Minneapolis Sculpture Garden - an 11 acre outdoor park filled with a wide variety of sculptures. We walked around seeing all the free, public art and then had a cup of tea at the indoor/outdoor cafe of the Walker Art Center.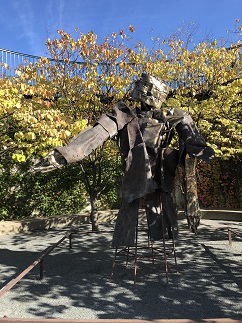 16) Wetland and Woodland Edge Trails, William O'Brien State Park, Marine on St. Cruix, MN, October 23, 20211 - The main reason we chose to drive through Minneapolis was to visit Jonna's friend Annie Laurie. We met up with her at William O'Brien State Park where we did a delightful hike through the stunning Fall colors. The grass covered in early morning frost, the multicolored trees, the carpet of bright leaves and the mist covered ponds all mixed to create the perfect feeling of Fall.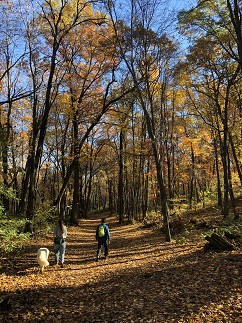 17) Franconia Sculpture Garden, Franconia, MN, October 23, 2021 - After our hike, we headed to nearby Franconia to walk through the free sculpture park and enjoy the motley collection of large scale public art on display there. A wide variety of pieces that ran the gambit from "Wow, interesting" to "Meh".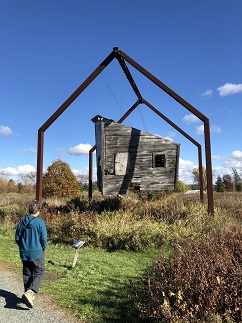 18) Rapid City, SD, October 26, 2021 - We'd been reading about how poor the COVID vaccination rate was in South Dakota so we took advantage of a over-provisioned Walmart in Rapid City to get our COVID booster. The lady at the pharmacy counter even seemed momentarily confused when we asked if we could get a COVID booster.
19) Jackson Creek Fish Camp, Mattawa, WA, October 28, 2021 - After a long, multi-day drive across Montana and Idaho we finally started shifting back into sightseeing mode when we got to central Washington. We camped for a night at the nearly empty Jackson Creek Fish Camp on the mighty Columbia River. We brought Leon out on a harness but the noise of us walking across the gravel parking lot spooked him and he backed out of the harness. Fortunately, he ran back to the RV for safety and bolted inside when we opened the door. I don't know who was more frightened, him or us!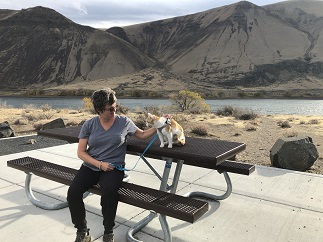 20) White Pass, Packwood, WA, October 29, 2021 - One of the things that amazed us as we drove through western Montana, Idaho and eastern Washington where the western larch trees. These are a conifer tree that is deciduous rather than an evergreen which means their needles change colors and drop off in the fall. It was wild to see mountainsides covered with bright yellow pine trees! One of the most beautiful places we saw larch trees was on the scenic drive over the stunning White Pass on US-12.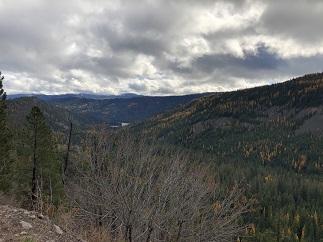 21) Nisqually Vista Trail, Paradise Inn Visitor Center, Mount Rainier National Park, Elbe, WA, October 30, 2021 - We spent a night in Elbe, Washington in order to have a day to explore Mount Rainer National Park. We were fortunate to have perfect weather for our visit which meant we got to see the impressive mountain shining in bright sunshine against a cloudless blue sky. We did a hike at the Paradise Inn Visitor Center on a trail covered in fresh snow. At this altitude Fall was already starting to give way to Winter.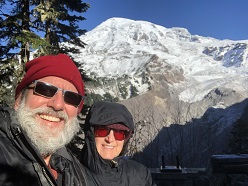 22) Ancient Groves Nature Trail, Sol Duc Valley and Lake Crescent Areas, Olympic National Park, Port Angeles, WA, November 2, 2021 - After visiting with more family and friends in the Seattle area we headed west onto the Olympic Peninsula in order to explore Olympic National Park. Our first stop was a short hike in the coastal rainforest on the Ancient Groves Nature Trail. The trail winds through an old growth Douglas Fir and Western Hemlock forest filled with moss, lichens, ferns. Naturally, it was raining when we visited so we got the full rainforest experience.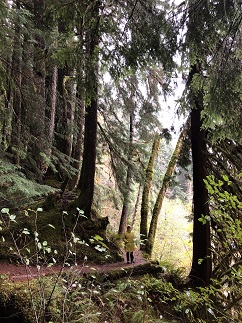 23) Marymere Falls Trails, Sol Duc Valley and Lake Crescent Areas, Olympic National Park, Port Angeles, WA, November 2, 2021 - While in the northern part of Olympic National Park we also stopped at Marymere Falls where we did a short hike to see the waterfall and to experience a different bit of rainforest.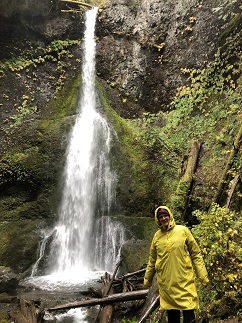 24) La Push Beaches, Olympic National Park, Forks, WA, November 3, 2021 - As we drove a counter-clockwise loop around the National Park our next stop was on the western Pacific coast. Neah Bay and Cape Flattery, the northwestern corner of the continental US, was closed due to COVID restrictions on the Makah Indian Reservation so our coastal experience was a little further south at La Push. We still got to watch powerful Pacific waves roll onto a tree truck strewn beach and crash against rocky offshore seastacks. We also hiked out to Second Beach through the lush coastal forest to see the Quillayute Needles seastacks.

25) Hoh Rain Forest Trails, Olympic National Park, Forks, WA, November 3, 2021 - We next left the coast and returned to the rainforest interior of Olympic National Park in order to hike the incredible Hoh Rain Forest trails. This area is just surreally beautiful. Once again we got the authentic rainforest experience because it was raining the entire time we hiked in this area. We hiked two short trails and found both of them to be incredibly beautiful.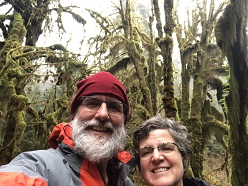 26) Ruby Beach, Olympic National Park, Queets, WA, November 4, 2021 - After our rainforest experience we headed back out to the coast to see more of the dramatic coastline. Our next stop was at Ruby Beach were we hiked the empty, stony beach and watched the endless waves roll in. We also enjoyed watching some ducks which would fly up Cedar Creek, land just above a cascade section and then surf the whitewater back out to where the creek fed into the ocean.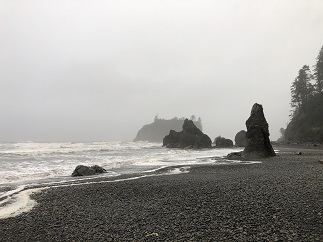 27) Lake Quinault Trails, Olympic National Park, Queets, WA, November 4, 2021 - Back inland from the coast for a short section we stopped at Lake Quinault with the plan to hike a lakeside trail we'd seen on a map. Unfortunately, that trail was flooded and closed just past Quinault Lodge so we backtracked and hiked the Cascade Falls trail instead. We'd been rained on for the past few days but the skies really opened up while we were on this hike. Despite our rain jackets we got back to the RV soaked!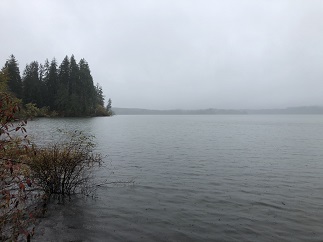 28) Seaside, OR, November 5, 2021 - After our fantastic, but damp, week exploring Olympic National Park the next goal for our trip was to enjoy some leisurely beach time. For this we headed south into Oregon and one of our first stops was in Seaside, Oregon. We spent an afternoon walking around the town and strolling on the wide, sandy beach.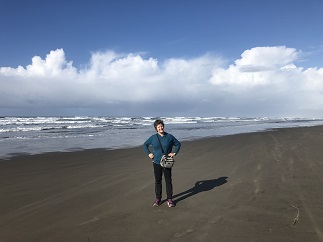 29) Kelly's Marina, Rockaway Beach, OR, November 5, 2021 - One highlight of our trip down the Oregon coast was camping at Kelly's Marina. The campsite was mediocre but the scenery was lovely. We also had a hoot watching a litter of very insistent kittens try desperately to get some of Jonna's boiled crab dinner while I frantically attempted to push them back.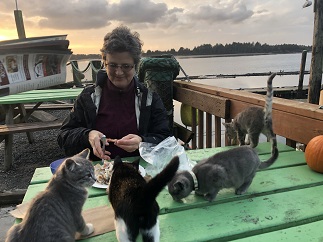 30) Kelly's Marina, Rockaway Beach, OR, November 5, 2021 - Sunset over the Nehelem River capped off a very nice day.
31) Pacific City, OR, November 6, 2021 - We met our friends Dean and Lorri for lunch in Pacific City and then went for a very short walk on the beach to see more of the iconic Pacific coast scenery.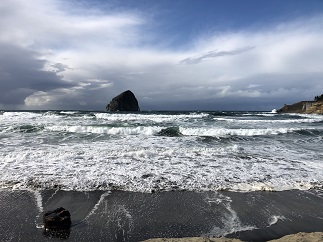 32) Inn At Spanish Head, Lincoln City, OR, November 8, 2021 - We spent a couple of nights in Lincoln City, Oregon where we met up with Jonna's long-time friend Sarah and her husband Shawn. We spent a day exploring the central Oregon coast, eating delicious food and wandering the streets of the small oceanside towns.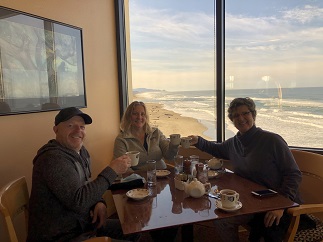 33) Cape Blanco Lighthouse, Cape Blanco State Park, Sixes, OR, November 8, 2021 - After our weekend hanging out with Sarah and Shawn we continued south along the coast. We spent a night at Cape Blanco State Park where we took an evening hike out to the historic Cape Blanco Lighthouse. Out on the point the wind was blowing a gale which made for challenging hiking but also created dramatic waves pounding into the cliffs. The next day we found out that this wind storm had caused damage all along the southern Oregon and northern California coast.
34) Simpson Reed/Peterson Memorial Trails, Redwood National Park, Crescent City, CA, November 9, 2021 - We crossed into California and immediately went in search of the incredible coastal redwoods which symbolize northern California. We stopped in Redwood National Park just outside Crescent City and hiked the Simpson Reed/Peterson Memorial trail loop. Just walking among these giants is an amazing experience.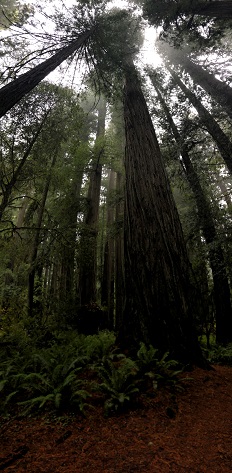 35) Lady Bird Grove, Redwood National Park, Crescent City, CA, November 9, 2021 - Just south of Crescent City we stopped at the Lady Bird Grove to see another section of old growth redwoods in Redwood National Park. This section of redwoods is more open than the section at lower altitude we'd hiked through earlier which gave a different feeling but it was still staggering to see how large these sentinals are.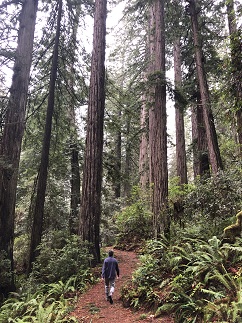 36) Agate Beach, Patrick's Point State Park, Trinidad, CA, November 9, 2021 - Our next camping spot was at Patrick's Point State Park. Our particular campsite was a crappy one, basically just parked on the shoulder of the campsite loop, but it was only a short walk to Agate Beach which was fantastic. It was cold and windy which kept everyone else off the beach so we had it to ourselves.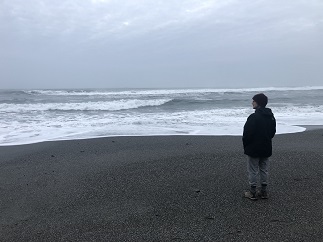 37) Avenue Of The Giants, CA-254, Humboldt Redwoods State Park, Miranda, CA, November 10, 2021 - One of the most scenic drives in the entire US is the Avenue Of The Giants along the north coast of California. This little used road winds through the coastal redwoods like driving through a bright green tunnel made of mammoth tree trunks. It felt tight driving even a small RV through this area but was well worth taking this side road rather than the faster US-101 which parallels it to the east.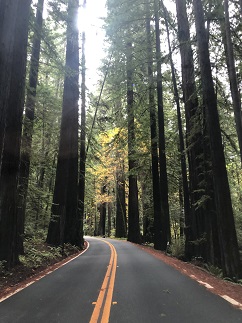 38) Glass Beach Trails, Ft. Bragg, CA, November 10, 2021 - We spent the next night at a campground on the southern edge of Ft. Bragg, California. However, we drove to the northern edge of town in order to hike along the coast on the Glass Beach Trail. This beach is named after all the seaglass that is mixed in with the beach sand in this area. The seaglass was originally glass thrown into a dump just up the coast from this area but over the years was washed out into the ocean and now washes back ashore as small colorful beads of glass. The trail along the coast just south of Glass Beach offered wonderful views of the offshore rocks, sea birds and some dramatic clouds.

39) Point Arena Lighthouse, Point Arena, CA, November 11, 2021 - As we continued our drive south the next sight we stopped to enjoy was the Point Arena Lighthouse. We arrived just as they opened for the morning which allowed us to visit the small museum in the old lighthouse keeper's house before any other guests arrived (a rare time when our COVID precautions allowed us to go inside a museum.) We also enjoyed the views along the coast in this area and spent a half hour just watching the waves roll in and the seabirds flying overhead.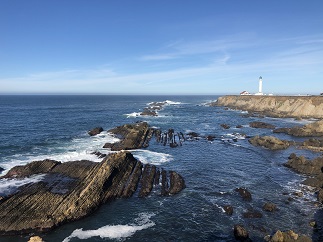 40) Bodega Head, Bodega Bay, CA, November 11, 2021 - Our last campsite along the coast, before we arrived in the San Francisco Bay area, was in one of the campgrounds in Doran Regional Park at Bodega Bay. In the afternoon we walked on Doran Beach and then in the evening we drove around Bodega Harbor and up onto Bodega Head to watch the splendid sunset over the Pacific.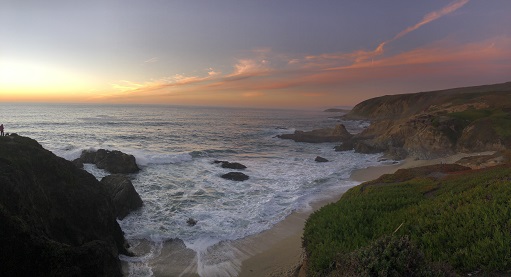 41) Stinson Beach, Bolinas, CA, November 12, 2021 - Just before we drove into the craziness that is the San Francisco Bay area we stopped at Stinson Beach - a place Jonna visited often when she was growing up in the Bay area. We walked the sunny, and relatively empty, beach enjoying watching the seabirds frantically searching the surf zone for breakfast.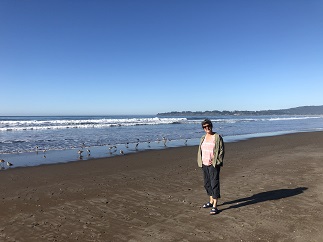 42) Claremont Canyon Trail, East Bay Regional Park District, Berkeley, CA, November 13, 2021 - This last section of our long road trip would be spending a week in Oakland, California visiting with Jonna's brother Jamie and his family. We parked the RV in his driveway and then borrowed a car or joined the family on outings. One of our first was a short but steep hike with Jamie in Berkeley where we climbed the Claremont Canyon Trail to get a bird's eye view of the Berkeley campus and out across the bay to downtown San Francisco.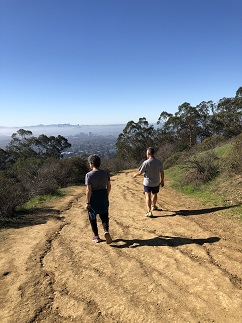 43) Left Bank Restaurant, Menlo Park, CA, November 14, 2021 - We got to double up seeing friends while in the Bay area. Our friend Robert is a musician and was playing at gig at the Left Bank Restaurant in Menlo Park. We met our friend Krista for brunch where we were able to visit with both of our friends!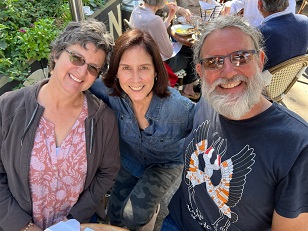 44) Palos Colorados Trail, Joaquin Miller Park, Oakland, CA, November 14, 2021 - Jonna had plans to visit with some of her old Bay Area friends so while she was away Jamie and I headed to the Joaquin Miller Park just up the road from his house to do a loop hike. I am always amazed at how good the hiking in this area is considering how close this area is to the massive metropolis that is the Bay Area.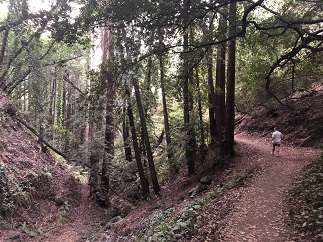 45) Little Yosemite via McCorkle and Canyon View Trails, Sunol Regional Wilderness, Sunol, CA, November 15, 2021 - Jamie brought Jonna and I out for another hike but this time a little further afield. We often hike in the redwood forests around Oakland but this time we drove inlands from the Bay area to check out the hardwood forest further to the east. We parked at the Sunol Regional Wilderness area and hiked in to the Little Yosemite waterfall on Alameda Creek. Honestly, whoever named canyon after Yosemite had delusions of granduer but it was still a scenic hike through a very different terrain than we are used to seeing when we visit this area.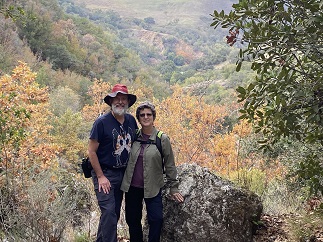 46) Joaquin Miller Trails, East Bay Regional Park District, Oakland, CA November 19, 2021 - Our last hike, and the last activity of our road trip, was another hike in Joaquin Miller Park but this time with our niece Rosie. It was a foggy afternoon and the mist gave the eucalyptus forest a mystical feel. A lovely time catching up with our niece and a very pretty area to explore.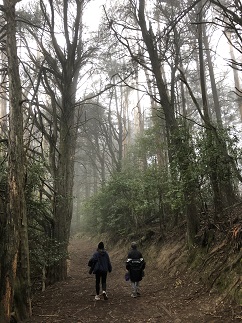 Return to Alan and Jonna's Travel Page

Return to Alan's Home Page
---
Alan Fleming