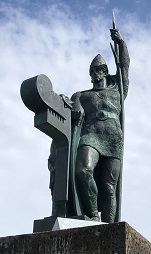 ---
Brenda, Harvey, Jonna and Alan's trip to Iceland
We had a family vacation to Iceland planned for May in 2020 but the onset of the COVID pandemic forced us to cancel. Neither the, tour company nor the airline would refund our money but both did credit us to the money was available for future use. Even though COVID was still a threat in 2021, there was a window between the 2020 onset and the Delta variant surge where numbers were going down so we all masked up and braved making the trip in July of 2021. As it turned out, Iceland was probably one of the safest places in the world so we had a fantastic three weeks exploring Iceland and were all sad that we had to leave to return to the US which was in the midst of the Delta craziness. While in Iceland we spent a couple of days in the capital of Reykjavik before picking up a rented car arranged by the tour compamy Nordic Visitor. With the car we spent two weeks driving a loop around the entire country staying at hotels pre-arranged by Nordic Visitor. Finally, we stuck around for another couple of days in Reykjavik at the end of our trip before flying back to the US.

Here are some of our favorite photos from the trip (each photo is a thumbnail linked to a higher quality picture.):

33) Dimmuborgir, Iceland, August 1, 2021 - We had a in-car picnic lunch in the car while watching raindrops patter on the surface of Lake Myvatn. Our last stop was at the Dimmuborgir (Black fortress) lava flow where 2,300 years ago lava covered a lake and the steam from the evaporating water blasted up through the lava to create wild shapes and countless caves. We checked into a big, modern hotel overlooking Lake Myvatn and found a nearby campground where we could do laundry.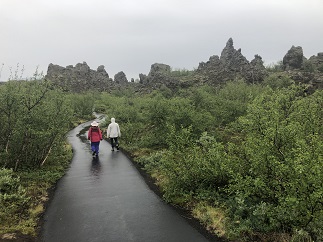 34) Húsavík, Iceland, August 2, 2021 - It was a fluke that my highlight of the day happened first thing in the morning. We drove from our hotel in Lake Myvatn to the port of Húsavík which was about an hour away. There we boarded the Garðar which is part of North Sailing's whale watching fleet of traditional Nordic fishing boats. Thankfully, it no longer serves its original purpose and now brings tourists out into Skjálfandi bay to see the gentle giants there. We spent three hours spotting humpback whales, white nosed dolphins, harbor porpoises and plenty of seabirds (of which the comical puffins were the star attraction.) Having a huge humpback breach right next to the boat and then show its fluke as it did a deep dive was amazing. I think we were all thrilled with the experience.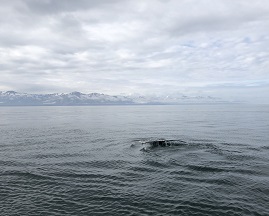 35) Ásbyrgi Canyon, Iceland, August 2, 2021 - After lunch in Húsavík we drove the Diamond Circle. A new ring of natural sites that is being developed to be the north coast's version of the famous Golden Circle outside Reykjavik. We stopped in the Jökulsárgljúfur area of Vatnajökull National Park to see Ásbyrgi canyon. We did a short hike through the trails there and enjoyed viewing Botnstjörn pond.

36) Hljodakletter, Iceland, August 2, 2021 - From there we turned south to start our return drive and along the way stopped at Joksargljufur park to see the Hljodakletter lava formations. This massive basalt wall is mesmerizing because unlike the more common vertical basalt columns, here the basalt lava was extruded out like twisted spaghetti and there are 50 foot high walls with columnar shapes pointing in all directions. My favorite was a concave wall with the center hex shapes and then spires of columns radiating out like sun rays. We arrived back in Lake Myvatn in time for a snack and we headed out shortly to soak in the nearby Nature Baths. Best of all, the weather forecast for the day had been for cold and rainy but we had blue skies and some sunshine for much of the day. A real fluke!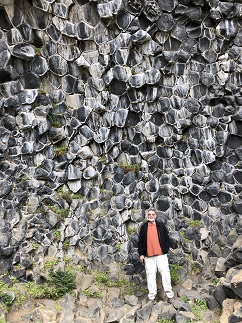 37) Goðafoss, Iceland, August 3, 2021 - This was our longest day yet! We got an early start and soon after made our first stop at the stunning Goðafoss - which translates to "Waterfall of the Gods". It may be the most beautiful waterfall of the trip.

38) Akureyri, Iceland, August 3, 2021 - From there we drove to Akureyri which is the second largest city in Iceland. (That sounds impressive until you realize its population is just 18,500 people!) There we visited the Botanic Gardens which were in full bloom. We spent nearly an hour enjoying all the flowers from all around the world.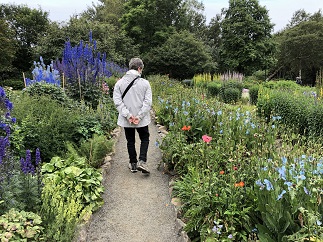 39) Herring Era Museum, Siglufjörður, Iceland, August 3, 2021 - Our next wondrous sight was to drive the Tröllaskagi (the troll's peninsula) which is a three hour scenic drive hugging the oceanside cliffs of the tallest mountains in Iceland. Very scenic indeed! We stopped for lunch in Siglufjörður and went through the excellent Herring Era Museum as well. Definitely worth the visit!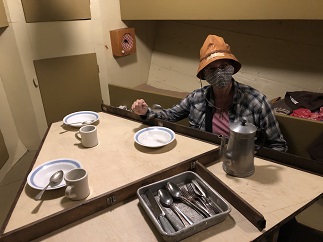 40) Glaumbær Farm, Iceland, August 3, 2021 - From this northern most tip of mainland Iceland we went south where we split up. Brenda and Jonna visited the Glaumbær Farm museum to learn about farm living in the sod house era (and to have tea in their cafe).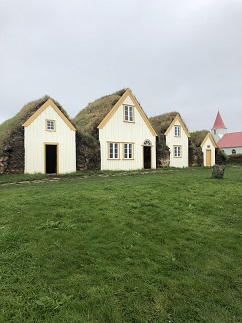 41) Hestasport stables, Skagafjörður, Iceland, August 3, 2021 - Meanwhile, Harvey and Alan went for a one hour trail ride on the famous Icelandic horses. We all enjoyed our respective outings. We once again lucked out with the weather since the 45 minutes of rain we encountered was while we were driving and was after we'd finished the scenic peninsula drive. We arrived at our hotel in Laugarbakki late and too tired to take advantage of their hot tub but we all thought it was another great day in Iceland!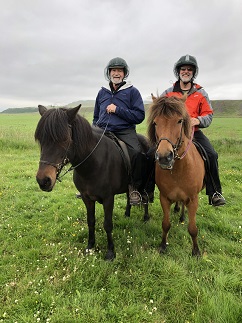 42) Borgarvirki Natural Fortress, Iceland, August 4, 2021 - Today was all about the vast scenery of the northwest as we moved out onto the Westfjords. We started with a delightful scenic drive around the Vatnsnes peninsula. Our first stop was at the Borgarvirki natural fortress. This is a volcanic basalt cone which had stone walls built on the top and open side on one side. The stories say there was a big viking battle fought there during the Settlement era but even if that isn't true the panoramic views from the top were worth it.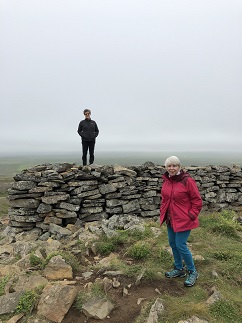 43) Illugastadir Farm, Iceland, August 4, 2021 - Just up the coast we stopped at the Hvítserkur sea arch - a natural wall just offshore with two small arches at the waterline and with hundreds of gulls nesting on it. A very serene view. On the opposite side of the peninsula was the Illugastadir farm with a coastal trail which offers great seal watching. In addition to seeing the seals lounging on offshore rock shelves there were also loads of seabirds, along with the ubiquitous sheep and Icelandic horses. Just down the road we stopped in Hvammstangi for an excellent lunch. As we drove around the Hrútafjörður we moved into the Westfjords region which is a rugged peninsula of sharp mountain ridges and deep fjords. We didn't see any specific scenic sights along the way but instead we just enjoyed the gorgeous views as we drove. We made it to our hotel in the small town of Drangsnes in time to relax before having a picnic for dinner and calling it a day.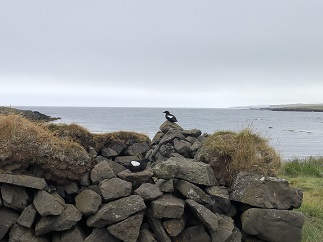 44) Litlibær farm, Iceland, August 5, 2021 - Today we were visitors in the world of the Icelandic seabirds as we drove through the Westfjords. We spent the day winding in and out of many fjords. Driving from the mouth to the head and then back down the opposite shore to the mouth again...and each one was filled with ducks, geese, terns, sandpipers, swans and many other types of seabirds. Truly a birdwatchers delight. We also saw seals on some of the openings where side fjords opened out into the main Ísafjarðardjúp. We made a few stops in the morning to see things along the way like the Heydalur valley and the Litlibær farm (where we enjoyed warm drinks and lovely scenery at their picnic tables).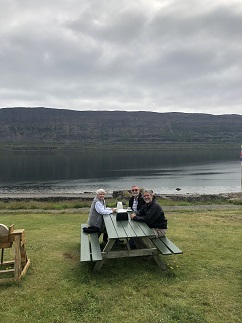 45) Álftafjörður, Vestfirðir region, Iceland, August 5, 2021 - For lunch we stopped to have an incredibly scenic picnic looking out over the Álftafjörður.

46) Arctic Fox Centre, Súðavík, Iceland, August 5, 2021 - We made a stop at the Arctic Fox Centre where we learned about how they were hunted as a pest until this part of Iceland started to protect them. They had a orphaned fox pup in a fenced-in area outside so we got to see a living one, in addition to the taxidermy versions inside.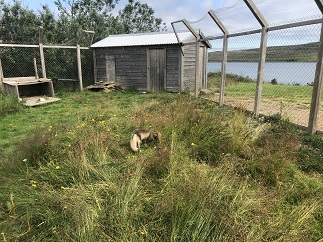 47) Ísafjörður, Iceland, August 5, 2021 - We are settled down for the night in Ísafjörður. While waiting to check into our hotel we found a small history museum in the old boat yard and walked around town. We even managed to find a restaurant for dinner that wasn't full of tourists from the big cruise ship docked in town! Despite all the stops this day was mainly about watching the stunning scenery.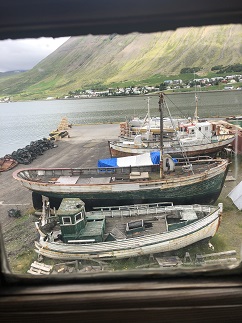 48) Skruður Botanical Gardens, Iceland, August 6, 2021 - Wow, we had a day that was jam-packed with sightseeing! In fact, we were so busy today that I re-named our rental car the "Fjord Explorer". Our first stop, amid the low lying early morning clouds and atmospheric ground fog was the remote Skruður Botanical gardens which are on a hillside overlooking Dýrafjörður. The modest enclosure is home to the oldest botanical gardens in Iceland (Est. 1909) and one of the highlights is a huge gate made from the jawbone of a whale. The flowers were lovely but the tranquility on this lonely fjord was the real take away.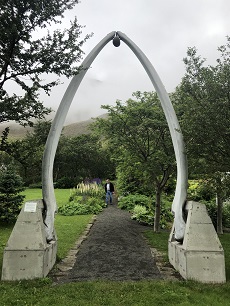 49) Dýrafjörður, Iceland, August 6, 2021 - Next we stopped in Þingeyri to see a recreated Viking festival ground. Meh. But the town did have a gas station with bathrooms and coffee so a worthy stop. The direct route out of Dýrafjörður was a tunnel but we opted to take the dirt road over the pass... the first of many dirt roads and passes we would drive today. The views were spectacular and the highlight of the day happened on this stretch of road. We saw a wild arctic fox kit bouncing around in a field of grass. Cute beyond belief!

50) Dynjandi, Iceland, August 6, 2021 - The next fjord we dropped into was Arnarfjörður and the star attraction there is the impressive Dynjandi waterfall. It is actually a series of waterfalls cascading down a cliffside but its distinctive feature is that the top-most fall, a 330 feet drop, fans out over a series of basalt columns so it looks like a lace veil. Beautiful!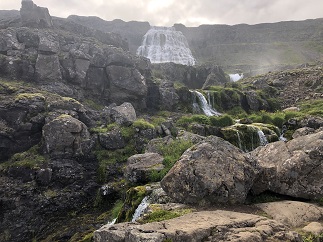 51) Látrabjarg bird cliffs, Westfjords, Iceland, August 6, 2021 - After lunch in Bíldudalur we crossed yet another pass (this one paved!) into Tálknafjörðurand then over even another pass to Patreksfjörður. From there we ended the day with two sights on the southern coast of the Westfjords. First was a visit to the western edge of Iceland at the Látrabjarg bird cliffs. 15 miles of 400+ foot high sheer cliffs covered with sea bird nests. The highlight was up close encounters with adorable little puffins but the sheer scale of the cliff walls and the vast expanse of the North Atlantic spreading out nearly all the way around the point. Once again the weather forecast had claimed rain but the clouds burned off early in the morning and by the time we got to Látrabjarg it was sun burn weather. Literally, perfect!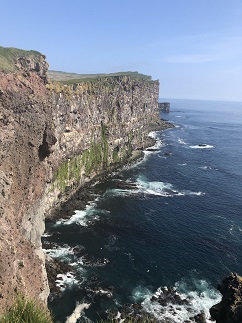 52) Rauðisandur, Iceland, August 6, 2021 - Our last stop was just a little way to the east but required an hour of driving and two more passes to reach. Rauðisandur is a red sand "beach" but would more accurately be called a spit. A pair of narrow arms across the mouth of a shallow bay with a orangey-red sand. We started the long hike out to the beach but found the tide rapidly rising (so rapidly it was visibly climbing up the tidal flat at about an inch a second) that we aborted the plan to reach the actual red sand and instead called the brownish tidal flat red enough for our purposes. Exhausted after a long day we retreated back to our hotel in Patreksfjörður and called it a very successful day of sightseeing.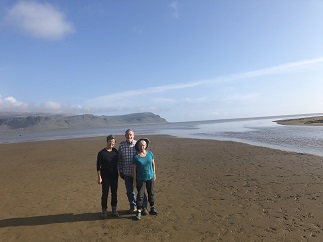 53) Kirkjufell, Iceland, August 7, 2021 - For our penultimate day driving Iceland's ring road we left the Westfjords region behind and moved over to the Snæfellsnes peninsula. This move was done via an Icelandic ferry (no, not one of the mythical fairies but a big boat that carries cars and people!) We drove straight from our hotel to the ferry dock at Brjánslækur. We boarded the Baldur just after noon and had a cruise across Breiðafjörður bay with a quick stop at the tiny island of Flatey to drop-off/pick-up walk-on passengers. (If we return to Iceland an over night visit to Flatey will likely be on the itinerary.) 2 1/2 hours later we disembarked in Stykkishólmur and immediately headed west along the Snæfellsnes peninsula. Our first sightseeing stop of the day was just a short drive later at Kirkjufell mountain and waterfall. It is one of the most photographed mountains in Iceland so we followed the trend and took our own snaps. Once again we had perfect, cloudless blue skies so the scene was ideal and even our phone camera photos looked good.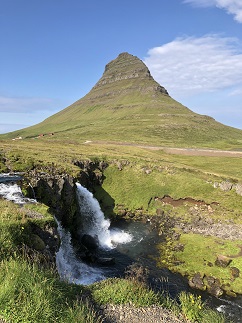 54) Djúpalónssandur (Black Lava Pearl Beach), Snæfellsnes National Park, Iceland, August 7, 2021 - Back in the car we drove to the western end of the peninsula and started back east along the southern coast. There were a number of sights on this stretch but the crowded parking lots (we are back within easy driving distance of Reykjavik so the day travelers can reach this area) combined with it being late in the afternoon deterred us from stopping. One we did visit was Djúpalónssandur, which is a black rock beach. The parking lot was packed but we still did a little walk to an overlook to watch the waves crash in. From there we beelined it to Arnarstapi to check into our hotel and get dinner. Afterwards, Jonna and Alan drove back to Djúpalónssandur where we found a nearly empty parking lot and similarly lightly populated beach. We walked on the rocky beach to see the scattered remains of the 70+ year old shipwrecked boat the Epine, watched big waves roll into the stoney shore (and listened to the clatter of a thousand volcanic rocks rolling in the surf) and hiked out to Dritvík cove to see the volcanic towers out in the shallow water just offshore. A wonderful way to wind down near the end of the trip. Back at the hotel Alan headed out by himself on a coastal hike between Arnarstapi and the neighboring village of Hellnar. He was hoping to see Gatklettur ("Hellnar Arch") but after hiking for two miles, and getting within a stone's throw of Hellnar, he gave up without spotting the arch. It was a beautiful evening (nightime? It was 9pm…) hike though so no complaints.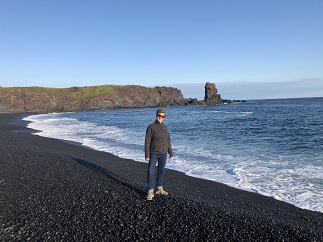 55) Krauma Geothermal Baths, Iceland, August 8, 2021 - Happy Birthday to the effervescent Brenda! (FYI, and by that I mean "vivacious and enthusiastic" not "fizzy") Today was our final day driving the ring road so we were slowly moving toward Reykjavik as we did our sightseeing. We started by driving just a short distance eastward on the Snæfellsnes peninsula to the Búðakirkja (aka "The little black church of Budir" which is a simple 200 year old church that stands out on a lava field near the coast. From there we moved off the peninsula and turned south. We next drove to Borgarnes where we stopped at the Settlement Centre but decided it was more of a time and financial commitment than we wanted for our last driving day. Instead, we headed northeast into the Reykjadalsá river valley to the Krauma geothermal baths. We spent about an hour soaking in the hot pools and relaxing in their hot room. (Which had a fireplace, soothing music and reclining chairs.)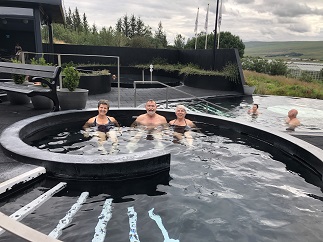 56) Hraunfossar, Iceland, August 8, 2021 - Warmed and relaxed we had a roadside picnic before continuing up the river valley to a trailhead with short walks to two different waterfalls: Hraunfossar ("Lava waterfalls") and Barnafoss ("Children´s waterfall".) Barnafoss is a series of cascades through a lava flow which created a slot canyon with curves, arches and steps. Just a short distance down the river is Hraunfossar which pours directly out of the cliffside as it emerges underneath a layer of lava. Really cool to see and proves that even after two weeks of viewing multiple waterfalls every day we were still being amazed!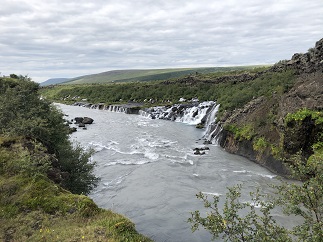 57) Háafell Goat Farm, Iceland, August 8, 2021 - We started back out of the river valley on a dirt road and surprised Jonna with a visit to the Háafell Goat Farm where we got to pet some kid cashmere goats and an orphaned lamb. Getting to pet some animals is a great way to reduce stress while traveling so between the hot spring and the goats we should be about as calm as possible! (Game of Thrones fans: these goats were used in the TV series and one of their star goats was virtually eaten by one of the dragons.) We wanted to visit Eiríksstaðir, which is a nearby museum dedicated to the viking Erik the Red and his son Leif Eriksson, but it was too late in the day so we pointed the car towards Reykjavik and headed south.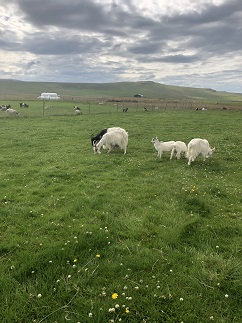 58) Rok Restaurant, Reykjavik, Iceland, August 8, 2021 - We closed our two week loop around Iceland as we drove back into the capital. We easily found our hotel and spent an hour relaxing before heading to the Rok Restaurant to celebrate Brenda's birthday. A delicious meal and then we finished off the day with ice cream as we walked back to the hotel. Best of all, we still had a couple of days left to explore more around Reykjavik before our trip is over!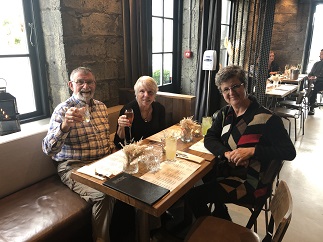 59) Fagradalsfjall, Reykjanes Peninsula, Iceland, August 9, 2021 - So our highlight for the day pretty much was our day: The hike in to see the erupting Fagradalsfjall volcano. That is mainly because the hike took up over half the day. Want to do a cool hike? Step 1, find an active volcano and then hike to the top of a nearby peak so you can watch the lava erupt out of the crater. Fortunately, Iceland provided us with an erupting volcano when the Fagradalsfjall volcano started erupting in March 2021 so we just had to supply the hiking. We did just that. We extended our rental car for an extra day so we could make the one hour drive south out of Reykjavik. We paid for parking in a lot at the mouth of a valley and started hiking. The lower part of the trail was an old dirt road and it led to the leading edge of the lava flow where new black lava was mostly cool but still steaming in places. From there a single track trail started climbing up a ridge with a series of increasingly higher summits. The first climb was the most tricky - steep, sandy and covered with roller rocks. After that the trail continued to climb but a little less steep and with more rock ledges we could use as steps. We got to the trailhead early so the trail was relatively empty with just clusters in the more challenging areas. Up at the top, the crater was maybe a mile and a half away with the black lava flows pouring down the hillside into the valley. Up at the crater red hot lava was spewing up out of two vents on the rim of the crater and periodically a jet of lava would shoot straight up out of the center of the main crater. So cool! We stayed up at the summit watching the awesome lava show for about 45 minutes before deciding to head back down. It was slow going but we all made it back to the old road safely where we made a side trip over to the face of the lava flow to see it up close. Afterwards, we returned to the car to bask in what a tremendous experience we had just had. The afternoon, once we returned to Reykjavik, was filled with "to do" tasks: Dropping off everyone else at the hotel and then driving the rental car back to the rental office. (We put 3,509 km on the rental car, with no problems, so I think we got our money's worth out of it.) Alan could have waited for a shuttle bus but decided to walk back to the hotel instead. The weather this morning was overcast and cool (great for hiking and for viewing the volcano) but the sun broke through in the afternoon so the stroll through central Reykjavik was very nice. Back in the hotel room we spent a few hours having lunch, re-packing our luggage, writing postcards and catching up on podcasts. Mundane tasks...the only exception was going out for a fine dinner and, naturally, some yummy ice cream. A quick stop at a souvenir shop and then back to the hotel for the night.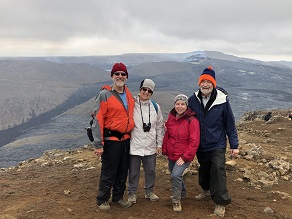 60) Grasagarður Botanic Garden, Reykjavik, Iceland, August 10, 2021 - We started our last full day in Iceland with a trip to the health clinic to get a swap stuck up our noses. We all tested negative for COVID-19, so we now had the necessary paperwork to board our flight home tomorrow but given the relative COVID situations the idea of just staying in Iceland seemed particularly nice. After our tests we split up to spend the morning doing different things. Jonna and Alan walked from the clinic to the nearby Grasagarður Botanical Garden but were a little disappointed. Unlike the other two botanical gardens we had visited in Iceland this one is more of a reference library for plants rather than a decorative garden. They have an impressive collection of plants but they are arranged side-by-side, indexed and named, in straight rows. Great for learning names but kind of boring to just wander through.
61) Harpa Concert Hall, Reykjavik, Iceland, August 10, 2021 - After a break at the hotel to rest Jonna and Alan hit the streets again to find lunch and then to see more of Reykjavik. Our first stop in the afternoon was the Harpa Concert Hall which is a striking and relatively new addition to the city's architecture. We walked around inside to see through the geometric "fish scale" glass sides and to watch the reflections on the mirrored ceiling.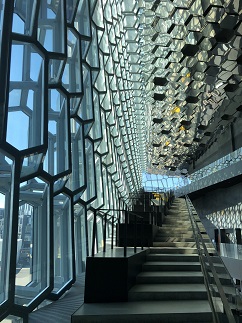 62) Reykjavík Museum of Photography, Reykjavik, Iceland, August 10, 2021 - Since we were in an artsy mood we next walked across the street to the Reykjavik City Library which hosts the Reykjavík Museum of Photography. They had a special exhibit of photos from the 1940s and 1950s which gave an interesting glimpse into Reykjavik's history. We next walked next door to one of the annexes of the city Art Museum but decided the entry fee was more than we were willing to pay (you pay for entry to all four but we only had time left to visit one...) Instead, we walked around the old harbor area but found it was now mostly touristy shops and activities. The maritime museum looked interesting but again it was too late in our trip to do it justice. We hopped a bus to back near the hotel and made a picnic dinner out of our snack food.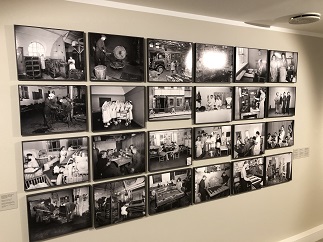 63) Hús Máls og Menningar, Reykjavik, Iceland, August 10, 2021 - We ventured back out to a grocery store where we could get snacks for the airplane tomorrow and saw a neighborhood bar/coffeeshop/bookstore that was having live, traditional Icelandic music at 8pm. We collected Brenda and Harvey and returned for what turned out to be angsy, singer-songwriter music at 9pm-ish. Still, it was enjoyable for what it was (If only we hadn't had to sit around for 1 1/2 hours to hear it!) At least we got in some more sightseeing so I think we can all leave feeling we have throughly "done" Iceland.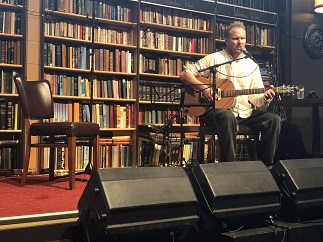 64) Greenland, Iceland, August 11, 2021 - Our final day was pretty basic. Up early, breakfast, packing, lunch and then our taxi ride to the airport for our flight out. Nothing worth writing about. However, as we flew west we went directly over the southern edge of Greenland. It was a cloudless day so we had fantastic views of the massive landmass that is Greenland. Sadly, we also had a bird's eye view of the thousands of icebergs fanning out from the (rapidly) melting glaciers. A beautiful, if sad, sight to end our incredible vacation to Iceland.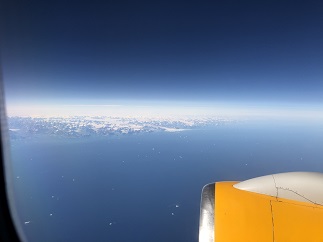 Go back to the first '21 Iceland Trip Photo Page.

Return to Alan and Jonna's Travel Page

Return to Alan's Home Page
---
Alan Fleming