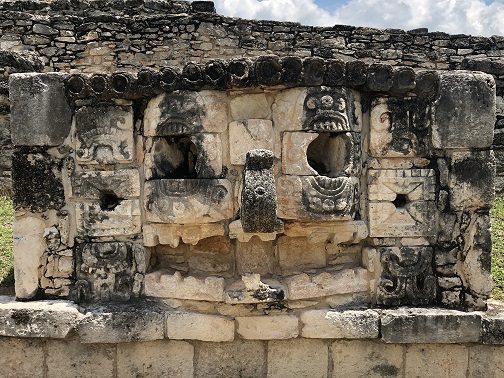 ---
Jonna and Alan's trip Mexico
Jonna and Alan decided that our first trip, after getting vaccinated for COVID-19, was to fly down to Mexico to visit with Alan's cousin Heather. Jonna was recovering from back surgery so our plan was to basically spend a week lounging around. This is in stark contrast to our normal international vacation where we are busy every day. In the end we did get out for a couple of day trips but overall we stuck with original plan and spent far more time in the Gulf, in the pool and in hammocks than out sightseeing.

Here are some of our favorite photos from the trip (each photo is a thumbnail linked to a higher quality picture.):

1) Progresso, Yucatan, Mexico, May 13, 2021 - Heather had rented a beach front house, the pink house on the right in this photo, in Progresso, Mexico in which to ride out COVID. It was a spacious three bedroom house which had a small private pool. She invited family and friends to come visit so Jonna and I took her up on that!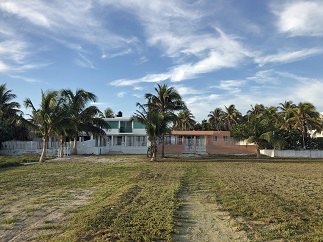 2) Progresso, Yucatan, Mexico, May 13, 2021 - Wednesday, we woke up to snow. Thursday, we woke up to tranquil blue water, tropical birds and warm sunshine. I am not saying things are always better south of the border but we had no complaints for our first day in Mexico.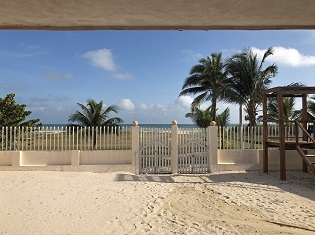 3) Progresso, Yucatan, Mexico, May 13, 2021 - Well, this whole "fun in the sun" thing just isn't what we are accustomed to. In an effort to make sure we don't enjoy this trip Mexico provided us with interesting food for our first day out. After our first choice was closed and our second choice was packed we ended up at a beachside restaurant which flooded us with so many free appetizers that we were physically uncomfortable from over eating. We did actually pay for some food as well with Alan getting papadzules (egg enchiladas covered in a pumpkin seed sauce) and Jonna getting a big pile of fresh ceviche.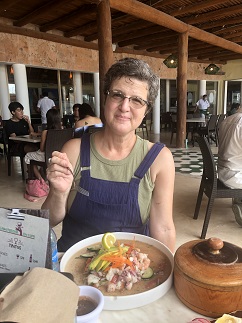 4) Progresso, Yucatan, Mexico, May 14, 2021 - Jonna is slowly adapted to the challenging schedule in Mexico. Wake up, walk on the beach, eat good food, soak in the pool and then eat more good food. Rinse. Repeat. It was a tough life and I didn't know how long we would be able to handle it. We had only been there two days and we already couldn't thank cousin Heather enough for enabling this!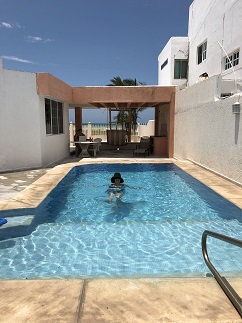 5) Progresso, Yucatan, Mexico, May 15, 2021 - Jonna managed to survive yesterday's water soaking so this morning she was moved into the stringy torture chair to see if hanging in the breeze for a few hours will break her. She may even be forced to drink tropical fruit juices and listen to podcasts. The discomfort will not end until she becomes cooperative.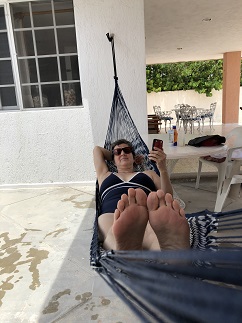 6) Progresso, Yucatan, Mexico, May 15, 2021 - To make sure we don't get too relaxed when staring out at the postcard perfect turquoise blue water in the afternoon our vision is periodically blocked by (literally) high flying kite surfers doing amazing tricks over the waves that get kicked when the wind picks up after mid-day.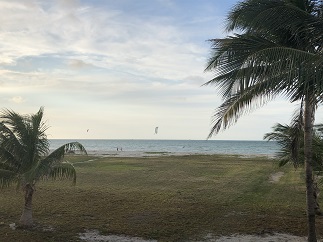 7) Zona Arquelogico Mayapan, Telchaquillo, Yucatan, Mexico, May 16, 2021 - We are not the first people to find the going tough in the Yucatan. When the Spaniards arrived here in the early 1500s it spelled disaster for the Mayan cities. Now the ruins of these grand cities, like Mayapan, provide a glimpse of Mayan culture which included massive stone pyramids like the one pictured here. Despite temperatures being in the triple digits we ventured into the jungles of the Yucatan to visit the archelogical site of Mayapan.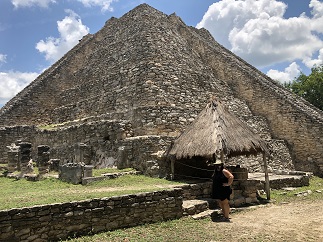 8) Zona Arquelogico Mayapan, Telchaquillo, Yucatan, Mexico, May 16, 2021 - The driver for both our errands and our excursions was Cristian. Heather had found him after having a problem with an early driver she had been using. Cristian was fantastic. A safe but effecient driver but also a friendly guy who seemed happy to join us on our adventures. He climbed up the Mayapan pyramid with us and even posed when I asked if I could take his photo.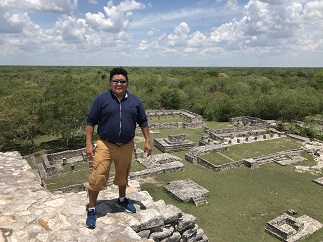 9) Zona Arquelogico Mayapan, Telchaquillo, Yucatan, Mexico, May 16, 2021 - Perhaps Mexico was showing us Mayapan as a threat... cooperate with all the attempts to enchant you with this tropical paradise or else your domestic normalcy will be torn down like this once grand central plaza in Mayapan.

10) Zona Arquelogico Mayapan, Telchaquillo, Yucatan, Mexico, May 16, 2021 - Our suffering continued. We left our beachside prison to see some of the surrounding sites but even those had been damaged. We visited the Mayan city of Mayapan only to discover it lay in ruins. The temples around the central plaza, along with the grand central pyramid, were a shadow of their former 8th century glory but were still magnificent to explore... and we shared it with only a couple dozen other visitors (unlike nearby Chichen Itza that had supposedly been overrun with tourists in May.) A great outing before returning to Progresso to under go forced naps, pool lounging and wave watching. (This photo includes cousin Heather and our driver Cristian.)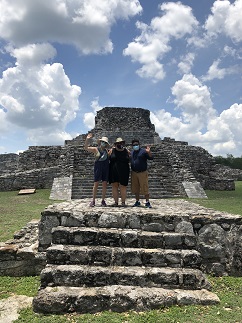 11) Santa Barbara cenotes, Cuzama, Yucatan, Mexico, May 17, 2021 - Another of the unique features of the Yucatan are the cenotes. These are natural waterfilled caves formed in the limestone bedrock by underground springs. These cenotes dot the penisula and vary from fully underground caves to partially open caves with holes in the ceiling to fully collapsed caves which are now wide open pits. Three cenotes (Cascabel, Chaksikin and Xoch'), one of each of the types described, are within a well developed tourist attraction called Santa Barbara where guests can either bicycle or ride a horse drawn cart on a one mile loop that visits all three.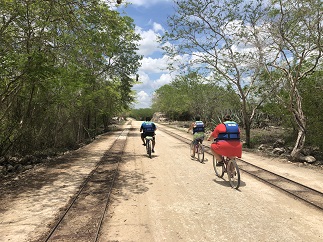 12) Santa Barbara cenotes, Cuzama, Yucatan, Mexico, May 17, 2021 - On an opressively hot and humid day the constantly cool water down inside a cenote like Cascabel is a pretty appealing place to be. Due to a recent tourist death in a cenote near Tulum all guests to cenotes everywhere in the Yucatan were required to wear life jackets.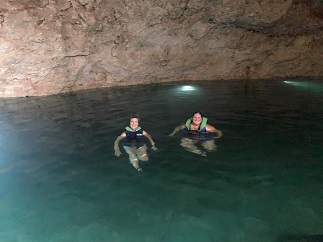 13) Santa Barbara cenotes, Cuzama, Yucatan, Mexico, May 17, 2021 - Our tormentors were relentless in their efforts to make sure we didn't enjoy ourselves in Mexico. This day it was water torture. We were driven to three cenotes - water filled caves - where we were dunked into crystal clear blue water and left to soak until our skin shriveled like prunes. One of the cenotes, pictured here, was full of stalactites and had swallows darting in and out through holes in the ceiling. When soaking in the cenotes didn't break us we were returned to the beach where we were forced to swim in the Gulf of Mexico. Bathtub warm salt water didn't do the trick either so we ended up floating in the private pool until sundown. We just had to withstand one more day of this before we were to be released back to the paradise of our snowy spring home in the mountains of Colorado. We were determined to stay strong. (This photo features Jonna, cousin Heather and driver Cristian in Chaksikin.)

14) Santa Barbara cenotes, Cuzama, Yucatan, Mexico, May 17, 2021 - The final of the three cenotes (Xoch') had an ominous sign - a committee of vultures (yes, a committee is the proper name for a collective of vultures!) perched in a strangler fig tree above the opening in the cenote's ceiling. The other avian feature of this cenote were hundreds of cave swallows which were constantly flying through the air.. (and constantly pooping into the water!) so we cut our time in the Xoch' cenote short.
15) Progresso, Yucatan, Mexico, May 17, 2021 - Oh woe were we. After returning from the Santa Barbara cenotes we had to stand outside last night and stare into the sun until it finally gave us a reprieve by setting below the watery horizon. Remember, we suffered through this so you don't have to.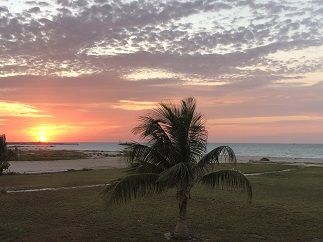 16) Progresso, Yucatan, Mexico, May 19, 2021 - Adios Mexico! You threw everything you had at us - the beautiful aqua blue of the Gulf, the cool clear water of the pool, the historic Mayan ruins, the fascinating underground cenotes, the delicious food and the lazy, breezy hammocks but we were strong. We resisted your alluring vacation siren song and we are now escaping back to our hum-drum retired life, safe in the knowledge that we can warn all our friends and family to stay clear. Do not fall for the stories my friends. Steer clear of Mexico. Stay at your jobs, keep parenting, keep shopping and paying those taxes. There is nothing but misery for you there!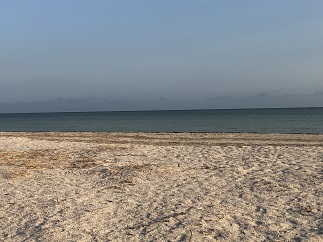 Return to Alan and Jonna's Travel Page

Return to Alan's Home Page
---
Alan Fleming