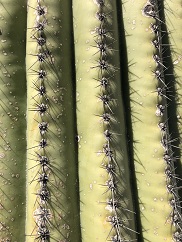 ---
Jonna and Alan's RV trip to southern New Mexico and southern Arizona
We decided to experience what the snow birds do. We left snowy Colorado in our camper and headed south to find some warm weather down in New Mexico and Arizona. We spent a couple of weeks exploring the two states to the south.

Here are some of our favorite photos from the trip (each photo is a thumbnail linked to a higher quality picture.):

1) RV, Santa Fe, NM, February 12, 2021 - Leon is *not* happy about this whole riding in the RV thing. This is the most comfortable he's been - at least in this photo he isn't hiding underneath the driver's seat. We are hoping that he'll eventually get used to the noise and movement...or he'll just get so tired of hearing us try to comfort, cajole, relax and tempt him out that he'll decide it is better to be in our laps that be constantly harassed by us.
2) Maria's New Mexican, Santa Fe, NM, February 12, 2021 - Obligatory chilies photo. I mean can you really travel through New Mexico and *not* take at least one photo of a chile ristras (the strings of red chilies)? These things have to be an official state symbol of some kind. These were hanging in the lobby of the restaurant where we got take out Mexican for lunch.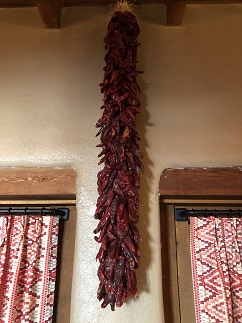 3) Valley Of Fires, Carrizozo, NM, February 12, 2021 - We camped for the night at the BLM campground in the Valley Of Fires recreation area. Since we arrived just at sunset we walked the Malpais Nature Trail as soon as we got parked so we could see the 5,000 year old lava flow that is the centerpiece of the park. It was beautiful New Mexican desert but growing over ropey black lava. Very interesting and beautiful!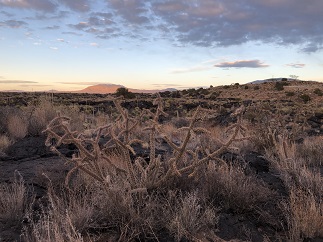 4) Three Rivers Petroglyph Site, Three Rivers, NM, February 13, 2021 - Early in the morning we stopped by the Three Rivers BLM site and walked the short loop that goes through an area richly decorated with 600-1,000 year old petroglyphs of the Jornada Mogollon people. A whole lot of art, culture and nature packed in a easily hikeable little trail.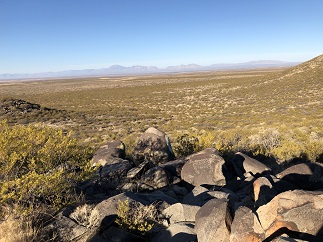 5) White Sands National Park, Alamogordo, NM, February 13, 2021 - In stark contrast to the black lava flow that can be glimpsed to the north, the bright white sand in White Sands National Park are almost blinding in bright sunshine. We stopped in and hiked a short nature trail that looped out into the gypsum sand dunes. It was like being at the beach but in the middle of the New Mexican desert.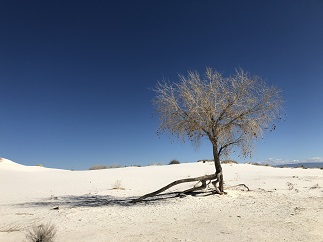 6) Las Cruces, NM, February 13, 2021 - Jonna may be getting tired of hearing about chilies...or least of having chilies fill her ear. The worlds largest chili (sculpture) is within walking distance of our camp site so we stretched our legs by walking over to the New Mexico appropriate roadside attraction in the evening after parking for the day.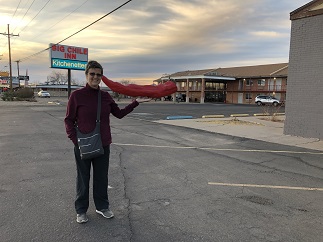 7) Las Cruces, NM, February 14, 2021 - Looks like it will be a quiet Valentine's Day for us. Snow in the desert means we're staying put for the day. Temps are supposed to drop into the teens and snow is supposed to continue for another few hours so we're hunkering down to watch movies on the laptop, read and maintain our loving relationship with the RV's propane heater.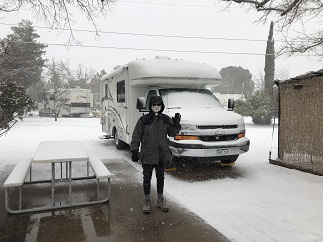 8) Chiricahua National Monument, Dos Cabezas, AZ, February 15, 2021 - Our original plan was to explore southern NM. The weather forecast expanded our horizons. Forecast for Silver City, NM - 22 and snow. Forecast for Willcox, AZ - 60 and sunshine. Hello Arizona! We drove west today and the turned south to see Chiricahua National Monument. What an unexpected surprise! We did a short hike at the Massai Point overlook where we could get a panoramic view of the rock formations that are the key feature of the park. We had hoped to camp and hike more but the campground is booked for the next two weeks so we kept rolling.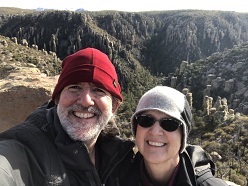 9) Rex Allen Lake, Willcox, AZ, February, 15, 2021 - Our camp spot for the night is packed! Fortunately, only a couple of the other campers are people. The rest are sandhill cranes. Hundreds of them! A nice area to watch the sunset, watch the cranes and spend the night!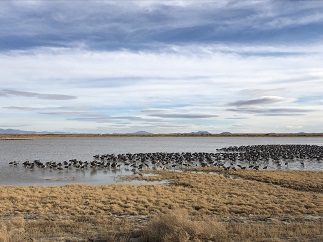 10) Rex Allen Lake, Willcox, AZ, February, 15, 2021 - Sunset and sandhill cranes!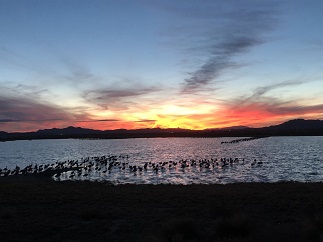 11) Kartchner Caverns State Park, Benson, AZ, February 16, 2021 - Today was a mellow day. We continued driving west but this time under an overcast sky. We had a campground reservation at Kartchner Caverns state park but arrived in the morning so we had the mid-day to explore before check-in. We hoped there would be cancellations for their COVID limited cave tours but no such luck. Instead we had lunch in the visitor center parking lot and then hiked a loop in the park. It was our first real hike in the Arizona desert and it was very different than hiking in the Colorado Rockies! We literally lost count of the different kinds of cactus! We also got to see the rare occasion of rain in the desert as some sprinkles rolled through while we were hiking. As a local told us "we got four inches of rain today...there were four inches between each rain drop."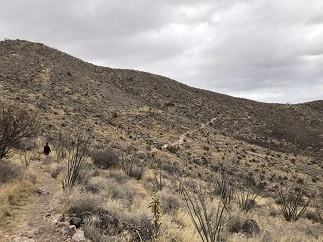 12) Saguaro National Park East, Tucson, AZ, February 17, 2021 - If you think of Arizona, surely the image of the saguaro cactus immediately comes to mind. So today while driving from Benson to Tucson we stopped off at Saguaro National Park so we could see the iconic plant ourselves.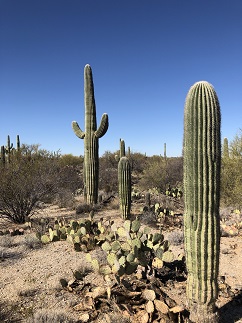 13) Snyder Hill BLM camping site, Tucson, AZ, February 17, 2021 - The main reason we headed to Tucson was to meet up with our friend Lance who is also traveling around the southwest. We meet up at a big chunk of BLM land just west of Tucson that has been set up as a free camping area. We joined about 50 other campers spread out around Snyder Hill. A mediocre camping spot but a great reunion with a good friend!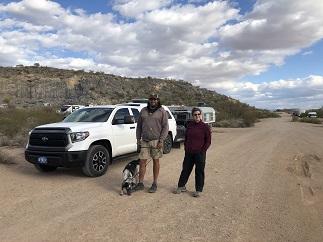 14) Ajo Mountain Drive, Organ Pipe Cactus National Monument, February 18, 2021 - we continued west today and went south as well. In fact, we can see the border wall from where we are camping. (I have thusfar resisted the urge to hike over and pee on it...) We arrived at Organ Pipe Cactus National Monument in the mid-morning. We visited the visitor center, had lunch in the parking lot and then did the scenic 21 mile drive through the Ajo mountains. A 2 hour rattle and bounce through a beautiful desert landscape! Once back from that we checked into our campsite. Jonna napped while I did a hike to an old gold mine. Temps are on the mid-70's and there isn't a cloud to be seen. Nice!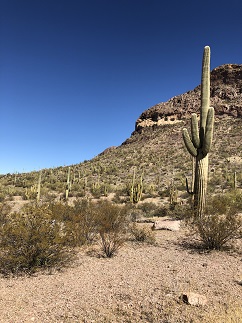 15) Organ Pipe Cactus National Monument, February 19, 2021 - We decided to stay put for another night which meant we had a day off to lounge around the campsite. We spent about an hour trying to get Leon comfortable outside - first in a tent-like pen and later on a leash. He did okay but it was clear he'd rather be inside. Mr Adventure he is not. After lunch we went for a short hike from a nearby trailhead we could walk to. It was a nice loop through the desert and had interpretive signs so we could learn about the plants along the way. Then back to the camper for the hottest part of the day to let Leon teach us how to just lay around. In the evening Leon got another excursion on the leash which he tolerated a little more than in the morning. He even got to see the cottontail bunny that hopped through the campsite. Dinner was under the setting sun. Not a bad way to relax for a day!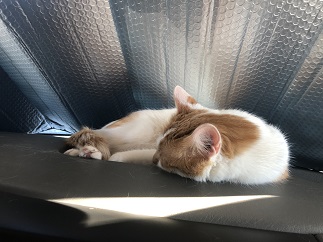 16) Arizona 86, Tohono O'odham Nation, February 20, 2021 - Today was mainly a T&T (Travel & To-do's) so the only photo I took was while driving. The subject is way off in the distance, up on top of that ridge of peaks. Specifically, it is the collection to telescopes up on top of Kitt Peak. The night sky the two nights we were in Organ Pipe Cactus National Monument was stunning. I can often see the Milky Way from our house in Colorado but the sky in the Sonoran desert, hundreds of miles from any big city, was velvety black and the stars just popped out. It was awesome. I'm sure the view of the cosmos from the telescopes at Kitt Peak National Observatory is equally impressive. Sadly, COVID has closed the site to visitors so I could only see it from the road.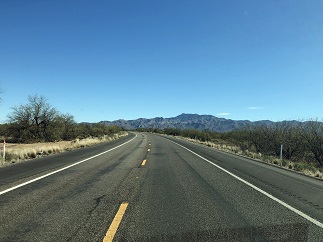 17) Windy Point Overlook, Mount Lemmon Highway, Tucson, AZ, February 21, 2021 - Our return east got us to Tucson where we reserved a campsite for two nights just outside of town. For the day off we chose to drive up Mount Lemmon. The Mount Lemmon Highway provides a long scenic drive that climbs from the desert up to over 9,000 feet. The scenery is fantastic! We stopped at the Windy Point overlook and enjoyed the expansive views out over Tucson. Then, on the drive back down, we stopped at the Green Mountain/Bug Springs trailhead and went for a hike. A perfect way to spend the day, not only because of the amazing views but also because the cool temperatures up on the mountain were about 15 degrees cooler than down in town!
18) Tucson, AZ, February 21, 2021 - I won't claim Leon has grown comfortable in the camper but when we spend all (or even most) of a day parked he is comfortable enough to wander around the camper and to enjoy looking out the windows. Loud and/or strange noises, however, still send him scampering back under the seats. The other thing we still have to work on is keeping him entertained enough during the day that he stays awake. When we are driving he just sleeps the whole time which means he's awake (and energetic) all night. We've had more than a few nights where we are all awake between 3 and 4am...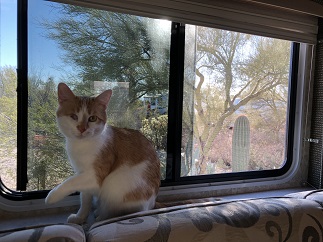 19) Phoenix, AZ, February 22, 2021 - We had planned to stay in the Tucson area for another day but an invite from old friend Robin and Paul to visit them in Phoenix quickly changed that plan. We loaded up the RV and drove north! Robin and Paul were excellent hosts. Robin brought us out for a hike and then they cooked us dinner. The weather was warm enough we could open the doors and windows which generated enough airflow we felt comfortable eating inside. A bit of mask-less normalcy in this COVID altered world and a day of much appreciated companionship catching up with friends!
20) Gila Hot Springs Campground, Gila Hot Springs, NM, February 23, 2021 - As a celebration of her birthday Jonna soaked in the hot springs while enjoying views of the cliffs along the Gila River. We camped for two nights at the hot springs - no services, no cell service and no worries!
21) Gila Hot Springs Campground, Gila Hot Springs, NM, February 23, 2021 - We didn't have a birthday cake for Jonna's birthday but thanks to a bakery in Silver City, NM we did have two mini-pies (Apricot and Blackberry). Yum!
22) Gila Cliff Dwellings National Monument, Gila Hot Springs, NM, February 24, 2021 - Perhaps the best sight we saw this entire trip was visiting The Gila Cliff Dwellings. These 700 year old adobe brick structures built inside natural caves in the walls of a long extinct volcano aren't very large but unlike sites like Mesa Verde you can walk around inside these to see how they were made. We arrived at the site when it opened in the morning and had the site to ourselves. Fascinating!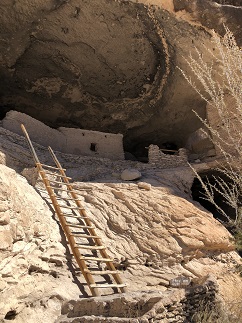 23) Emory Pass, NM-152, Kingston, NM, February 25, 2021 - The roads in this part of New Mexico are *perfect* motorcycling roads. The camper, on the other hand, was a bit of a handful. I hope to return with a motorcycle one day to ride NM-15, NM-35 and NM-152. Still, the views were incredible going over the Mimbres Mountains!
24) Bosque del Apache National Wildlife Refuge, San Antonio, NM, February 25, 2021 - This was primarily a driving day going from Gila Hot Springs, NM to Santa Fe, NM. But the drive over NM-152 made for a scenic morning. We wanted to stop mid-day for lunch and found that we were near the Bosque del Apache National Wildlife Refuge. The entrance fee was only $5 so we paid and drove the North Loop Road. The refuge is 57,000 acres and much of it consists of artificial lakes which are maintained in order to provide habitat for both local and migratory birds. We parked at one of the observation platforms and had a picnic lunch while watching Sandhill Cranes, a Northern Harrier Hawk, A Bald Eagle, various ducks and a huge flock of Black Phoebes. Then, on the drive out, we encountered a massive flock for Snow Geese which were actually blocking the road. They did eventually move out of the way as we approached but considering the road was one-way and it is undoubtedly rude to run over birds in a wildlife refuge we did think our lunch break might take longer than anticipated. A worthy detour off the interstate!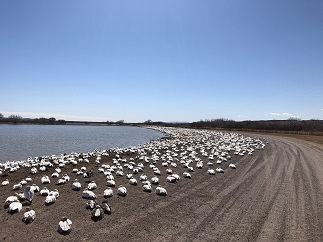 25) Santa Fe, NM, February 26, 2021 - Our sole reason for swinging through Santa Fe on our return trip north was to visit our good friends Bill and Tracy. We arrived in the early evening and got to enjoy another of Bill's amazing meals, along with excellent conversation and some doggie kisses from Beep and Sky (and even a few kitty headbutts from Loki!). We all agreed we need to stay longer on our next visit. Unfortunately, my dinner photo of all of us turned out blurry so I only have a photo of Bill that I took as we were leaving in the morning.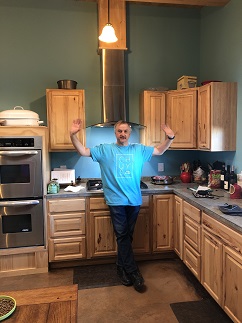 26) Costilla, NM, February 26, 2021 - Today we returned to Colorado! Because of the weather forecast we started making our way back towards home yesterday but with the forecast calling for snow and cold weather we want to make sure we arrive in Nederland mid-day to take advantage of whatever sunshine and high temperature is available. So we split the drive home in two so we will have a short day for the last leg. Today we traveled from Santa Fe, north through Taos and crossed into Colorado between Costilla, NM and Fort Garland, CO, then went east through Walsenburg, CO to pick up I-25 north. We stopped for the night in Pueblo, CO were we topped up with gas, did laundry and filled up with propane. We'll dump the tanks in the morning and then beeline for home with our fingers crossed we can get the camper up our snow covered driveway and parked.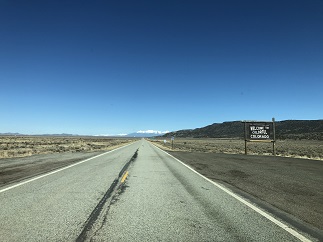 27) Nederland, CO, February 27, 2021 - We are back home! After 16 days on the road we arrived back in Nederland, CO at noon today. Fortunately, we were able to get the RV back up the snowy hill into our driveway though it did involve a lot of wheel spinning and some tightly crossed fingers. Once the camper was in front of the garage it required some shovel work to break up some of the ice under the tires in order to enough traction to maneuver into the proper parking space. We spent the afternoon emptying out the camper, doing laundry and watching Leo practically dance around the house with joy.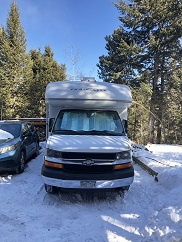 Return to Alan and Jonna's Travel Page

Return to Alan's Home Page
---
Alan Fleming