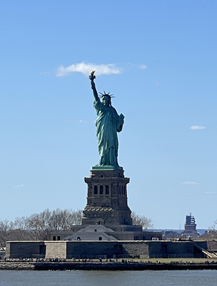 ---
Jonna and Alan's trip to New York City.
Alan's cousin Kelly is a theater actress and a play in which she was performing, The Drag Seed, was invited to come to New York City for a two week run at the famous La MaMa Experimental Theater. Alan and Jonna, along with a dozen other family members, all headed to NYC to see Kelly perform. We booked flights and a hotel to give us a week in the Big Apple so we could spend some extra time enjoying some of what New York City has to offer. Additionally, we invited our niece Rosie to take the train up from Philadelphia and spend a weekend with us which made it extra special.

Here are some of our favorite photos from the trip (each photo is a thumbnail linked to a higher quality picture.):

1) Essex Market, New York City, NY, April 9, 2022 - To mis-quote another traveller, "Toto, I've a feeling we aren't in the mountains anymore." Whew! A Friday night in the city that never sleeps is a long way from our little mountain town! The breakfast on Saturday morning was a welcome experience - Chai tea and delicious croissants. Next we were off to see what the Lower East Side had to offer.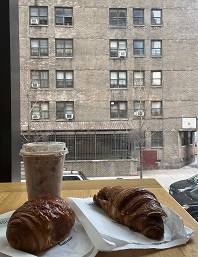 2) International Center Of Photography, New York City, NY, April 9, 2022 - We started our museum crawl of the Lower East Side with a visit to the International Center of Photography. We had visited this museum about a decade ago and really enjoyed it so since it was across the street from our breakfast spot at Essex Market we headed there first. Unfortunately, the two exhibits they had on display this time weren't quite as memorable. We walked through both galleries but only a few pieces jumped out to me this time. Still, always nice to see more art so it was worthwhile...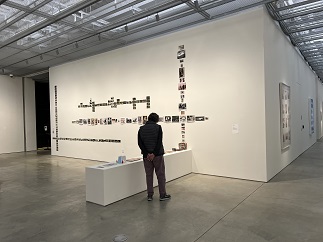 3) New Museum, New York City, NY, April 9, 2022 - Our second museum stop for the day was the New Museum, a contemporary art museum that often showcases emerging artists. This time, however, they had a retrospective show of the female African-American artist Faith Ringgold - someone the New Museum had shown six decade ago as a then contemporary artist. The show was fabulous - powerful paintings on quilts, soft fabric human-size costumes, hand-painted children stories and politically active posters and confrontational paintings. A very interesting visit!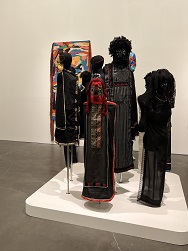 4) Tenement Museum, New York City, NY, April 9, 2022 - Our final museum for the day was the incredible Tenement Museum. We had booked a tour (the only way one can visit is via one of their tours) and it was terrific. The tour we chose (most of the tours were booked up days in advance so our choices were limited) focused on the 1950-1980 period looking at the lives of two immigrant families, one Puerto Rican and one Chinese. The guide brought these stories to life assisted by being in recreated rooms in the actual apartment these families had lived in. Fascinating history and a great glimpse into millions of stories that make up this amazing city.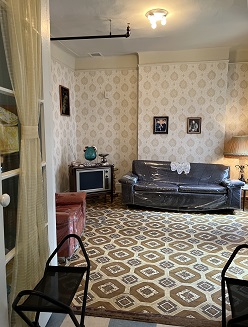 5) LaMama Experimental Theater, New York City, NY, April 9, 2022 - The reason for this trip was to see the play The Drag Seed which my cousin Kelly Anchors has been acting in for its two week run at the famous LaMama Festival. We had tickets for the Saturday night show and joined many family members who had all traveled to NYC to support Kelly. The play was a total hoot! Outrageous, campy and two hours of fun. We laughed, clapped, whistled and literally hooted through it all. Beautifully acted and equally well staged. Two big thumbs up!
6) EJ's Luncheonette, New York City, NY, April 10, 2022 - If there is anything that I could call a tradition around my visits to New York it would be eating at EJ's. This New York diner was opened by cousin Robert Eby and is currently managed by his daughter Sarah Eby. For Sunday breakfast we headed uptown and walked into the very popular restaurant to grab a hearty breakfast before spending the day exploring the Central Park area. I've been eating at EJ's since at least 1999 and, as always, enjoyed it. Rob and Sarah weren't at the restaurant so we couldn't say "Hi" in person but it still rated a spot in our daily diary. So glad EJ's continues to be an Upper Eastside institution after all NYC has been through in the past few years.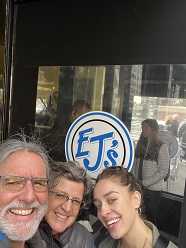 7) Metropolitan Art Museum, New York City, NY, April 10, 2022 - My idea of a sacred pilgrimage is to regularly visit The Met throughout my life which means no visit to Manhattan would be a success with walking through the grand entrance of the US's most incredible art collection. I will freely admit that a history of colonialism and greed and shady politics is behind this collection and that steps should be made to right some of the many wrongs that are buried in that history. However, I still wander the magnificent galleries of The Met in complete awe. We only had an hour and so only saw a tiny corner of the museum but I still walked out slack jawed at the wonders within.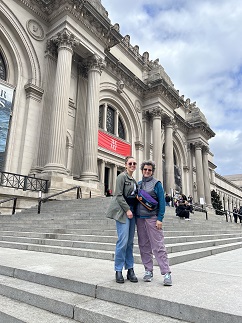 8) Central Park, New York City, NY, April 10, 2022 - Despite my having visited NYC numerous times in my life I have spent relatively little time inside Central Park. Since Jonna and niece Rosie felt the same we booked a two hour bicycle tour through the park. It turned out to be a small tour led by a excellent native NYC guide. The tour was a mix of cycling the roads and bike paths combined with periodic stops to learn about the history, see landmarks, talk about NY culture and take photos.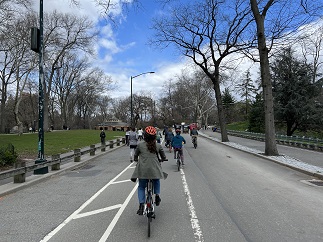 9) Central Park, New York City, NY, April 10, 2022 - One of the first stops on the bike tour was the popular photo spot looking south out of the park at the high rise buildings of upper Midtown. We followed the trend and got our own Insta-moment photo. We all enjoyed spending time in the cool, fresh air as well as getting in some exercise.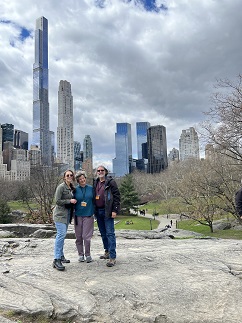 10) Family Meal, New York City, NY, April 10, 2022 - We ended our fantastic whirlwind day with Rosie at Family Meal. Jonna had found reviews online and booked us reservations based on that without any other knowledge. Wow, what a meal! I can't clearly remember all the great meals I've had in my life but this one is surely near the top. The chef's approach is both rustic and sophisticated. Taking Farm-To-Table ingredients and then focusing the preparation on adding enough flavors to enhance the natural taste of that ingredient without taking too much attention away. Each dish, and there were around a dozen, was highlighted the fresh, amazingly tasty ingredients while still giving us subtle undertones that kept us guessing as to what was added. The staff and decor were equally well done so it was a wonderful dining experience. We walked back through the city to the hotel very happy (and full)!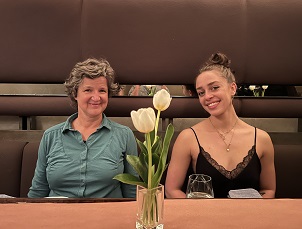 11) Family Meal, New York City, NY, April 10, 2022 - The dinner at Family Meal is a fixed price, no menu, multi-course farm-to-table meal. You can specify any culinary restrictions you might have but ultimately you are seated, order drinks and then the just food starts to get delivered to the table. Just one example of the courses that we received was this platter - steaming home-baked artisan whole grain bread served with warm freshly churned ricotta cheese, charcuterie cured meat and sweet habanada peppers.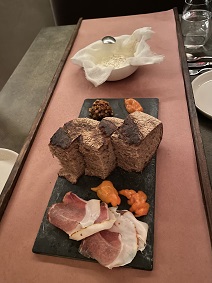 12) Tenement Museum, New York City, NY, April 11, 2022 - Monday started with us waving goodbye to Rosie as she left to return to home and work in Philadelphia. We were sad to see her go after such a short visit with her but really happy we got to explore some of New York with her! We had a relaxing morning back at the hotel once we returned from the subway station and then ventured back out to return to the nearby Tenement Museum to do a different tour, this time joined by cousin Heather. The topic this time was the Jewish Immigrants of the Lower East Side during the beginning of the 20th Century and was also quite interesting. Definitely worth the return visit!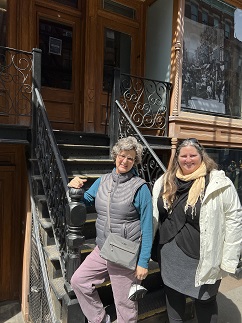 13) The High Line, New York City, NY, April 11, 2022 - Our afternoon activity was walking the High Line - A 1.5 mile section of elevated train track that was converted into an urban greenway with a paved walkway, gardens, trees, benches and outdoor art. It was a much better way to navigate the north-south direction on the lower West Side than taking the sidewalk but I can't say I thought much of it as a destination in its own right. I hike in the incredible Rockies every week so a few plants along a crowded concrete walk isn't gonna impress me. Still it was experiencing something new and that is always a goal for travel so I can check this off the list.
14) Brooks Atkinson Theatre, New York City, NY, April 11, 2022 - A visit to NYC offers the opportunity to catch one of the big shows on Broadway and the musical Six is getting a lot of hype right now. Since we are big fans of Hamilton, the chance to see another historically themed musical seemed like a no-brainer. I have to say though that I wasn't blown away by it. The performers weren't a problem - their singing talent was incredible. One number was exceptional but overall the writing just didn't do it for me and the concept as a whole didn't work either. In the end it felt, to me, like a very flashy, overly produced pop concert with very little substance. Plenty of toe tapping and even some hand clapping but I didn't feel it lived up to the hype. I''l also admit, though, that the majority of the audience clearly disagreed so my opinion is probably an outlier.
15) citizenM Hotel, Times Square, New York City, NY, April 11, 2022 - After watching Six, Jonna and Alan joined Alan's Aunt Gail and cousin Charlotte for drinks at cloudM - the 20th floor rooftop bar at the citizenM hotel where Gail and Charlotte were staying. It was a little loud for relaxed conversation but the view was fantastic!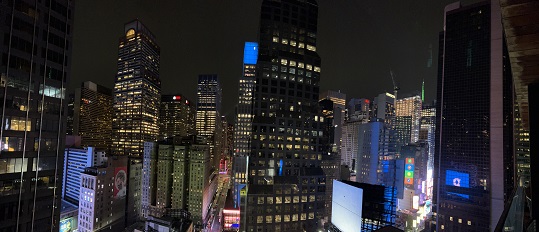 16) Museum of Modern Art, New York City, NY, April 13, 2022 - For our final day in NYC we headed uptown. We noticed the subway train was surprisingly empty and when we got off we discovered there had been a horrible mass shooting on that subway line over in Brooklyn. Our day, though, was another happy one which made the news all the sadder. We started off with the subway ride into Midtown and a rainy walk to a coffee shop where we had the pleasure of meeting up with our friend Idun Tokle Larsen who is in NYC on vacation from Norway. Once again I forgot to take a group photo but it was a moment worthy of one. So great to see her again. Next we walked over to MoMA where we joined the throngs lined up for when the doors opened. It is heart warming to see a museum devoted to modern art is so popular! We spent almost two hours and only covered one floor. Mind bending as always in the best way.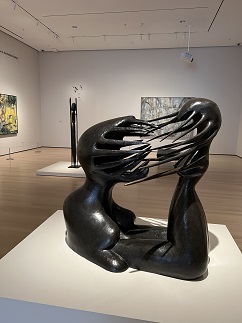 17) Nam Wah Tea Parlor, Chinatown, New York City, NY, April 12, 2022 - The sun came out while we were in MoMA so we decided to venture out for lunch. We jumped a downtown train and headed south to check out one of the oldest dim sum restaurants in Chinatown. We beat the lunch rush and had a good (but not as great as on the West Coast!) dim sum with dumplings, greens, spring rolls, gelatinous rice rolls and sesame balls.
18) Staten Island Ferry, New York City, NY, April 22, 2022 - Since we were already in lower Manhattan we decided to spend our afternoon riding the Staten Island ferry, aka the Free Statue of Liberty boat cruise. It was a nice afternoon out so the ferry was packed but we managed to get a good look at Lady Liberty both going to Staten Island and on the return trip. After learning so much about how the waves of immigrants that came into New York played such a crucial role in building this city that statue and the words emblazoned upon it struck that much more of a chord.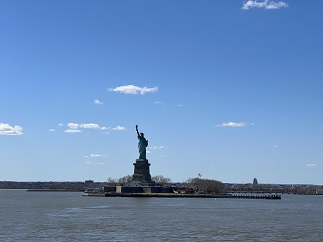 Return to Alan and Jonna's Travel Page

Return to Alan's Home Page
---
Alan Fleming