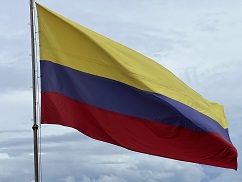 ---
Jonna and Alan's trip to Colombia
Alan's cousin Heather, the world roaming digital nomad, spent the summer of 2022 in Cartagena, Colombia. With her tourist visa period running out we jumped on a plane and flew down to spend most of her final month traveling with her. We decided we would spend three weeks down there but I decided that I didn't want to deal with driving so we just based ourselves out of Heather's apartment in Cartagena and split our time between exploring the city and doing short trips out to neighboring sites. In the middle of our three weeks our cousin Michelle's son Samuel flew up from his study abroad in Santiago, Chile and spent his spring break week with us. It was hot (a high of 85-95F each day), humid (always in the 70-80 range) and often raining (September is the start of the rainy season so it rained about half the days we were there). However, despite that the city of Cartagena is always buzzing with energy and throbbing with music. We definitely enjoyed our visit!

Here are some of our favorite photos from the trip (each photo is a thumbnail linked to a higher quality picture.):

1) Getsemani neighborhood, Cartagena, Colombia, September 12, 2022 - A taxi drove us from the airport to the place my cousin Heather had rented right in the center of old town. A beautiful three story apartment in a small complex with a pool, garden and covered tables. It was a great base for exploring Cartegena.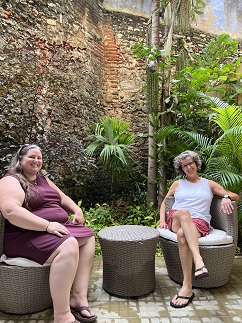 2) Calle de la Sierpe, Getsemani, Cartagena, Colombia, September 12, 2022 - In order to stay awake after a red-eye flight and a morning out of Miami we decided we better get out to walk before our third round of medicinal caffeine wore off. The temperature had dropped a little from the 85 degree high mid-day but it was still warm and very humid during our evening stroll. We walked to nearby Plaza Trinidad where we spent nearly two hours doing some excellent people watching. What a vibrant place! Music playing, food cooking, people socializing, street vendors hawking their wares, walking tours snaking through the crowd and the ever present hook of car horns from the chaotic traffic circling the little square. It felt like being in the heart of a neighborhood black hole with everyone and everything swirling around us.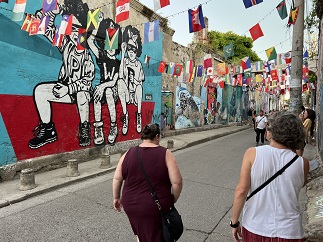 3) Plaza de la Trinidad, Getsemani, Cartagena, Colombia, September 12, 2022 - We dined on empanadas and arepas ($3.75 for all three of us) from a street cart and I cleared my palate with a passion fruit sorbet ($2)... we had only been there a few hours and I'd already found the nearest gelato shop!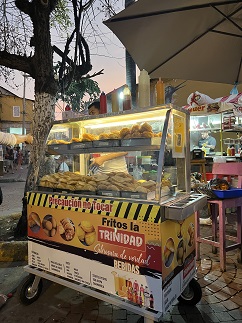 4) Getsemani, Cartagena, Colombia, September 13, 2022 - Our first full day was just getting established so running errands, doing some shopping and checking out the immediate neighborhood. The highlight of the day was definitely learning that our cousin Samuel was going to take a break from his studies in Chile to fly up and explore Colombia with us for a week. Yay! The day started with a morning excursion to find a really nice coffee shop so Jonna could have a cup of gourmet Colombian joe. She declared it delicious and then decided to buy some for the apartment so she can start her days for the rest of trip with it. Next we went in search of an ATM which was successful but included unexpected excitement when we accidentally set off some kind of alarm leaving us stuck in a small booth with a blaring siren while frantically trying to complete the cash withdrawal. After a relaxed rest of the morning getting our hearing back, we then ventured back out to find lunch - where we found a place with upscale caribe cuisine. Jonna got a fried whole fish covered in veggies and spices. Heather got a fish stew. I had a fried rice and veggie dish. All were excellent and very much what we hoped for when visiting the Caribbean. After lunch we walked through the park across the street from our apartment - Parque Centenario. We spotted giant iquanas and lots of birds. Supposedly there are also sloths and monkeys but we didn't spot any. We'll check back throughout our time in Cartagena. With the afternoon temperature and humidity both back around 85 we retreated back to the apartment to soak in the pool for a couple of hours. Aaaaahhhhhhhh. When things started to cool down in the evening we went back out to do some more grocery shopping, walk around the historic old town center square and then to find a hole-in-the-wall arepa place for dinner. Literally, a hole in the wall. A small stall built into the wall of a street with griddles packed in around four very energetic cooks. Delicious, affordable and a bit of theater watching the cooks hustle cranking out hundreds of arepas to a steady stream of customers.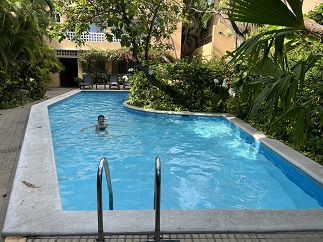 5) Museo del Oro Zenú, Centro, Cartagena, Colombia, September 14, 2022 - We had a lazy morning hanging around the apartment while it rained with varying intensity for a couple of hours. As we had already learned this didn't cool down the temperature at all but did immediately double the humidity. We had lunch and by the time we were finished the sun was starting to break through the clouds so we headed out for some city sight-seeing. Our first stop was the Museo del Oro - The Gold Museum - which covered around 1,500 years of gold smithing throughout the northern part of South America. There were separate cases with archeological examples of indigenous gold work from eacb of the regions of what is now Colomhia. Favorites were representations of "Lobster Man" and a variety of nose clips worn like piercing-free nose rings or glittery fake mustaches. Next was a visit to the neighboring bank to see an extensive collection of black-and-white photographs by a female news photographer covering the 1940s and 1950s. Photo exhibits like this are such a fascinating way to see parts of a country's history!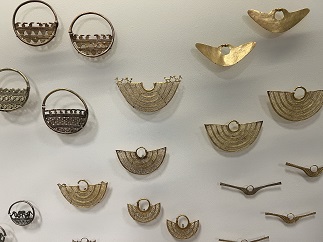 6) Caribe Jewelry Museum & Factory, Centro, Colombia, September 14, 2022 - Across the street was the Caribe Jewelry Museum & Factory (aka The Emerald Museum) which is actually a jewelry store with a history of the Colombian emerald mining section. Still, it was well worth the 20 minutes we spent there since the guided tour told the history of emerald mining, discussed the chemical and geological processes that create emeralds and displayed replicas (made with real emeralds) of some famous emerald jewelry and ceremonial pieces from around the world. The sales people didn't push at all for us to buy anything in the store section. BTW, I have to say that both the store clerks and the myriad street vendors are consistently very polite. They will get your attention but immediately back off if you say "No gracias". This has not been our experience in some other countries and is quite a pleasant surprise.
7) Museo de Arte Moderno de Cartagena, Centro, Colombia, September 14, 2022 - After the glittery museums our next stop in the Old City Center was the Museo de Arte Moderno - Modern Art Museum of Cartagena. This was a nice museum in an old Spanish colonial building which provided a nice contrast mixing the old with the new. The art was interesting and in some cases very thought provoking. One video piece, titled "Son de Negro", showed young afro-latin men putting on black face and body paint while dancing to hip-hop music and then contrasting this with images of trans and/or cross-dressing men in colorful traditional dresses. Lots to unpack in that!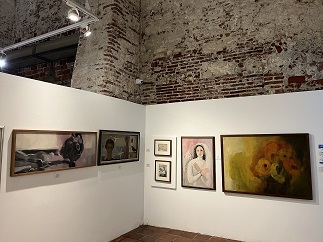 8) Cafe Del Mar, Centro, Cartagena, Colombia, September 14, 2022 - After the art museum we found a cafe with umbrella covered tables and frozen fruit juice drinks. Many of the restaurants serve a coconut-lemonade slushy that tastes kind of like key lime pie and matches up great with the heat and humidity. The 15th-16th century city walls make for a nice scenic stroll so we wandered down the coastal edge of Cartegena atop the wall for a few blocks, getting to Cafe de Mar about an hour before sunset. Cafe de Mar is an open air bar built on top of the city wall that opens just before sunset. We got an early spot in line and were seated, drinking ice cold non-alcoholic drinks and snacking just as the sun dipped below the horizon and lit up the sky with pink, orange and gold. As the day turned to night we returned to the apartment so Jonna and Heather could take a dip in the pool before it closed.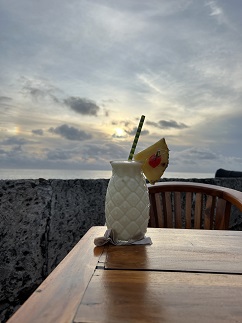 9) Monumento Torre del Reloj, Centro, Cartagena, Colombia, September 15, 2022 - We started the day slow, then stopped completely mid-day but still finished stong. In the morning, after breakfast in the apartment, we walked a few blocks away to hit up a couple of grocery stores to add more food to our refrigerator. Even in the morning the streets are humming with activity. We loaded up a backpack with groceries and picked up two more big jugs of filtered water then lugged it all back home. Just the shortest errands result in drenched shirts from the energy sapping heat. We spent the rest of the morning digging around on the Internet trying to sort out some upcoming excursions. Prices, accomodations, ammenities and transportations all vary. Websites are, naturally, in Spanish so we are reliant on Google translate and lots of creativity to figure out what is what. Even with three of us beavering away on the wifi we spend hours trying to nail down plans. Once our brains were fried and our thumbs sore we put down the devices and made lunch. The plan was to relax in the pool for a couple of hours but literally as Jonna finished putting on her swimsuit a giant peel of thunder shook the building. The storm that rolled in was a mighty one and it stuck around for two hours. When the rain finally abated the streets, squares and sidewalks were all flooded. Cars were having to inch through intersections that were 10" deep with water and industrious street venders were building stepping stones through deep puddles on sidewalks by pulling up paving stones and stacking them up. (Then charging pedestrians who wanted to avoid wading through ankle deep mud...mud somewhat created because there were no longer paving stones covering the dirt underneath the ex-sidewalk.)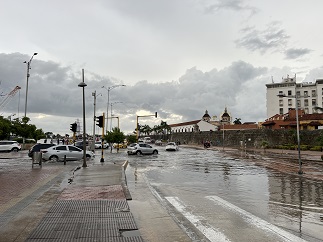 10) Nexperience Walking Tours, Cartagena, Colombia, September 15, 2022 - We wandered out into this drippy, sloshy world because we had scheduled a walking tour that would focus on Cartagena's street food. On a high point in a plaza - basically an island next to a major intersection that was indistinguishable from the bay just a few feet away, we met up with our guide Mercedes with Nexperience Tours. She turned out to be an adorable woman full of knowledge, vibrant with her love of Cartagena and with a great taste for food. We spent the next 2 1/2 hours walking through the San Diego, Centro and Getsemani neighborhoods while sampling ceviche, plantanos, pande-bono, arepas, Colombian coffee and a variety of sweets made from coconut and cassava. All of the food carts, food stalls, restaurants and roving street vendors have been selling their food for decades and Mercedes took the time to introduce us to all of them, in addition to sampling their food. There were definitely a few we plan to return to! After the tour we were full but also completely drenched in sweat. I swear the humidity was almost like walking in a fog bank. We made a beeline back to the apartment, collapsed into the swimming pool and stayed until the security folks kicked us out to close the pool for the night. We are inside now, a little too buzzed from the coffee to sleep just yet and listening to the wall A/C unit strain trying to grapple with dropping the temperature in the living area. We may have only made it out to see one thing today but it was a worthy one so we are calling it a success.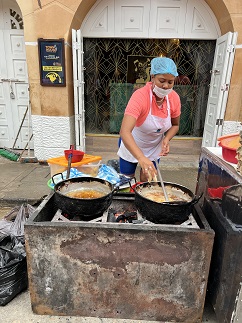 11) Los Chicharrones de Turbaco, Turbaco, Colombia, September 16, 2022 - Unfortunately, I woke up with a head cold. We feared COVID but two negative home tests and mild symptoms eventually proved otherwise. However, a congested head, oppressive humidity and a face mask are a miserable combination! Nonetheless, Jonna and I got out in the morning to walk a different direction and learn a little more about this old town section of Cartagena. The streets in the Getsemani neighborhood are vibrantly colorful. Most of the street facing walls are covered with large murals and many of the side street walls are additionally covered with painted canvases where local artists hang dozens and dozens of paintings. Even the sky seems colorful as there are flags, umbrellas and banners strung overhead as well. We walked another section of the old Spanish wall and saw the old Spanish fort across the bay. We will walk over to that one day to check it out. We got back mid-morning, again drenched in sweat, and spent the next couple of hours cooling down. I tried to rest as well. I got up for lunch and then we put together a plan for the afternoon - get an Uber to the town of Turbaco, an hour away, to visit the Jardin Botánico de Cartagena (The Botanical Garden of Cartagena de Indias). It took awhile to find a willing Uber driver but eventually Jorge picked us up. He didn't speak much English but was enthusiastic about communication so we all made it work. The drive out was slow in stop-and-go traffic, sometimes a lot more stop than go, but it allowed us to see some very non-tourist areas of town. We drove past the port and the heavy truck maintenance businesses that keep the steady stream of semi-trucks rolling. We also got to watch the chaos of a Colombian toll booth choke point. Colombian drivers do NOT hold back on their feelings when a toll booth causes a traffic stoppage. Eventually, we made it out to Turbaco and found the road to the Botanical Garden was mostly washed out. Jorge didn't blink and drove his Renault down a road that wouldn't be out of place on a 4x4 route. The "road" dropped down into a jungle valley and the botany was immediately interesting. However, the road was a clue that all wasn't well and a mile down the path we came to the gate of the Gardens only to find them closed. A guard told the four cars that gathered there that the gardens were closed due to unsafe conditions. Jorge didn't boot us out but also didn't blink when we asked to be driven back to a Chicharrones (fried pork) restaurant Jorge had pointed out as we drove out. We bought him dinner for being such a good sport during our aborted trip and both Jonna and Heather tried the chicharrones as well. They both gave them a thumbs up - crunchy skin on the outside, juicy and tender meat inside. This place had a long, long row of photos of famous people trying the pork but for some reason the staff didn't break out the camera for us. Another hour, this time filled with Spanish language lessons, brought us back to where we started. The garden trip was a flop but we had a great time with Jorge. That said, two hours was a long time to be masked in a warm car and trying not to cough or sneeze or blow my nose. We got back and again rested in the air conditioned apartment for a couple of hours.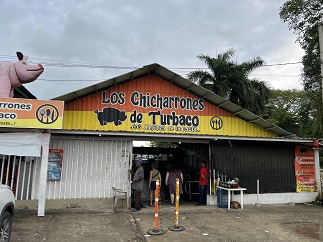 12) Cabildo de Getsemani, Getsemani, Cartagena, Colombia, September 16, 2022 - Despite our bumpy day we ventured out in the evening for a final attempt. We had heard during our walking food tour yesterday that a free festival would the happening at a nearby park so we headed that way. After a little walking around we eventually found the right place and got seats. The advertised start time was 6pm but the actual start was at least an hour later... and even then it was speeches by local officials opening the two months of celebrations that make up the annual Cabildo de Getsemani. We did our best to make sense of the rapid fire Spanish spoken by two MCs, the long speeches by a city offical from the cultural ministry and some baffling Carnival-like ceremony crowning the King of something. Finally, the music portion of the festival kicked off with a big salsa band. They were immediately delayed by technical problems and after 20 minutes of troubleshooting they came back on-stage to do a single song. Then there was another delay while the stage was swapped over for another act. Remember the video I mentioned seeing at the Modern Art museum with young men in black face? Well, the main act at this festival was that very group - Son de Negro. Apparently, this is a performance group with roots back to the slaves of colonial times. The black face and facial expressions used by the dancers is to represent slaves mocking their oppressors. The performers were accompanied by pounding drums, waving flags and two dancers in long, flowy dresses swirling around the stage. The dance itself was a frantic affair with waving machettes, leaping and snaking paths through the audience. By 10pm another act, a young pop star, took to the stage surrounded by four twerking/grinding dancers which was enough for us to call it a night. We certainly finished off our day with a purely local experience. For tonight we were just three more members of the Getsemani neighborhood.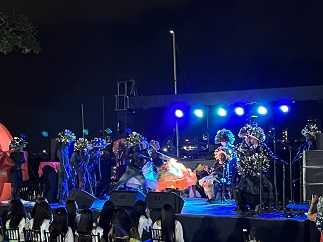 13) Bedroom, Getsemani, Cartagena, Colombia, September 17, 2022 - I lost a vacation day due to my head cold. Since I was sick and didn't want to get anyone else sick I just quarantined in the bedroom all day. The good news was that a second COVID rapid test was negative... and while I am skeptical of their accuracy I was already feeling better so decided to trust it. In the morning Jonna went out and picked up lunch goodies at a couple of the street vendor places we visited on our walking tour a couple of days ago. After lunch Jonna and Heather relaxed in the pool during the sunny afternoon. When clouds rolled in they abandoned the pool. They then went out to get pedicures in the late afternoon. Once they got back I ventured out long enough to join them for a home-cooked dinner. We'd been awaiting our cousin Samuel's evening arrival but problems with his flight change in Bogota had pushed his arrival back until 10pm. I stayed up and re-emerged to welcome him when he finally arrived.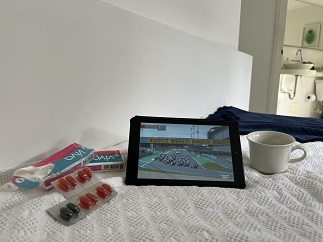 14) Las Bovedas, Barrio San Diego, Cartagena, Colombia, September 18, 2022 - After a day of being holed up in the bedroom and a night knocked out by Nyquil I woke up feeling a bit better. Jonna and I walked back over to the bakery we were introduced to on our walking tour and where Jonna bought pandebono yesterday. We bought fresh, warm pandebono rolls (made with tapioca flour) and some fresh passion fruit juice, Yum. We returned to the apartment to find Heather already up and Samuel starting to stir after his day long travel on Saturday and his resulting late arrival. After the crumbs of the pandebono were cleaned up we all jumped in an Uber which took us to the Las Bovedas section of the old city walls. The old Spanish barracks/prison has been turned into trendy tourist shops which provided us with our first opportunity to buy postcards. After our quick shopping stop we climbed the ramp to the top of the wall and introduce Samuel to his first view of the Colombian Caribbean. We strolled for a few blocks atop the walls before descending back into the San Diego neighborhood. We took a meandering path through the narrow and colorful one-lane streets checking out the colonial architectural, the quaint little plazas, people-watching and appreciating the energy of the city. We stopped in a few of the plazas to find shade where we could cool down a little and rest our feet.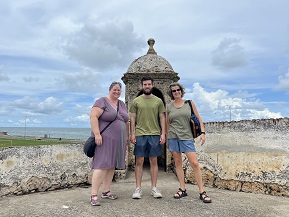 15) La Cevichería, San Diego, Cartagena, Colombia, September 18, 2022 - Our eventual destination was La Cevichería, a small but well known ceviche restaurant in this neighborhood. We got there right after they opened and we were able to nab one of the eight tables lined up on the sidewalk. The atmosphere was great - the local church finished Sunday morning Mass releasing well-dressed parrishioners into the streets. An Argentinian musician set nearby with a guitar and serenaded everyone in the area. Heather, Jonna and Samuel all had a lunch of ceviche and empanadas while I enjoyed a veggie sandwich. As the line of people waiting for a table grew we finished up and returned to wandered this interesting section of old town Cartagena.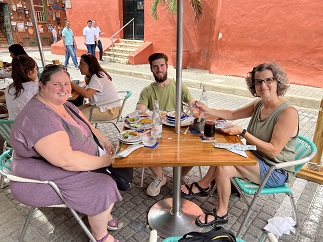 16) Palace of the Inquisition, San Diego, Cartagena, Colombia, September 18, 2022 - Our next stop was the Palacio de la Inquisición (Palace of the Inquisition) which is a museum that delves into the 200+ year history of the Inquisition in the Americas. Most of the museum displays were in Spanish with no English translations available but we were able to piece together the general message - torture devices aren't hard to understand! The highlight for me was the building itself which was stunning! Getting to see inside a late Spanish Colonial building complex with the internal courtyards, private well/cistern and tranquil gardens...all contrasted against a real hanging gibbet and a rebuilt guillotine.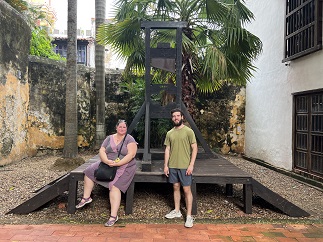 17) Parque Centenario, Centro, Cartagena, Colombia, September 18, 2022 - After the sobering museum we went back into the hot and steamy streets where we headed to a juice shop that sells perfect drinks for this environment - fresh fruit smoothies, shaved ice, soda water with fruit and fresh squeezed tropical fruit juice. Yum again! We started back to the apartment but had a surprise delay as we walked through Parque Centenario - we first saw another giant iquana but that is common so no big deal. But the prize was finally seeing a Three-toed Sloth up in one of the tamarind trees! Cool!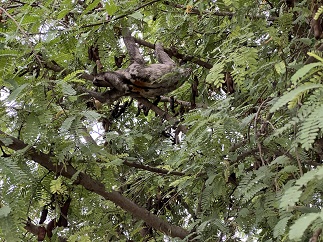 18) Parque Centenario, Centro, Cartagena, Colombia, September 18, 2022 - Then to double the thrill we spotted a Cotton-top Tamarin Monkey! Whoo-hoo! Once we got back to the apartment we hit the pool to cool down and then relaxed inside with the A/C as the afternoon rain started. As evening rolled in we had dinner but our fried food jones hadn't been met so since the weather forecast claimed the rain would be tapering off any minute Samuel and I ventured out to find some arepas. Well, the weather forecast was wrong...very, very wrong. Just as we got to the hole-in-the-wall arepa vendor a couple of blocks away the skies unloaded. Truly torrential rain. Rivers flowing through the streets. Rooftop downspouts shooting firehose-like streams of water. People dancing through 6" deep torrents cascading over the sidewalks. Street vendors cranked party music punctuated with peels of accompanying thunder. Folks laughed at the absurd amounts of rain. Samuel and I were soaked to the bone and sloshed home with the still warm arepas safely ensconced in a double plastic bag while everything else in the city was sopping wet. We all enjoyed our post-dinner snack while laughing at the story. It was a good day with fun adventures, good food and a thought-provoking history lesson.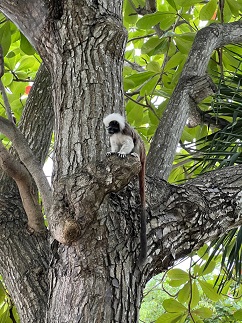 19) Castillo San Felipe de Barajas, Cartagena, Colombia, September 19, 2022 - After a night of rain we were happy to find the sun shining in the morning. Samuel, Jonna and I made our now daily trip to the bakery for breakfast. This time we tried the pandeyucca and some chocolate pastries, washed down with fresh fruit smoothies. Delicious as always. With our fast broken we walked across old town and crossed one of the bridges that connect the peninsula with the mainland. Our destination was the 600 year old fortress Castillo San Felipe de Barajas. Built by the Spanish at the beginning of the 17th century this is a massive structure.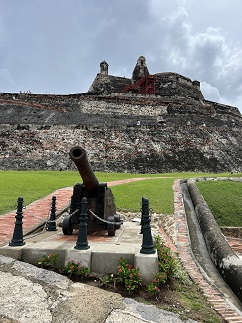 20) Castillo San Felipe de Barajas, Cartagena, Colombia, September 19, 2022 - We spent about an hour climbing and walking the various parapets, batteries, tunnels and corridors. The highlight, though, was the panoramic view of the old town, the Caribbean and the mainland from the uppermost battery. After the fort we walked back into old town, stopping off for groceries on our way back to the apartment. We all made lunch and enjoyed a relaxed meal under the much appreciated A/C.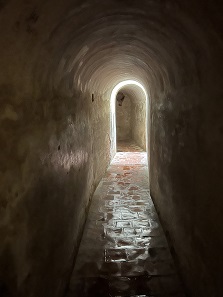 21) Aviario Nacional de Colombia, Isla Baru, Colombia, September 19, 2022 - For our afternoon outing we decided on a trip to the island of Baru to visit the National Aviary there. We again called an Uber and all packed into a little Renault for the 1+ hour long drive south. Our driver was tremendously skilled, very confident and maybe a little reckless. We made good time but we all flinched at times as the driver threaded through the chaotic traffic. Even on the relatively lightly populated Isla Baru there was traffic due to construction on the only road which also involved some hair-raising driving. We arrived at the aviary in one piece and with plenty of time to enjoy the place. Our driver had never been and decided to join us! As a local he got in free and, of course, by waiting he guaranteed he got the fare for our return trip. Still he seemed to genuinely enjoy it. We certainly did! The aviary was very well done. It was a winding path through the jungle with a variety of large enclosures separated out by ecosystem. Thr birds were amazing and there were so many different species it would be impossible to list them all. A few favorites were the King Vulture (which I thought was the most comical looking), the Toucan, the Grey-crowned crane, the Andean Condor, the Scarlet Ibis, the Green Parrot and the Macaw.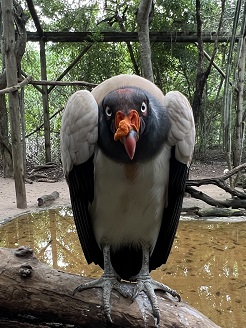 23) Aviario Nacional de Colombia, Isla Baru, Colombia, September 19, 2022 - The obligatory photo spot was next to a little lagoon filled with pink flamingos. There were many, many more as well! We all enjoyed it and left excited to see which birds we will see out in the wild for the rest of our trip. Our ride back to Cartagena was different because afternoon rush hour turned the major roads into town to molasses. The driving was even more crazy but in slow motion and with lane discipline thrown entirely out the window. How we made it through a 45 minute volcanic-like flow without banging fenders is beyond me. The driver dropped us off at the front door at 6pm. The pool at the apartment closes at 7pm so we rushed through changing and plunged into the chilly water so we could cool down the body and calm down the nerves. A few other guests were emboldened by our late night swim that they came down and joined us. With so many of us in the pool the security guard didn't kick us out at 7pm but let us all swim until we all chose to get out on our own. Once we dried off we decided to go back out into the city to find a late dinner. We'd heard about Crepes & Waffles - a chain restaurant that not only serves upscale food but is also a socially conscious business focusing on helping single mothers. They hire people in need and not only provide work but also provide child care for their employees. We all had great meals and felt good supporting this company. A nighttime taxi ride back to the apartment was another exciting drive - this time in an even tinier car - which felt like being in a real life game of Mario kart.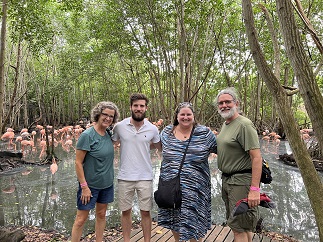 23) Palenque de San Basilio, Colombia, September 20, 2022 - We love to learn about local history and unique cultures when we travel and today we got both. Earlier this week we booked a tour of San Basilio de Palenque. This is a rural village up in the hills about an hour from Cartagena. The village was founded in the early 17th century by escaped slaves. In the early 18th century the Spanish crown recognized the village as an independent city making it the first free black city in the Americas. Our tour started with a van pick-up at 8:15am where our guide Marlon began an our long history lesson about slavery in this part of the Spanish empire, the story of Domingo Biohó who was the escaped slave that founded Palenque and an overview of the unique culture that has been kept alive for 400 years due to the isolated nature of the village. When we arrived in the village a local guide joined the tour. A highly localized language has developed which mixes African languages, Spanish, English and indigenous words to form a specific language only spoken in Palinque. As a result Marlon functioned as a translator so that the local guide could tell us about the village. Our first stop was at a dance school that teaches high school aged students traditional African dances. We were both presented with some dances but also taught some drum rhythms and some basic dance steps. It was an energetic and fun time but I was also aware it was definitely built as an interactive tourist experience. We tipped the dancers and musicians at the end. This was then the theme for every stop. Learn some interesting cultural fact but then be expected to tip or purchase something at each place. I do appreciate that it is fair to pay the locals when intruding into their life but It also feels like I am just a walking ATM that everyone just wants to extract their money from. I really feel torn about this and don't feel comfortable with any of the obvious options... Anyway, back to the tour. Our next stop was a woman's house that functions as a beauty salon. She talked about traditional hairstyles and demonstrated the fashion for wearing head-wraps. A short distance away was the central square which had a statue of Domingo "Benkos" Biohó and a plaque from UNESCO describing its historical/cultural importance. Across the street was a mural with a listing of some if the words unique to the Palinque language. I would love to go over the list with an anthropologist knowledgeable about African languages to see which regional linguistic influences are evident in this mish-mash of a language. Around the corner was the home of Antonio Cervantes a two-time World Boxing Champion and a much beloved resident. A little further was a stand where they demonstrated how corn meal is (was?) made with a giant wooden mortar and pestle.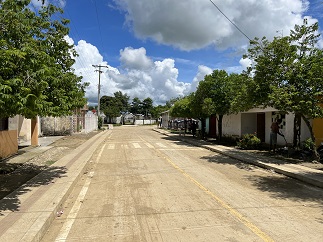 24) San Basilio de Palenque, Colombia, September 20, 2022 - Our final stop was at a grandmother's house to watch her make the coconut candy and the cassava cake we have seen female street vendors from Palinque selling all over Cartagena. This was my favorite part of the tour because we got to see how someone actually lives and makes a living here. She had an outdoor, wood-fired kitchen with a big cast iron pot for melting sugar cane. She added shredded coconut and tropical fruits and mixed it like praline. In her back yard she had a small but diverse garden, a chicken coop and two pens for goats. A simple little farm and a simple stucco house with a thatched roof...a setup that probably hasn't changed much over the last 400 years. We waved goodbye to our local guide and headed back to Cartagena. Lots to think about and we had a great discussion about it all over dinner later that night. On our way back we stopped on the edge of Cartagena at a neat locals only restaurant for lunch - fried fish for the meat eaters and avocado salad for me. Once we were dropped off at home we took some time to rest during the hottest part of the afternoon.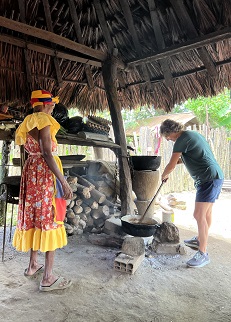 25) Cafe Del Mar, Centro, Cartagena, Colombia, September 20, 2022 - Heather had to teach online in the evening so Samuel, Jonna and I went for a walk on the old city walls to enjoy the views of the Caribbean. We ended up at Cafe del Mar again about an hour before sunset so we again got a table and some overpriced drinks but again got to enjoy a lovely, colorful sunset. Overall it is still worth it. The fascinating people watching, since this is the place to see and be seen, is just a bonus. As the bright pink sky faded to black we walked back thorough the Centro neighborhood and through the park to return home. We had a fine dinner of homemade burritos served with a side of lively conversation. How could we end a day any better?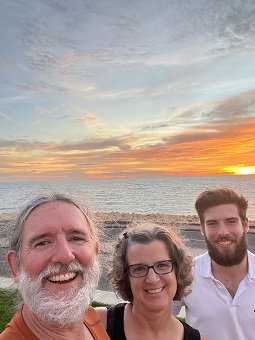 26) Ecohotel El Hamaquero, Isla Grande, Corales Islas del Rosario Parque Nacional, Colombia, September 21, 2022 - We shifted gears today into island life. We got up early, finished our packing, ate a quick breakfast and then headed to El Muelle La Bodeguita - the tourist wharf. After wading through the voracious vendors hawking boat tours we managed to find the right person and checked in for our pre-arranged ferry out to the Rosario Islands an hour away. There was a very hot and very chaotic wait - there are lines of ratty boats idling waiting for a spot at the docks. As each boat pulls up they grab a list of people heading out to the island and call each person on the list and load them up. Each boat holds around 50 people and we were jammed in shoulder to shoulder. Well worn life jackets, some even had usable buckles to, were handed out while luggage was haphazardly stacked in the front. Quickly the engines were gunned to pull away and another boat nosed up behind us to repeat the process. The hour long trip out to Isla Grande was uneventful just watching the landscape while the boat skimmed across the relatively calm water. I spent the ride spotting all the broken, worn, rusty and/or neglected parts on the boat. Lets just say the boat captain is maximizing his profits by not wasting any money on maintenance. We were dropped of at Ecohotel El Hamaquero which is a very cool, hippy-ish hostel with open-air lodgings, a small restaurant, lots of hammocks and a time vortex that slows everything down to "Island Time". Check-in was a lazy affair that lasted about an hour and we actually had lunch during that drawn out process. Jonna and Heather immediately relaxed in our "pods" (moveable reed privacy screens made into walls around mosquito netted bunkbeds located on a second floor with no walls) while Samuel and I headed out separately to explore the paths that thread through the interior of the island. The second you walk away from the coast and into the thick mangroves or jungle interior it gets very hot. There are lobsters that would happily jump into the broiler to escape this heat and humidity. I ended up hiking for nearly 2 hours, and at least half that time I had no idea where I was at. The paths aren't marked, they zig and zag to avoid inland lagoons and to connect coastal beaches with clusters of houses where the locals live. "You are in a twisty maze of passageways, all different". There is a small Village in the center of the island that I walked into twice from two different directions during my wandering and I was surprised both times. Fortunately it has a small market where I could buy cold Gatorade which kept me moving despite the sweat pouring out of me. My adventure/exploration came to an end when I doubled back to a trail I recognized and thus could return to the hostel. I wish someone had started a stop watch because I think I broke the world record for changing into a swimsuit and jumping into the sea. The late afternoon waves in the Caribbean were much rougher than our trip out in the morning but it was fine for just bobbing around in neck-deep water about 50 feet offshore. There was a steady stream of small motor boats circling the island so we trailed a dive buoy to keep from getting run over. Next door is the Bora Bora Club - a daytime dance club that is a day trip from Cartagena so a steady beat of dance music wafted through the air and scantily clad youth paraded and posed on the seawall. Fortunately, the boats back to Cartagena have to leave mid-afternoon and the place shuts down which silences the throbbing bass beat. We relaxed in the hammock chairs of our hippy haven and watched the sun set. We celebrated with cold lemonada coconut and fruit smoothies.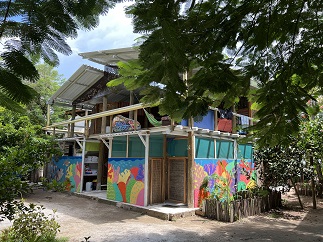 27) Isla Grande, Corales Islas del Rosario Parque Nacional, Colombia, September 22, 2022 - When we arrived we booked a nighttime tour to Laguna Encantada "The Enchanted Lagoon" to see bioluminescent plankton. The tour started with a hike - thankfully much cooler now that the sun had set - to where a freshwater spring created a channel in the mangroves. 12 of us from the hostel boarded 4 canoes and we were paddled by locals through the mangroves into a lagoon where we saw the last of twilight turn into the dark of night. Fireflies blinked in the trees and the boats glided through the glass smooth water as we crossed the lagoon. We went through another mangrove forest, this section called the Tunnel of Mangroves and then out into another lagoon. Now the stars were shining in the black velvet of the sky overhead and the paddlers turned off their headlamps as we silently slid through the night. One more mangrove section and we came out into the Caribbean but behind a line of offshore mini-islands so the sea was very calm with just a slight swell. We could see the lights of other islands and of boats slowly cruising away to sea. After about 15 minutes of open sea the canoes turned into a small bay - this was the Enchanted Lagoon. We unloaded on a small pier, donned our masks/snorkels and got into the water. At first it seemed like a ripoff. The water wasn't glowing or anything. But then I started to notice that when I swept my hand through the water to swim sparks appeared to come out of my fingers. As my eyes dark adapted it became clear. Every movement in the water resulted in a shower of sparkles. Very cool! We floated around for about 30 minutes being fascinated by the experience. It was something totally new for me and well worth it but just a little while was all we needed. We all climbed out and got back into the canoes for the return trip. By now the night sky was fully dark and our eyes were dark adapted. We paddled in complete darkness, the paddlers knowing the mangroves by heart. It was a shock when they found the canoe wide opening in the mangroves that lead from the Caribbean to the first lagoon with no light source. They just turned the boat into a thick wall of mangrove trees and the opening seemed to appear as the bow got to the first tree. The surface of the first lagoon was a mirror. The stars shone all around us and the paddlers quit paddling. Our paddler told me to run my fingers through the water and I audibly gasped when plankton lit up trailing behind my fingers. It was the most incredible thing I have experienced in years. The stars above and the plankton below both shining brightly in the silence of the night and only a thin boundary of mangrove trees keeping the two from visually merging into one space. It was breathtaking! Once we got back into the Tunnel of Mangroves the paddler turned on a headlamp which lit up the trunks, roots, branches and vines of the swamp like a surreal sculpture park. It was equal parts eerie and beautiful. We got back to the launch spring and then hiked back using the flashlights on our cameras to navigate the maze of trails - thankfully with a guide! We'd pre-ordered dinner and arrived back at 8:30pm to eat and then head to bed.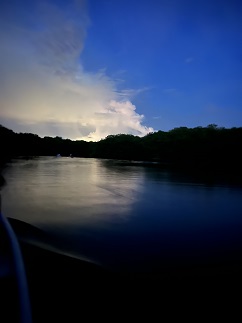 28) Ecohotel El Hamaquero, Isla Grande, Corales Islas del Rosario Parque Nacional, Colombia, September 22, 2022 - The island vibe caught up to us today and we had a very relaxed day. The day started very early - Around 3am it began to rain which was initially pleasing with the rat-a-tat sound on the metal roof but about an hour later the rain turned into a torrential storm which cranked up both the volume and wetness. Spray, or just general humidity, covered everything in a layer of moisture. In a few places, including over my bed, leaks started dripping from the roof. Wind driven rain covered the floor with puddles and soaked anything left laying around. The storm moved as the sun rose but between not sleeping well and the weather being iffy we all lounged around until later in the morning. We were all bleary eyed when we met up for breakfast. After eating we all spent some time trying to lay out all our clothes, shoes and linens so get them to dry out. With housekeeping done and the clouds breaking up we decided to walk to the village of Orika so Jonna and Heather could see it. It was cool-ish after all the rain but with each passing minute the temperature went up. By the time we got to Orika it was quite warm but we still walked around to see the houses and shops. All the buildings are "modest" - the low economic end of the spectrum are shacks made from scraps of wood or recycled materials. The top end homes are still small - maybe two or three small rooms - but with plaster walls and maybe a fence around the tiny yard. Some of the houses are brightly painted but most are more drab. In the middle of the village is a large open square with the school on one side, a small shrine in the middle and a large shade tree opposite the shrine from the school. There was a rustic bench that we all rested on for half an hour just watching village life. Kids playing with plastic bags like kites, throwing a hard green fruit at each other and using a scrap of board to play baseball. A street vendor walked the village blocks with a bullhorn calling out for customers. When we were rested and cooled off we ventured over to a house/market and Heather bought a cool drink. Then we stopped at the "Super" market - same size, same stuff, but in a shop that resembled a market instead of a house. More cold drinks were purchased. We reversed our course to walk back to our hostel. To my surprise some of my clothes and sheets had, despite the humidity, dried out in the sunshine. We switched into lazy lounge mode swinging in hammocks, laying on our beds and eating a light lunch in the shade of the restaurant awning. Mid-afternoon Heather and I went for a swim with the goal of snorkeling on the reef about 200 meters offshore but one of the hostel employees paddled out on a paddle-board to tell we can't be that far offshore without a support vessel. When we got back we learned that this is a Coast Guard rule and that a kayak counts as a support vessel so we'll rent a kayak tomorrow and try again. Jonna and Sam went out to swim after that but didn't bother trying to snorkel. Then we were back to lounging. Lots of reading, listening to podcasts, chatting and just vegging. We all mustered on the seaside deck for sunset but clouds blocked most of the sunset colors except for a little sliver of hot pink on the horizon. Sam went for a run, Heather mingled with some other hostel guests while Jonna and I sat in the dark listening to the African guitar music that the restaurant was cranking out. We reconvened for dinner and then called it an early night.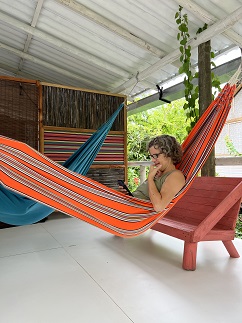 29) Isla Grande, Corales Islas del Rosario Parque Nacional, Colombia, September 23, 2022 - Our last day on the Rosario Islands started early. There wasn't a rainstorm during the night but that ended up meaning it was hot all night and that all the boats, birds, dogs, geckos and people that had stayed under cover to avoid the rain were out and making noise early. By 5am the noise woke me up and by 6am the combined cacophony was too loud for me to sleep through. For possibly the first time on history I was up before Jonna. On the positive side the nice weather made for glassy, calm water. I spent over an hour out on the hostel's waterside deck watching fish swim amongst the small bits of coral that were just a fee yards offshore. I listened to podcasts and enjoyed the view until the rest of our group woke up. We all had breakfast in our swimsuits as soon as the restaurant opened and then immediately jumped into the water wanting to take advantage of the tranquil sea. Unlike yesterday, this time we got a kayak (for free!) which I volunteered to paddle out to the reef about 200 yards off the coast. Very few boats were running this early so the swim out wasn't as precarious as yesterday afternoon's had been. There was a pretty strong current running parallel to the beach so it took some constant swimming just to keep station in front of the hostel. The snorkeling was very good and unlike yesterday the water was quite clear. Rather than being a continuous reef this area has clusters of coral heads, made up of many different species of coral, separated by small patches of bare sandy bottom. Each coral head would have anywhere from a dozen to two dozen fish swimming around it. After about 20 minutes of me paddling around while Samuel, Heather and Jonna snorkeled Jonna and I swapped which gave me a chance to see the reef through a mask rather than looking down from above. Just in the time it took to switch kayakers we had drifted a ways down current so my first job was to swim against the current to get back to "our" area. Then I could start to really appreciate how vibrant the different corals are and how lively the fish population was. I've heard dire news about how over-fished the commercial fisheries are in the Caribbean so it was great to see that the (largely inedible) tropical reef fish seem to be doing well. I snorkeled for around half an hour, then switched back out with Jonna. Maybe 15 minutes later we decided to head back in since we needed to check out from our hostel pods and pack up so we could catch our boat back to Cartagena sometime between 1pm and 2pm. The boat traffic was much more active as we swam back to shore and it felt like playing Frogger going through the "lane" the boats use when going around the island. Thankfully, we all made it safely. After returning our snorkeling gear and dragging the kayak back up to its rack we had to rush to shower, pack and vacate our pods so the cleaning crew could wash the linens. Jonna found some red bites on her arms that might have been bed bugs but we couldn't find evidence so hopefully there wasn't a bigger cleanliness issue for them to address. We stacked our bags in the open air lounge area and walked 8 feet to the open air restaurant for our final lunch at El Hamaquero. After lunch we paid off our balance (all food, drinks and tours are done on credit which is then paid off when you check out. At that point we just relaxed in the hammock swings until our boat pulled up at the dock. We stopped for another couple of pick-ups and then settled in for the 1 hour trip back to Cartagena. It was hot and humid, as usual, but the wind from the speed we were moving kept it pleasant. The sea was still relatively calm so really it was a nice trip except for being crammed shoulder to shoulder with a boat load of squally sweaty tourists. We made it back without incident and walked back to the apartment. Just that little bit of exercise had me hot and sweaty so I jumped straight into the pool to cool off again. Aaaaahhhhhhhh. We threw all our clothes (clean and dirty) and our backpacks into the washer figuring that if the hostel did have bed bugs then washing everything we brought out to the island would be a good precaution. Samuel is leaving early in the morning and had wanted to buy a dress for his host mother at his study abroad in Chile so we called an Uber to the Las Bovedas market which has a bunch of tourist shops which have the word "artisanal" in the name but mainly have the normal tourist souvenirs. Fortunately, they did have some simple but colorful embroidered dresses and Samuel found one that was exactly what his host mother had described so success! After a little walk around the neighborhood we found the tapas restaurant we had hoped to try for dinner and it turned out to be nice. A limited menu but the mushrooms, eggplant, shrimp and meatball tapas were all quite good. The goat's milk cheesecake with blueberry compote was excellent! After dinner we taxi'ed back to the apartment. Samuel did some online research to find a good salsa club and headed back out to dance the evening away. Samuel left for the airport at 4am so we had said our goodbyes before he went out. It was a joy traveling with our cousin Samuel and I hope we get to do it again sometime in the future.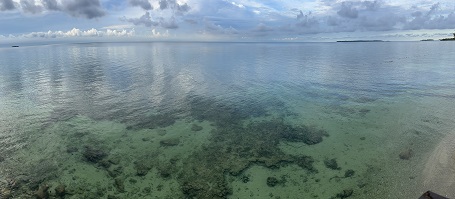 30) Museo Naval Del Caribe, Centro, Cartagena, Colombia, September 24, 2022 - Being back in Cartagena was a bit of culture shock after being in the islands for a couple of days. This is a city that buzzes with energy all the time and that stands out even more when contrasted with Isla Grande's relaxed pace. We slept in a little to recovery from our two sleepless nights in the hostel but with more to see we didn't want to waste a day. Heather needed to work today so Jonna and I headed out on our own... it felt odd just being the two of us after traveling with Samuel all last week. Our first item of business was to find some more postcards. It has been difficult on our recent travels to find them and Cartagena is continuing that problem. Please encourage your young people to actually write postcards (and letters) so they don't become extinct! We found a touristy shop that still had a dusty display and bought a few more. The pictures aren't great but beggars can't be choosers. Next we walked to the Cartagena Naval Museum. We have found with most of the museums we have visited here that there was very little English translation and that was true here as well but the museum was packed with dioramas, maps and photos so we got the gist of most of it. The museum has two floors. The bottom floor covered the history of Cartagena started with the indigenous people, then the "discovery" by the Spaniards, then the battles over the city between the Spanish - Portuguese - French - English and various unaffiliated pirates. The second floor focuses on Colombia's Navy and has life-sized replicas of the bridges of various ships, displays on the Navy's involvement in various conflicts - domestic and international, and various other interactive stations for things like navigation. It was interesting but the language barrier stunted some of the stories they were trying to tell. I am sure it is the perfect way to entertain seven year olds so from that standpoint we weren't really the target audience. With our naval gazing done we decided lunch was next on the menu and there was a Crepes & Waffles location nearby. Guaranteed good food, wifi and air conditioning. Sold! After frozen drinks, a light meal and some water to re-hydrate we ventured back out to see more of the Centro district. The next sight we saw was a wedding procession leaving the main Cathedral of Cartagena. Dancers in white dresses led the way with the bride and groom following, a band of drums and horns marched behind and all the guests in their finery trailed behind them all for at least two blocks. We think they were going to the Naval Museum where we had seen a room upstairs that was set up for some kind of big event. It was quite the display of celebration but also of status. We left the joyous musical parade and wandered through more of the maze of streets looking in a few stores and trying to keep from getting hit by the taxis zooming through the one-lane, one-way streets. After buying a few things we made our way to three different food markets trying to piece together everything needed for the next couple of dinners. We got what we needed but a few interesting choices were made on how to substitute what was available for what was needed. Loaded up we returned to the apartment to cool off and rest up. We spent the hottest part of the afternoon indoors, mainly napping and writing postcards. In the early evening Jonna and I went back out to walk around the Getsemani neighborhood. I think we have now walked every street here but the place is so colorful and lively that we don't mind retracing our steps. As always, music is escaping from every doorway and being broadcast by most of the street vendors. Sidewalk carts are cooking empanadas, arepas, hamburgers, grilled chicken and kabobs. Fruit carts are piledi high with dozens of different fruits - some cut open and others stacked high. Vendors carrying coolers over their shoulders hawk water, beer and sodas. Ladies in colorful dresses sell trays of coconut candies. It is a chaotic but flavorful swirl of activity. We passed through Plaza de Trinidad then walked a couple of blocks beyond before circling back. Then we made another loop in the opposite direction to see the street artists showing off their canvases. After coming back to Plaza de Trinidad a third time we called it an evening. With all the time we have spent in the three different neighborhoods in Old Town, I still think Getsemani has a distinctly more relaxed and "local" feel compared to Centro or San Diego. I am very happy this is where Heather has been staying and thus where we ended up being based. To cool off from our evening stroll we hopped in the pool. Heather was finished with her work so she joined us which gave us a chance to talk about how to spend our last week together. When the pool closed at 7pm we started cooking dinner, ending the day with a nice home cooked meal.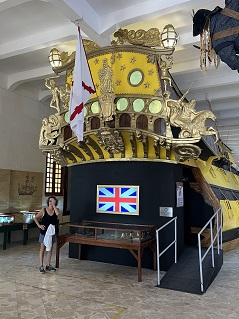 31) Iglesia de San Pedro Claver, Centro, Cartagena, Colombia, September 25, 2022 - Sunday is a quiet time in this vibrant city so when we went out to see more of the Old Town it was like the neighborhood was still sleepy from a late Saturday night. The three of us hopped in an Uber and were dropped off at Plaza De San Claver where the 17th century Jesuit church Iglesia de San Pedro Claver is located. The church is still an active one and was between morning and noon Mass when we arrived. However, the accompanying monastery has been turned into a museum that tells the story of Saint Pedro Claver who came to Cartagena in 1610. He is known for ministering to the slaves which were brought to Cartagena's slave markets and he was sainted for this work. Now I have a very negative view of religion so to say I had mixed feelings as we went through the museum is an understatement. However, I love history so I tried to take in everything there through the lens of history and tried not to roll my eyes at the proselytizing.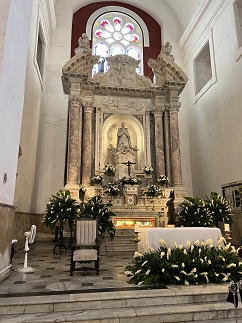 32) Iglesia de San Pedro Claver, Centro, Cartagena, Colombia, September 25, 2022 - What I did find worthwhile were the upstairs galleries that had three different art exhibitions. One was a collection of a few hundred water color portraits of people of African descent all done with black ink on white paper. There was a collection of colorful paintings and stone sculpture from Haiti. Finally, the third exhibit was a collection of paintings of Afro-Cubans done on brown paper with yellow and black paint. All very good and worth having seen. From the church we walked around the corner and returned to Crepes & Waffles for our second straight lunch there. Heather wasn't with us yesterday so this gave her a chance to try their lunch. Very good, as always. After lunch we started walking back to the apartment but once we got to Parque Centinario Jonna and I turned back to get more groceries while Heather went into the park to look for monkeys and sloths. Most of the grocery stores are closed on Sunday afternoon so our quick errand turned into a winding search in the San Diego neighborhood until we found a store that was open. We needed filtered water as well which meant a long walk back to the park lugging two 6 liter jugs. That was a workout I wasn't expecting. Back at the park we found Heather watching a band of Tamarind monkeys and two hawks harass each other trying to gain control of the top of a tall palm tree. Eventually, the hawks gave up and the baby monkeys took up refuge in the crown of the palm while the adults scattered probably to go collect food from all the cracker waving camera welding tourists that frequent the paths. We continued on to the apartment leaving a very disappointed monkey in the tree above us. Once again, the pool looked very appealing as we walked past it on our way to our door so we all changed into swim suits and went for a soak. After an hour I think my body had cooled down enough that steam was no longer occurring when I splashed water onto my head so we got out and went back inside.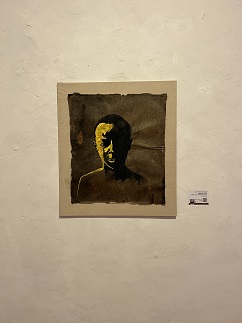 33) Getsemani neighborhood, Cartagena, Colombia, September 25, 2022 - We had heard that sunset from the fifth floor roof of our building was lovely so at 5:30pm we asked the building security guard about it. He gave us a key to the roof stairwell and told us to return it by 7pm. Score! There was a patio on the roof with a low wall and most of a 360 degree panorama. The setting sun was directly behind Iglesio de San Pedro Claver about a 1/2 mile away. The view in the opposite direction looking across the Getsemani neighborhood towards the Castle San Felipe de Barajas and behind that the looming mass of Mount la Popa was fantastic as well.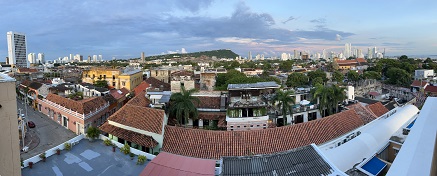 34) Getsemani, Cartagena, September 25, 2022 - We stayed on the roof as the sun set and lit up the clouds with pink and orange and yellow. Once the sun went down and the colors faded we continued to enjoy the view as the lights of the city came up and the sky went from pink to purple to dark blue to black. The music backbeat of the city slowly grew louder and the sound of happy people filled the humid night air. We reluctantly gave up our perch and returned the key to the security guard. We made another home-cooked meal and streamed salsa music on my phone as we ate.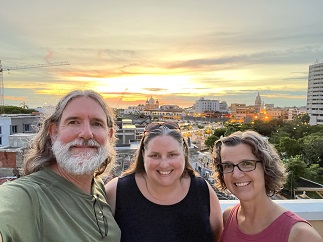 35) Barrio Chino, Cartagena, September 26, 2022 - Last night we all agreed that we wanted to visit the big city market and were all ready to grab a taxi first thing in the morning to explore it ourselves. Then, just before we headed to bed, we decided to book a last minute tour instead. Best decision ever! The tour was, hands down, my favorite thing we have done this trip. The Bazurto Market is the beating heart of the city. It is huge, covering nearly a square mile, and contains everything from seafood to shoes to pillows to cell phones to appliance repair. All the stalls are inter-mixed so you can buy vegetables right next to a stall selling hair products and then turn around to pick up some salsa CDs at the music booth. The tour company we used was Insider Cartagena which is a front company for a non-profit that supports indigenous rights for Afro-Indigenous peoples. Our guide was Paola who not only guides tours but is also a lawyer helping Indigenous villagers get legal rights to the land they live on. Clearly, a very interesting person with plenty of information to tell us! We started with a taxi ride to the Chino neighborhood. This is one of the many communities where local people without much money live often with multiple generations dividing up a single house into multiple living areas. A U.S. based NGO is helping this neighborhood create a sense of community pride and by extension finding ways to bring in tourism as an economic driver to help the locals out. Note: This tour company did an excellent job of including support for the locals and vendors in the price of the tour so we never felt like we were a walking ATM. Instead, the tour guide discreetly paid people from an envelope taken from the money we paid upfront. This was much better than our Palinque tour were I struggled with how to handle supporting the village while not wanting to buy, tip and hand-out money at every stop. Anyway, after walking through the Chino neighborhood we walked into the back part of the market.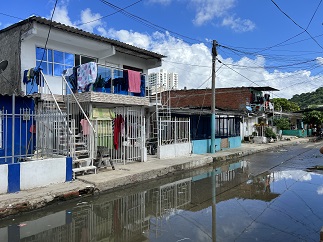 36) Bazurto Market, Cartagena, Colombia, September 26, 2022 - Technically, the market is a long set of warehouse like buildings but long ago the vendors overflowed so that for blocks and blocks there are stalls, carts, shanties, broken down trucks and every other conceivable type of shelter hosting every conceivable type of business. We stopped at a open air workshop where men were building and/or repairing every possible contraption. We talked to one of the guys who was making industrial juicers for the stands in the market by taking a blender motor and then using sheet metal ducting to create a body which included a spout for the juice to pour out, a water-proof seal between the motor and the juicer and a metal carrying handle. The spinning juicer, onto which a orange would be pushed, was made from an upturned plastic cup like a sauce would be in at a fast food restaurant. Clearly these guys have equal parts creativity, metal working skills and entrepreneurial spirit. Other men in the workshop were building push carts, grills and shelving. Their tools ranged from electric grinders to bars of steel they used to hammer and roll out sheet metal. Wow, a terrific start to the tour.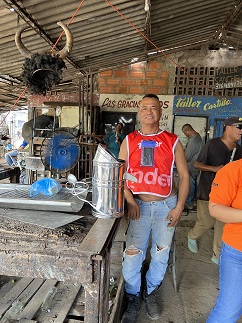 37) Bazurto Market, Cartagena, Colombia, September 26, 2022 - Just around the corner, insofar as this chaotic and haphazard collection of streets, alleys and walkways could be said to have corners, was a little stand packed to the rafters with CDs, vinyl albums, turn tables, speakers and CD players. Our guide took this opportunity to talk to us about all the different styles of music in Cartagena: Salsa, Bullerengue and especially Champeta. She even broke down Champeta into the three distinct periods from its start as African guitar music to being adapted into latin rhythms and Spanish lyrics to finally be merged with Reggaeton as dance music. She told a story about hearing a Champeta song as a teen that was titled with her name and how her friends teased her with it. Naturally, we turned around and asked the music seller if he had that song and he burned a CD for us with a selection of songs by that artist including the song Paola. Now we can listen to some Champeta music back home to remember our trip.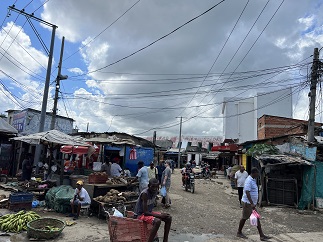 38) Bazurto Market, Cartagena, Colombia, September 26, 2022 - Next we went to a juice stand. Normally, we would shy away from eating or drinking anything in a foreign wet market, and I hope we don't regret being so bold here, but the guide said that the vendors they visit all use bottled water and clean produce so we took the risk. First, we had a fruit tray with six tropical fruits all from this region: Lulo, Zapote, Guava, Tomate de árbol and Curuba. Yum. Then we each got a fruit juice smoothie from whichever fruit we liked best, Heather and I both chose Lulo with sugar and water which Jonna chose the Zapote with milk and no sugar. All were delicious.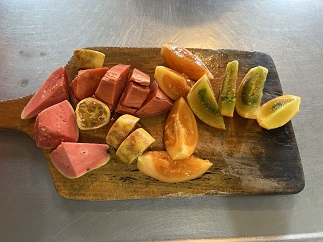 39) Bazurto Market, Cartagena, Colombia, September 26, 2022 - Just down the aisle from the fruit juice stand we visited a colorful table covered in paint. This was the workspace of Las Runneristas - the sign painter. Once the guide introduced us we started to see his work all over. Not just in the market but all over Cartagena. Apparently, he is well known and highly sought after to paint banners for festivals and parties, customize motorcycle helmets and bicycles, create signs for stores and do other advertising. He offered, for a fee (paid by the tour - again Yay!) to paint us a poster. Heather's and my Grandfather always called his grand children "Sorry Rats" so we decided "Sorry Rats in Cartagena" should be the poster. Runner (his nickname) set to work doing free-hand calligraphy and then accenting the writing with spray paint and simple, colorful palm trees. A unique souvenir and a special insight into market life we would never have found without a guide.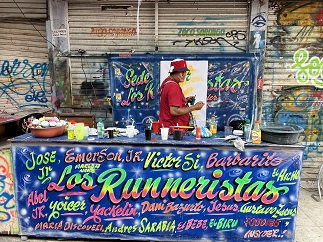 40) Bazurto Market, Cartagena, Colombia, September 26, 2022 - All this was outside the official market buildings so next we went into the inside market to see some of the vegetable stands. We tried a couple of other exotic fruits - Granadilla and Níspero. Paola also pointed out various vegetables and peppers commonly used in Colombian cooking. Next was a stop at an herbalist. He carries on a long tradition of growing and selling herbs used both in cooking and as medicine. Jonna mentioned having a sore throat so he recommended lemon grass, another citrus-y smelling herb and fresh lemon juice. We bought both herbs from him and picked up a lemon elsewhere in the market so we can give it a try.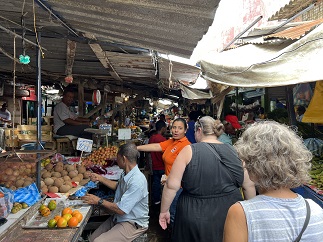 41) Bazurto Market, Cartagena, Colombia, September 26, 2022 - The final stop was at a restaurant in the middle of the market. Grills made from car wheels with rebar steel legs and grills welded on were filled with wood and set ablaze. Big cast iron pots were set on these and filled with steaming rice, boiling oil and simmering stew. A table was pulled from somewhere and chairs magically appeared. I got yam stew with little blocks of fresh cheese and a plate of coconut rice. Heather and Jonna got a fish plate with a whole crab, a seafood rice dish, a pile of flakey fish already scrapped off the bones and a chunk of plantain cooked in Kola Roman - the local bright red, super sugary soda. The guide had a thin beef steak with coconut rice. All very local and quite good. We were all sad the tour was already over as it had been terrific. Anyone wanting to do the tour needs to be ready to deal with some chaos, some strong smells and to be exposed to the reality of poverty. ...but this is exactly why we wanted to see this market and why having such an amazing guide who was willing to take us here was such a highlight. I feel like I have a much better idea of what life is like for the 90% of Cartagenians that don't live in the high rises of Bocagrande. After the tour we came back to the apartment to relax, cool off and try out our newly purchased herbal tea. The afternoon was a lazy time. Jonna and Heather took naps and went for a swim. I watched motorcycle races on my tablet and caught up on all the email I hadn't been checking for the past couple of weeks.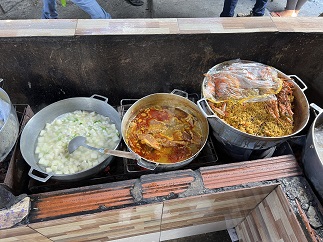 42) Celele Restaurante, Getsemani, Colombia, September 26, 2022 - Our rest time was to build us up for a special dinner we had reserved earlier in the week. Some guests at our apartment complex that we met in the pool had raved about the restaurant Celele here in the Getsemani neighborhood. When we did research we found one food magazine that rated it as one of the Top 50 Restaurants in Latin America in 2021. Needless to say, we reserved a table for their next available night. ...and tonight was finally that night. It is in a modest building. Old Spanish era walls but nicely renovated and classily decorated. Brian (Bryan?) was our wait person and he was excellent.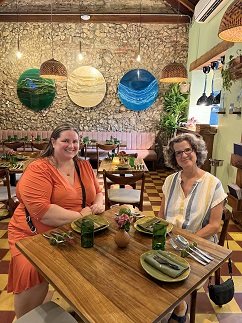 43) Celele Restaurante, Getsemani, Colombia, September 26, 2022 - We ordered drinks and he recommended a buffalo cheese burrata for an appetizer. Wow, fantastic choice! It was my favorite dish of the evening. A layer of milky sorbet with a homemade cheese stacked above that. The top was lightly pickled white cucumber and dried plum leaves. The entire tower was encircled with dehydrated watermelon and a sauce made from sugar cane and fruit. Delicious! At that point we just had Brian order for us. Heather and Jonna got pork with an equally impressive construction while I got an eggplant reduction with a caramelized plantain base, roasted lentils, the eggplant and then topped with a flour made from grated dried beets. Again, excellent. We ordered two deserts - a chocolate and chili dish and a meringue, rose-water ice cream and fruit compote dish, both were very good but both had strong dominant flavors that were a little shocking after the appetizer and entrees were so well balanced. Nonetheless, it was a superb meal and we left very, very happy we had found out about the place. We took the long way back to the apartment hoping an evening stroll would help with digestion. A quiet back street allowed us to look in the open windows and doors of homes, exchanging waves and pleasantries with the inhabitants.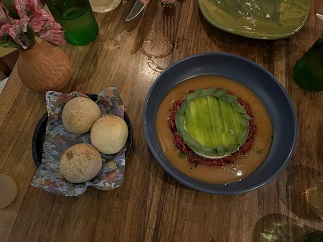 44) Plaza de la Trinidad, Getsemani, Cartagena, Colombia, September 26, 2022 - When we got to Plaza de la Trinidad things were as energetic as always. On top of the usual buzz of food carts and street vendors and locals sitting around chatting and tourists walking wide-eyed through it all there was a troupe of musicians and dancers who took over the main street to perform some Afro-Caribbean dances. Three young women spinning, jumping and shaking while men blew flutes, banged on drums and shook shakers. All the traffic had to wait while the performance lit up the street and people encircled them three and four people deep to clap, yell and groove. After a quick pass of the hat they cleared the street, the cars started flowing again and the crowd dissipated into the Plaza. We walked the rest of the way home with a little residual beat providing a cadence to our step and maybe a little wiggle of the hips to aid the digestion. This has been an exceptional day and I think we are all going to bed happy.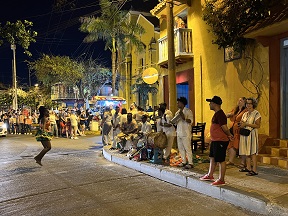 45) The Botanical Garden of Cartagena de Indias, Turbaco, Colombia, September 27, 2022 - This was Heather's birthday so our first task in the morning was to find some "Happy Birthday" balloons and someo flowers. We accomplished both items at the shopping center next door. After setting those up for Heather to find when she got up our next task was another grocery run. If you are noticing a trend here, yes we are going to the grocery store about every other day. We go through one 6 liter jug of filtered water each day and depending how many meals we eat in versus out we are constantly trying to have enough ingredients to make things without filing the fridge with stuff we will end up throwing away when we leave at the end of the week. So we lugged a bag of groceries and two more jugs of water back to the apartment. When we got back, Heather was up, so we could start celebrating her birthday in earnest. We hung around for a bit taking care of Internet searches and email then walked next door to a brunch place that had been recommended. The brunch menu was mid-scale cafe food - an avocado toast, street tacos and pancakes kind of thing. We ordered and the food was very tasty. The pace was relaxed which is perfect for celebrating a birthday. After brunch we returned to the apartment to change shoes and then called an Uber. We were attempting to visit the Botanic Gardens in Turbaco again. The traffic was lighter this time so it was only about 45 minutes of driving this time. The last mile was still a washed out dirt road and today's Chevy had an even harder time than the Renault we were in last time. Still, the driver bounced us to the entrance which thankfully this time was open. The driver agreed to come back in an hour when the gardens closed to pick us back up and get the return fare. The gardens are inland, away from the shore and whatever coastal breezes may fractionally cool things down in Cartagena. Up here in Turbaco you get the jungle heat. As always, this meant I was sweating like a lawn sprinkler the second we started walking. There was a very friendly lady who really wanted to be our guide but her lack of English and our lack of Spanish made that pointless. She was very disappointed when we waved her off. Instead we got a map at the entrance and made our own way. The gardens are on a hillside and, like the aviary we visited a week ago, they have creatively laid out paths to maximize their space. The trail winds back on itself in numerous areas so you see their grounds from multiple angles. Because we were time limited we picked half the grounds to see - the sections with fruit trees, palms, cacti and an "Evolutionary Garden" which I think showed how some species of plants evolved over time. In addition to seeing all the different trees and plants some other highlights were seeing a red squirrel, multiple lines of leaf-cutter ants, two yellow dart frogs and watching lizards run across the little streams they route through the various sections of the gardens.
46) The Botanical Garden of Cartagena de Indias, Turbaco, Colombia, September 27, 2022 - We finished our loop and got back to the entrance 15 minutes before it closed. No driver was waiting for us. We know the Colombians are "relaxed" with their time so we waited. When the garden closed we realized we had a decision to make. Do we continue to wait or so we have the staff call us a cab before they leave for the day. Given that our driver was late and the inability for us to call a replacement once the gate closed we had them call us a cab. The guard and ticket lady were nice enough to wait around the 10 minutes for the new driver to arrive and pick us up. Getting stranded a mile down a washed out dirt road in the middle of the jungle would have been a little more adventure than I think we wanted. Naturally, as we got out to the end of the dirt road and were turning onto the main road our original driver drove past - 30 minutes late. He snoozed and he ...Uh... losed? Traffic coming back into Old Town was much heavier than it had been just a couple of hours earlier so our driver took a circuitous route through many different neighborhoods giving us another look at how the bulk of Cartagenians live. This did cause some stress though because Heather needed to be back by 5:30pm to teach an online class and between the absentee driver and the traffic we were cutting it close. Fortunately, the back roads worked and we pulled up at the front door with just minutes to spare. While Heather got set up for her class, Jonna and I went out to run some errands. Our first stop was a business supply store where, through broken Spanish, we managed to buy a plastic tube we can use to bring Heather's "Sorry Rats" poster home with us to store until Heather quits being a digital nomad and has a home again. Our next mission was to scout out a fancy hotel that supposedly has a nice rooftop bar so we can return later for a birthday drink. After some walking through Centro we found it. Check. Since Heather was teaching during the dinner hour we then walked over to San Diego to find the arepa cart we visited on our street food tour two weeks ago and bought some deep fried goodness. To keep with the cholesterol theme we then walked back to Centro to find the patacones with cheese that the street food tour had introduced us to and bought those too. Jonna bought an extra one to share with the very nice night guard at our apartment building. We got a big thumbs up when she gave it to him. We relaxed, showered and made a salad while waiting for class to end. Heather made some birthday calls and then came down for dinner. We all enjoyed our fried food...not the healthiest meal but definitely tasty. The salad had to do most of the heavy lifting trying to make this a well balanced meal.

47) Hotel Movich, Centro, Cartagena, Colombia, September 27, 2022 - After dinner we called for an Uber and headed to Hotel Movich in Centro. This is an upscale hotel - way fancier then we would normally frequent - but up above the 6th floor they have a very nice rooftop bar with an equally nice view of the city. The staff were enthusiastic, especially when Jonna said it was Heather's birthday. The EDM music was temporarily turned off and an extended mix of the Happy Birthday song was put on. The staff all started clapping and singing so Heather got all the attention and more that was appropriate for her big day. We enjoyed a relaxed drink while looking out over the city and while spending undoubtedly too much time on our devices. After our drinks we called it a night and Uber'ed back home. I think we did a decent job of celebrating for Heather. She means a lot to us and we have been lucky enough to spend time with her in Mexico, Turkey, NYC and now Colombia. We were glad we could be here on her birthday to mark the occasion.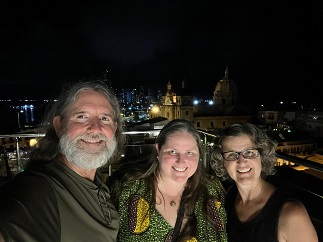 48) NH Gallery, Centro, Cartagena, Colombia, September 28, 2022 - With our time in Colombia starting to run out we were getting to the last items on our "must see" list. We had originally looked at making a multi-day trip up the coast to Santa Marta but between the cost of lodging and the difficulty of spending 4 hours in transit we have now officially scratched that off our to-do list. So this morning we had a slow start lazing around the apartment and then making a a breakfast that creatively used some of our dwindling groceries. Amply fortified we then called an Uber and went to the opposite side of Old Town. Our destination was the NH Art Galeria - a contemporary art gallery that gets good reviews as another place to see art in a city with very few art museums. The gallery has a small collection of art for sale that varies from paintings, photography, sculpture, fiber/fabric and even a video piece. The artists also ranged from famous International artists (they had the obligatory Picasso) to Latin American artists to local Colombian artists. Most of the pieces were from the 2000s, many even from the last 5 years but there were also some that were older (like the aforementioned Picassos). My favorites were 1) a large oil painting representing war through the ages with religious, political and military leaders watching, 2) a display with 100 small glass panes each with a tintype photo of a person walking the streets of Cartagena, and 3) a high definition portrait of a senior woman of Afro-Caribbean heritage in a white dress. After the gallery we went up on the old city wall and walked a portion with views out over the Caribbean. At one point there was an old cannon mounted on end pointing straight up into the sky. The years and the salt water had corroded it down to a withered shadow of its former strength and the rust left a trail of stained concrete around a small crack that had formed below it. After being in the art gallery this suddenly took on a sculptural look like a dying weapon bleeding out on the fortress wall of the city. A few blocks away was the Teatro Heredia a grand theater built at the turn of the 20th century on the ruins of a 17th century monastery. We had hoped to look inside but the theater portion was closed. The old church/monastery section on the side of the theater building is now a branch of the University of Cartagena and the door to that section had an armed security guard so seeing the theater idea was a bust.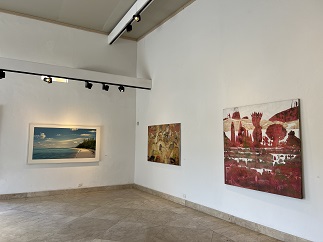 49) Ábaco Libros Y Cafe, Centro, Cartagena, Colombia, September 28, 2022 - We decided to walk back through Centro. A few blocks away we encountered Ábaco Libros Y Cafe, a combination book store and cafe. Being both fans of literature and hot from walking we decided to check it out. We give the cafe high marks because they had a menu of frozen drinks and an amazing collection of books. Jonna and Heather got the ubiquitous limonada coco and I ordered a chai tea milkshake. Yum. After cooling down while chatting with another cafe customer visiting from Cuba we headed back out to continue our walk. We once again successfully warded off the street vendors selling cold drinks, the guys hawking emerald showrooms, the roving rappers, ever present hat sellers and the guys with arms loaded with beaded necklaces and bracelets. When we got back to Parque Centenario we decided to spend a little time sitting in the shade and looking for the sloths, monkeys and iguanas. We weren't successful in the area where we stopped but as we walked to the other side of the park we saw a woman pointing her phone up at the trees - the universal sign of a critter. Sure enough, there was a sloth in the tree that is directly across the street from our apartment. We watched for a few minutes - sloths aren't the most exciting to watch while standing in the direct sun - before finishing our return home. The mid-afternoon was spent relaxing in the apartment. So relaxed, in fact, that Jonna and Heather spent nearly an hour shopping for winter shoes for Heather who, after a year in mostly tropical climates, will likely be spending this winter in the Netherlands. Only wearing sandals will soon no longer be an option. In the evening we went out to swim in the pool and watch the sky change colors as the sun set. By the time we came in we all felt we'd spent so much time at the apartment that we scrapped our plan to make dinner and instead went out for our last meal of the day. We walked a couple of blocks to Sambal and gave it a try. It is a small place with maybe a dozen tables split across two floors. Their food was upscale but not quite to the stage of experimental cuisine like Celele was Monday night. We all enjoyed our meals: Heather had fish, Jonna had beef and I had veggie tacos. My favorite was the non-alcoholic passion fruit mixed drink I ordered. After dinner we again strolled through Getsemani and ended up back at Plaza de la Trinidad. This will definitely be the thing I miss most when we leave. Hanging out in the plaza is the most relaxing and cheapest way to spend an evening. The people watching is excellent and during the hour or so we were there tonight three different performances occurred. The first was the Palinque dancers we saw two nights ago with the drums, flutes and shakers. The three young women again did African dances that required a few extra torso joints than normal humans have, not to mention foot work that would cause a Dance, Dance Revolution game to short circuit. Next up, after the African dancers did three numbers came a stylish young man with a boombox and some very red shoes. He hit play on the music and broke into a very athletic salsa dance. Spins, slides, leaps, poses and hand gestures were his tools and he used them well. We were disappointed when, after just one song, he passed the hat and packed up. I would have enjoyed seeing more of his moves. As the salsa guy moved out of the plaza eight young men wearing all black entered and started warming up with hip-hop dance moves - head spins, wrist spins, flips and ankle grabs. In my opinion they spent too much time flexing and showing off but eventually they did crank up some music and started their performance. The first song was a champeta and they broke into a synchronized latin groove. They had choreographed fun interactions and mixed salsa-like dance moves with hip-hop moves. They then switched over to more traditional hip-hop music and dancing, switching out dancers every couple of moves. Enjoyable but a little generic compared to the Colombia specific champeta. I ponied up for all three as each passed the hat. As a bonus, in between each "show" little kids ran around and played in the square which gave the whole place a peaceful vibe and when a couple of 2-ish year old toddlers joined in it was just plain cute. When it hit 9pm we decided to head back to the apartment but this was really the beginning rather than the end of plaza nightlife. I suspect the real show doesn't hit its stride until midnight. Even if we'd decided to buy food from one of the many food carts, as well as tipping the performers, the evening would have cost less than $10. You just can't beat that for a memorable evening out.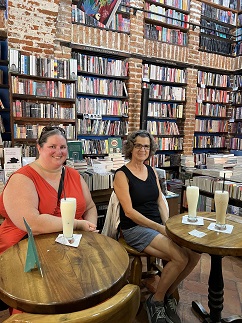 50) Getsemani, Cartagena, Colombia, September 29, 2022 - We started our last day with a return to our earlier tradition of going to the bakery in Centro to buy warm pandebono rolls and a fresh fruit juice to start out the day. We also found a bookstore where we could buy some more postcards. When we got back to the apartment Jonna cooked a big breakfast in another effort to finish off the food in the fridge. We then settled into chores for the mid-day - doing laundry, packing, cleaning the apartment, writing postcards and handling online tasks. Meanwhile Heather is moving out of the apartment tomorrow as well and is trying to figure out where she is going for the next week before moving on to her next country. In the mid-afternoon we caffeine'd up and headed back out. For our final activity we booked a mural/street art walking tour of the Getsemani neighborhood with Bikes & Arts Alquiler de Bicicletas Cartagena. We walked from our apartment to the edge Getsemani where we met up with our guide Roberto. He turned out to be an excellent guide - one of those guides who make you feel like you are just going on a stroll with a local who is showing you around their stomping grounds. Roberto seemed to know everyone and was constantly being greeted or having a quick chat with someone on the street. He introduced us to one of his school teachers and stopped in to show us the homes, shops, restaurants and bars owned by his friends - never any pressure to return there or to buy anything but instead showing us the workshop where a family of artists works, the back garden of a cafe where an old Spanish era tunnel still exists and the wall of a bar where the owner has photos of all the baseball players from Getsemani. We walked literally every street in Getsemani with Roberto pointing out the murals, the statues and the graffiti with a running commentary on the artist, the subject matter and often how the art ties in with the local history. We saw pieces we had walked past a half dozen times and suddenly we understood the context of the bird or the group of women or the old man that was pictured. We went into the oldest wooden building in the barrio, now a market, where he showed us some local goods. We walked on the top of the old city wall where we learned about the Spanish defenses, the layout of the "new" city neighborhoods and the birds that live in the mangroves that line the lagoons on which the city was built. All total we walked 3 1/2 miles over 2 1/2 hours and learned something new with nearly every step. We ended the tour at an ice cream shop that specializes in using local fruits. Any guide that prioritizes ice cream gets high marks in my book. Definitely a great way to get end our time in Cartagena. We had intended to eat a fancy final dinner and spend another evening hanging out in Plaza de la Trinidad but we were tired enough after the tour that instead we headed back towards the apartment with a stop off at Seripe - the Caribbean fusion restaurant where we had eaten our first dinner out. It was again a tasty meal and we enjoyed watching the Getsemani nightlife out the window while we ate. It was a short stroll back to the apartment from there and we got back early enough to finalize our packing so we were ready to head to the airport in the morning.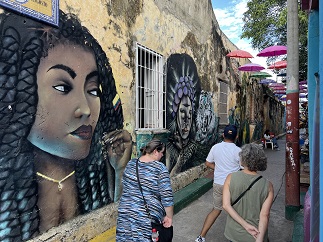 Return to Alan and Jonna's Travel Page

Return to Alan's Home Page
---
Alan Fleming