For awhile I was doing regular postings based on mangled motorcycle parts I found in my Box of
Shame. Well, I've pretty much exhausted the stories about my mechanical screw-ups so that thread is on hold until I break something else. In the meantime, I thought I'd do a few write-ups about some of my riding buddies and our trips together. Today seems like an appropriate day to start this new series of postings since it has been exactly five years since one of my closest friends passed away. This inaugural post of my Riding buddies series then is as much memorial as it is celebration of our friendship and our shared passion for motorcycles.
I first met Mike Mitten when I was in college at Georgia Tech. He and I were both computer geeks and thus haunted the computer labs in the evening and weekends. We were also both pretty unhappy with our situations at the university, both feeling like we lacked freedom and were being run through their system like anonymous degree earning robots, so becoming friends was inevitable. We both pulled the rip cord at the same time during our junior years and opted to drop out and enter the "real world". We remained friends and met up regularly to eat, drink and trade stories. A few years later, while swapping drinks at an Irish Pub, we got to talking about motorcycles. It turned out we had both become interested in them over the years and we were both shopping for bikes. I eventually bought my old Honda CB400 and shortly thereafter Mike bought a Suzuki GS850.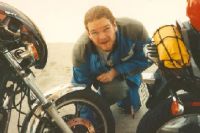 At this point in time, Mike and I had known each other for about 7 years. However, it was the bikes that really fueled our friendship. By the time I moved to Colorado in '95, I'd ridden almost 50,000 miles on that old CB400 and on the GSXR1100 that followed it. Of those, probably half were ridden with Mike. In the three years we did rides together we covered much of Georgia, Florida, Alabama, Tennessee, South Carolina and North Carolina. We did trips up the Blue Ridge Parkway and halfway across the country to Colorado and New Mexico. We formed a small group of motorcyclist that met up on Tuesday nights at a cafe in Atlanta to talk bikes. We learned to ride together, became mechanics by working on each others bikes and even formed a staggeringly large group of mutual friends all through our common love of motorcycles.
Let me break for a moment and tell a little story about Mike's first bike. After I bought my little Honda, Mike got the itch to buy a bike really bad. We'd been talking bikes for a few months so once I got one and was actually riding it pretty much sent Mike over the edge. He found an ad in the local paper from a guy selling an '82 Suzuki GS850GL that was described as being "used but running". I went with Mike to look at the bike and I must say I questioned even that optimistic of a description as soon as I saw the thing. The bike had clearly been crashed at high speed but a stout set of crash bars had borne the brunt of the accident. The bars were twisted, the front fender was bent, the turn signals and mirrors on one side were missing and there was a healthy dose of road rash on various parts. However, Mike's desire to own a bike clearly gave him a case of rose colored glasses and he bought the thing straight away for $250. At the time, I would have sworn the bike wasn't capable of leaving the Atlanta city limits. The bike needed a lot of work but in the end, that old GS covered about 40,000 miles. Mike rode it to Canada, halfway across the US, up and down the east coast, everywhere in the southeast and God only knows where else. It looked like crap from the day he bought it till the day he sold it but was probably the best $250 he ever spent…
Mike eventually bought a BMW R100GS/PD which was a fantastic upgrade from the old GS. He moved up north to New Jersey for awhile and rode the old Beemer all over New England. As I mentioned above, I moved to Colorado in '95 and although we didn't get a chance to ride together after that we did keep in touch via email and visits.
In 1998, Mike was diagnosed with Hodgkin's Lymphoma. He spent over a year going through chemotherapy and was pronounced cancer-free in the summer of 2000. Unfortunately, Mike's immune system had taken a hell of a beating from the chemo and he ended up catching a cold that September that progressed into serious pneumonia. In October the pneumonia took a turn for the worst and eventually took his life.
My plan is to write stories not just about my riding buddies but to also share some stories from our rides. However, in this case, I'll just let this entry stand as it is. I know this is a downer for a series of blog entries that are supposed to be about celebrating motorcycles but hey the world isn't always sunshine and fuzzy bunnies. Mike was someone who was passionate about life, he was a dedicated motorcyclist, he was a great friend and he was a damned fine guy. Its been five years and I still miss him. So is there a motorcycling message from this? Sure. You never know what life is going to throw at you so just get out there and ride.
…Oh, and enjoy the time you spend riding with your friends.
[image from my photo collection.]