Author: site admin
Category: Music
We went and saw Michael Franti and Spearhead on Saturday night and had a great time. They have morphed their show from a funk/soul/hip-hop vibe into a more rock driven performance, which has taken some of my enthusiasm away, but they still put out an amazing energy with some of the best socially conscious lyrics being written.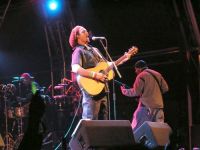 Michael Franti, the lead singer and inspirational force behind Spearhead, is an ex-college basketball player, a long time musician and social rights activist. He has melded all this together into a band which is continually changing but always speaks loud and clear about the issues of today, whether those are the prison system, the wars around the world, the death penalty, AIDS, world hunger, etc. He is particularly critical of our current government and the war in Iraq, both issues which I endear me to his music all the more.
A Spearhead show is a blast of energy, unlike any other concert I've ever been to. Their music, whether it be soul or funk or hip-hop or rock or any other label, has the crowd moving. Franti is jumping and leaping from the moment he hits the stage which is infectious. Watching a Spearhead show from the back of the venue is like watching a sea of humans with everyone in constant and frantic motion.
The band gives you music to enjoy, energy to dance to and a message to contemplate. All excellent reasons to catch one of their shows.
[image from Glastonbury Festival 2004 web page]