It has been awhile since I did a product spotlight blog posting. I've once again had the opportunity to deal with one company in particular and have once again been impressed so this seems like as good a time as any to do another posting. In this case, the company in question is Jesse Luggage.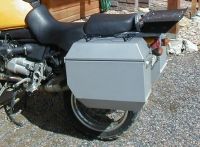 When I bought my R1150GS in 2001 I decided to forego the stock BMW bags and look for something better. Based on talks with friends, various web postings and some magazine articles I decided that Al Jesse was making the best luggage for the big adventure touring bikes. I bought a set of his Odyssey saddle bags, a rear compartment and a 45 liter top box. Once I received them I found they were easy to install, were very rugged and had roughly twice the storage space of the Beemer bags. I particularly liked the rear storage compartment, since it gave me a secure place to store little things like a security cable, a spare quart of oil and some bungee cords.
As I've mentioned before, my product spotlights generally focus on companies because of their service as much as for their product. Here is where Al Jesse really blows the competition out of the water.
About a month after I installed the Jesse bags I rode in a particularly hard rain storm and noticed a little bit of water in one of the saddle bags. I called Jesse Luggage and ended up talking with Mr. Jesse himself. He explained that he had changed vendors for the rubber gaskets that seal the cam locks and that some of the first Odyssey bags went out with the earlier version. Since my bags may have gone out with the earlier model he decided to ship me the new model of the gaskets…for free. The new parts showed up and, once I installed them on all the bags, haven't had a single leak since. At the same time I bought the optional lid racks and installed those as well. They are a great addition to the luggage both because they offer additional tie down spots and because they work as great carry handles.
About six months later, I had a problem were one of the pins on one of the hinges on the right saddle bag worked its way out. I once again called Jesse Luggage and again ended up talking directly with Al. He said that he'd found that the hinge design contained a pins which were pressed in place and that they were prone to working loose over time. He had come up with a new design which uses rivets rather than the press fit pins. He popped one of the new hinges in the mail to me…again for free. It installed easily with some stainless steel rivets that were supplied with the kit and for the past three years has worked great.
Fast forward another two years to last summer. Once again I had one of the hinges, this time on the left saddle bag, have a pin work its way out. Same issue, same story. I called, spoke directly to Al and again had a new hinge show up without my having spent a dime.
Then this summer I had one of the mushroom nuts, used to latch the saddle bags onto the luggage rack, back off while riding on rough dirt roads. I picked up the phone and decided to try another approach for a change. Instead of even mentioning that something had happened to my saddle bags I just ordered one of their cam lock kits. In addition to making an excellent product, Jesse also has a full list of spare parts that you can order individually. After a quick phone call and a couple of days wait, the cam lock showed up and only took about 5 minutes to install. Had I just asked I wouldn't have been surprised to find the mushroom nut show up for free but I felt this was my fault since I'd noticed the nut was loose earlier but hadn't made an effort to fix it back up.
So one thing that has been drilled into my head over the past four years is that Al Jesse definitely stands behind his product. Most products come with a warranty and most companies will stand behind that. Maybe its for six months, maybe its a year or maybe even longer. But Mr. Jesse takes a different approach. He seems to understand that the best way to improve his product and the best way to earn loyal customers is working with them to fix their problems. Now I'm sure that Jesse doesn't always give away repair parts for free but in this case he decided that some of his original components weren't as reliable as he'd like. In addition to making constant efforts to improve his product, he went one step further by upgrading his customers when they hit problems. That is a level of commitment that can't be touched by any other company.
The Jesse bags are a great product but the real reason I encourage people to consider Al Jesse's product is because of the way he will support his products after he's sold them. If you need bags, give 'em a try.
[image from Jesse Luggage web page.]