"Zip-a-dee-doo-dah, zip-a-dee-ay
My, oh my what a wonderful day!"
— lyrics from Disney's "Song of the South"
For many years I was a die-hard sport bike guy. I rode my GSXR clad in my Vanson road race leathers and Alpinestar boots. I rode like the wind, laughed at death and frequently made fun of the old farts in their dumpy looking Aerostich suits. I held deep respect for the makers of the gear, as I've always heard impressive stories about owner Andy Goldfine, and some of my friends who otherwise seemed quite logical swore by the suits but still I couldn't ever imagine switching from the incredibly protective (not to mention somewhat svelte looking) leathers to a bulky Roadcrafter suit.
That was then, this is now…Once my birthday cake started needing more than 30 candles, not to mention once I needed to send my Vanson jacket in for an expensive "loosening" around the mid-section, I began to rethink things. I started to notice that I didn't ride the GSXR all that often once I bought the Beemer (oh the shame!) as commuting to work on the big Bavarian bomber was so much easier. All the lockable luggage on the big GS meant that I could lock my riding gear up rather than schlepping heavy leathers through the office. The final nail in the coffin was that I started to ride in to work with only the leather jacket and jeans where I'd previously been pretty religious about wearing all my gear. So in the spring of 2002 I revisited my youthful reservations about the Aerostich Roadcrafter suit and whipped out the credit card to finally take the plunge.
As expected, the suit was excellent quality. I'd spent a lot of time trying on friend's suits, so had the size really close but still had to go through the usual process of returning it once for final alterations. I also sprung for all the safety stuff, even though it cranked up the frumpy, bulky look to 11. I got the optional back protector and hip pads in addition to the standard shoulder, elbow and knee pads. I also went overboard on the safety mindset by ordering the eye-melting "hi viz" yellow. Whoo whee, no missing this thing. If anyone ever hits me and then says "I didn't see him" I hope the cop dope slaps them… All said and done, I look like a sickly version of the Michelin Man.
So far, so good. Good company to do business with, great products, lots of options to customize. That's it. Turn out the lights, flip the closed sign and declare this product evaluation done, right? Nope, remember, I'm trying to focus on companies that also offer excellent customer service in addition to a good product.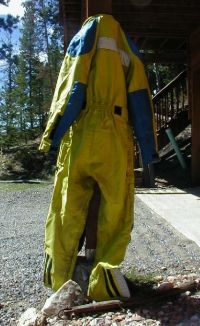 So fast forward three years. I've put about 40,000 miles on the suit and also bought various other products from them like their Combat Touring boots. All have held up great, though the suit does sometimes reveal it's "water resistant" rather than "water proof" rating by leaking rain water through the zipper…usually straight onto my crotch. Nothing like riding through a cold pouring rain and then getting home looking like you had a little "accident" along the way. "No dear, I just need rain suit pants, not depends". Also as advertised, the "hi viz" color shows dirt. In fact, it looks pretty dingy after the first season of riding but then doesn't get that much worse over subsequent seasons. Otherwise no problem with any of the gear until a couple of months ago.
While getting ready for work one morning, I managed to break the zipper on the right leg. I gave it a good tug and the pull tab just popped right off. I was able to zip (and, thankfully, unzip) the suit for the day's commute but clearly I needed it fixed, preferably quickly so it wouldn't eat into my riding time. I called Aerostich's repair department and was quickly connected to someone. who gave me an estimate that seemed impossible ($15?!?!). I asked about cleaning and they offered back a reasonable price for that too. Still stunned, I boxed the whole one-piece suit up and shipped it off. A week later I got a call confirming my work order (cleaning, re-waterproofing and zipper repair) and got a total price quote of under $100, including shipping. Wow, fantastic! Then, no muss-no fuss, the suit arrived back a week later. While the "hi viz" color wasn't totally restored it did have a little of its nauseating glow back. The zipper was fixed and the suit got a "A-OK" checkout from the maker…time to put on some more miles.
So even though it was just a simple zipper repair, I am altogether satisfied with the folks at Rider Warehouse. They are a group of motorcycle enthusiasts that make great products focused specifically at equally enthusiastic riders. They make a solid product and, once you get past the purchase price, offer reasonably priced repairs, maintenance and support. Just don't wait till you are middle aged to buy one!
[image from my photo collection.]