Author: site admin
Category: Uncategorized
After riding my bike in January, seeing Carmichael get beat in Supercross, watching Mladin crash and seeing someone throw down a faster lap that Rossi I was beginning to get worried.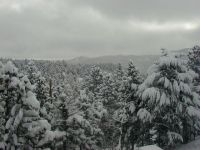 Well, Rossi has said he was testing parts and Capirossi said he was using a Q tire. Mladin still ran the fastest time of the Daytona tire test despite the crash. RC has dominated the SX rounds after muddy Anaheim I and now we've gotten two foot of snow in the mountains. My bikes are back to running down their batteries and collecting dust for another two months. Everything is, in fact, back to normal.
If you listen closely, you can hear the stable doors being slammed shut on the four horsemen's mounts…
[image from my camera]