Author: site admin
Category: Bike Updates
Help me out here, folks.
Next year, I'm planning to buy a new bike. This bike will replace one of my bikes (the Minister of Domestic Tranquility has forbidden adding a new bike to the garage without first getting rid of one of the four I already have). I'm keeping the relatively new 2000 DRZ400, so my current thoughts are:
1) Finally sell my ancient 1988 Suzuki GSXR1100 (ex-Team Hammer Suzuki race bike) and replace it with a new sport bike. This is the most logical, after all sport bikes have changed dramatically in the past 16 years but also the most difficult since I've done so much riding on the old thing that I'm quite attached to it. Nonetheless, if this were to happen I'd be getting something completely excessive like the new Suzuki GSXR1000, Kawasaki ZX-10R, etc. I considered, as a variation on this idea, to replace the GSXR with something more exotic like an Aprilia RSV1000 or a used Ducati 998 but realized I use a sport bike for strictly utilitarian purposes. Why buy an expensive dinner fork? Besides, the old GSXR isn't worth much so that would mean even more out-of-pocket expense to buy some tarted up European replacement.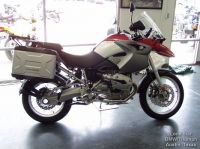 2) Replace my 2001 BMW R1150GS with a new BMW R1200GS. On one hand, this is very attractive since the R1150GS is relatively low mileage (40,000) and thus will have a decent trade in value. I love the GS, so the thought of having the same basic bike but 40 lbs lighter is very, very appealing. The downsides to this are that the R1150GS is relatively low mileage, so why trade it in? Also, I *loath* BMW's power assist brakes and that is a standard item on the new R1200GS. Finally, does it really make sense to pay all that money (hey, I complained about the BMW purchase price the first time around!) just to loose those 40 lbs? Maybe I could get a Touratech carbon fiber sub-frame for the 1150 for the same amount and with the same benefits.
3) Upgrade my '82 Honda FT500RR track bike. The reason this one is likely to crash before ever getting off the ground is that I never use the damned thing as it is. Still, I hand built the thing (with some help on the frame from Bare Bones Racing) and I thought it was a hoot to ride the two times I've ridden it. Something like an SV650 would make a much better platform for track riding (and racing, should I ever get around that). Factor in that a used SV would be incredibly cheap and this is undoubtedly the best financial decision. A slight alteration to this would be converting the old GSXR into a track bike, ditching the race Ascot and reverting back to plan #1 of getting a new sport bike.
I'd also thought about getting a vintage bike to toy around with (since an early 70s Kawasaki H2 has always been on my wish list ) but I'd rather have something newer right now. Besides, I don't have enough time to maintain the projects I already have!
I plan to look around at the Cycle World International Motorcycle Show this weekend but I know I'll end up liking whatever I sat on last the best. Does anyone want to offer suggestions?
[image from Lone Star BMW]