Author: site admin
Category: AMA Superbikes
First off, congrats to Mighty Mat for his 5th AMA Superbike title. In fact, let me repeat that in case the folks that say he's not a good rider missed it…his 5th AMA Superbike title. The guy has a work ethic that makes the rest of the field look like its a hobby for them, he's built a team that rivals anything at the world level and he has proved that he is a fantastic development rider. He's got everyone else covered and I'm forecasting he'll earn championship #6 in 2005.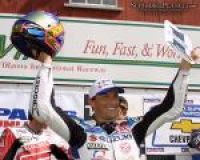 So having such a phenomenal rider in the series is cause for all hearts and flowers, right? No cause for a fan of the series to complain, right? Wrong.
First, I hate dominance. Whether its Lawson, Doohan, Duhamel, Fogarty, Rossi or Mladin. I want the outcome of races to be fought till the finish line and championships to be a question mark until the final points are tallied. Mat hasn't always had a cake walk but its always obvious in on the first day of practice that Mat is the one to beat. Second, I think Mat has overshadowed his own brilliance as a rider by his constant criticism of everything in and around racing.
So what will Mladin's legacy be? Ex-Grand Prix rider? King of AMA Superbike? Big fish in a small pond? Whiner extraordinaire? Lets break 'em down:
Ex-GP rider - Can anyone that didn't astound as a Grand Prix pilot during the ascension of Doohan really be considered a failure? The list of riders that had the misfortune of racing against Rainey/Schwantz and Doohan is long and glorious: Magee, Shobert, Chandler, Kocinski, Cadalora, Barros, Criville, etc. Mat's finishes aboard the Cagiva 500 GP bike showed he was a good rider and the equal of his more experienced teammate Chandler. Besides, results aside, having your name on the above list of riders isn't exactly something to be ashamed of! Its a pity Mladin has never had a second crack but I don't think he'll be remembered for his Grand Prix past or potential.
King of AMA Superbike - If Russell can be called "Mr. Daytona", surely Mladin should be called "Mr. AMA". He has become the alpha dog of the series and all but dry humps his opponents come race day. There is no question that Mat will forever go down as the first person to own the series. Plenty of folks had spectacular seasons but Mladin is the first have them back to back (only interrupted as Nicky Hayden blew through on his way to MotoGP). But outside of the US and parts of Australia its unclear how many people know just how much Mat has dominated in the US.
Big fish in a small pond - This is somewhere in between #1 and #2 and could well be how Mat is remembered, through no fault of his own. The world stage, whether it be GP or World Superbike, is where the best come to battle the best. In WSB the money is no good, the rules usually favor one brand and the organizers seem disorganized but it is where national champs can face off across a whole series and not just when the other guys visit your home track. In GP, the money and pressure are astounding but to quote Sinatra "If you can make it there you can make it anywhere". If you wanna be considered the best you have to bet the rest. Since Suzuki never gave Mladin that second shot at GP fame, he may well be best remembered for what he didn't accomplish rather than what he did.
Whiner extraordinaire - In 2004 alone, Mladin lashed out at the tires, the tracks, the other riders, the AMA officials, the TV commentators, the other bikes, the AMA class structure, the post-race award ceremony and even Suzuki for not putting him on the GP bike. Undoubtedly, there is truth in all of this, particularly the track safety issues but he's managed to complain about so many different things that its hard to take him seriously about any of them. Do I expect Mat to become another meely-mouthed corporate spokesperson? Definitely not. Do I think he should forsake his principles about track safety? Hell no. In fact, I think he should focus all his energies on the important things and can his wise cracks about the other riders, the AMA officials or the other bikes. He could be remembered for making a positive change in the AMA series (as well as ruling it with an iron fist) or he may be remembered more for what he said rather than did.
Ultimately, Mat probably doesn't care. He'll laugh all the way to the bank and may not worry about whether he's remembered in the US or elsewhere…
[image from www.superbikeplanet.com