"The jungle is dark but full of diamonds…"
— Arthur Miller, _Death of a Salesman_
I am back from my dual sporting adventure in Costa Rica. (I first mentioned it back in January). I went down with four of my riding buddies and I believe I can speak for all of us in saying that we had a blast. We rented KTM 640 LC4s from Costa Rica Motorcycle Tours and Rentals and I highly recommend them to anyone interested in riding in Costa Rica. We had some bike problems during the trip (some caused by us, some caused by the KTM factory) and Wilhelm did an excellant job of dealing with these so they didn't adversely affect our trip. I also think that the big KTM was the perfect bike for Costa Rica. Enough power to run 100 kmh on the main roads but still small enough to wrestle over single track goat trails.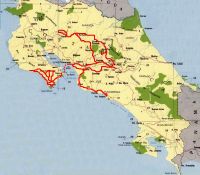 I will be doing a two stage write-up on this. First, I have already created a basic web page with some of my favorite photos. Then, over the next couple of weeks, I'll write up a full trip report and link it into the bottom of the photos page.
[image from the University of Texas Libraries web site.]