Author: site admin
Category: WSBK
This past weekend's "European" round of the World Superbike races at the reconfigured Silverstone circuit was actually quite interesting. The "International" layout included some chicanes which slowed down the race pace but also removed most of the passing zones. The difficulty passing meant the race was more processional than action packed. While the racing wasn't particularly exciting the results do lend some hope for those of us who don't want the 2005 World Superbike season to be a complete romp. Despite this being called the European round, its really the first of two visits by the WSBK series to the UK. I've recently been reading some Winston Churchill writings, so I'm going to tie the two things together by giving one quote from the old curmudgeon and then use that to describe the performance of one of the riders.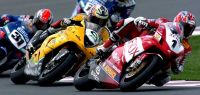 "Never give in–never, never, never, never, in nothing great or small, large or petty, never give in except to convictions of honour and good sense. Never yield to force; never yield to the apparently overwhelming might of the enemy." – James Toseland - Toseland was definitely the star of the weekend. After sucking earlier in the season, the reigning champ started to regain his winning form at Monza and then went on to do a private three day test with Ducati at Mugello. The result was serious flexing of muscles at Silverstone where Toseland netted a third in the race and a win in race two. In both races Toseland was in contention for the victory and took control of race two for a convincing first place. Perhaps Toseland, and Ducati, may yet emerge as a rival to Troy Corser. What is certainly true is that he hasn't given up.
"Today we may say aloud before an awe-struck world: We are still masters of our fate. We are still captain of our souls." – Troy Corser - Despite going winless for the weekend Corser was really once again the ultimate winner. His twin second place finishes continued to grow his points lead over second place Kagayama to the tune of a total 78 points. This means that Corser could take off the next weekend and still have a one race win lead in the championship. I hesitate to say that Corser could have won either race but he was definitely running with the leaders in both legs and didn't *have* to beat either one based on the two Ducati riders since they were forth and sixth in the championship race coming into the weekend. He finished exactly where he needed to…
"Although prepared for martyrdom, I preferred that it be postponed." - Regis Laconi - Toseland's French teammate started the weekend in great form, also continuing where he left of at Monza. Laconi looked unstoppable during the first race as he pushed his way through to the front. Corser kept him honest but no one else really seemed to have the pace that these two pulled out. Fame is a fickle mistress, though, and Regis went from hero to zero in race two with an early crash. While Laconi isn't completely out of the title hunt, he is only hanging on by the faintest of mathematical hope at this point.
"I have nothing to offer but blood, toil, tears and sweat." – Noriyuki Haga - Despite being let down by both bike problems and tires, Nitro Nori still gave his English fans something to cheer about by running in the top three during both races. A fuel pump problem ended his podium appearance n race one but he hung in during race two despite tire degradation that had him a second off the winning pace during the last few laps. Haga, through sheer force of will, kept his popularity (if not his title hopes) alive.
"This is not the end. It is not even the beginning of the end. But it is, perhaps, the end of the beginning." – Yukio Kagayama - An odd off weekend for the Japanese ace stunted his championship run against teammate Corser. Kagayama's 11th and 7th place finishes could be the beginning of the end of his dream of being the 2005 World Superbike Champion. Suzuki, however, are probably more interested him maintaining his second place so that they have a chance of a one-two sweep if Corser brings home the crown this season.
"It's not enough that we do our best; sometimes we have to do what's required." – Chris Vermeulen - Vermeulen brought his Honda home in forth place in both races showing he is still talented beyond his years. Chris showed he had the pace of the front runners in race two but a poor start meant he couldn't fight for the win. What he did gain was enough championship points to bring him within three of second place Kagayama.
"Every day you may make progress. Every step may be fruitful. Yet there will stretch out before you an ever-lengthening, ever-ascending, ever-improving path. You know you will never get to the end of the journey. But this, so far from discouraging, only adds to the joy and glory of the climb." – Frankie Chili - Chili has continued to heal from his broken collarbone and brought home two fifth place finishes to show for it. He continues to show that he is one of the most talented men to over throw a leg over a Superbike and to show that Ducati were foolish for ever removing him from their factory team.
"You can always count on Americans to do the right thing—after they've tried everything else." – Ben Bostrom - Unfortunately, Bennie took another back slide after showing a glimmer of hope at Monza. He pulled out of the first race with bike problems and then struggled to a 14th place finish in race two. Saying the team needed track time to improve the bike was a valid excuse for the first few races of the season but that is rapidly failing an explanation for their lack of results. Bostrom really has to start moving forward for the American to get some respect.
"We shall fight on the beaches. We shall fight on the landing grounds. We shall fight in the fields, and in the streets, we shall fight in the hills. We shall never surrender!" – Chris Walker - Walker also followed up his excellent Monza results with a strong showing at Silverstone. Despite having a bike that appears to be a handful, the Stalker still pushed he bike through to dual sixth place finishes. For years fans have felt Walker shouldn't have gone straight from the UK Superbike series to WSBK on a Kawasaki in 2001. His results seem to lend credence to that theory. Its good to have Walker back on the green machines.
"We have sustained a total and unmitigated defeat, and France has suffered even more than we have." – Foggy Petronas riders Steve Martin and Gary McCoy - In race one, both Petronas riders DNF'ed giving them an embarrassing start to their home races. They fared slightly better in the second race with 13th (McCoy) and 20th (Martin) finishes. At least their results improved between race one and two, unlike Laconi who started on the podium and finished in the gravel.
"For myself I am an optimist - it does not seem to be much use being anything else." Yamaha France riders Norick Abe and Gimbert - The Yamaha France team had a tough weekend. Sebastien Gimbert crashed in race one breaking his ankle and missing the second race. Norick Abe had a clutch problem in the first event, giving Yamaha France two DNFs to start the weekend. Abe rebounded with an eighth in the final race. Good for the team but still far short of what was expected of the ex-GP start.
"Success is the ability to go from one failure to another with no loss of enthusiasm." – Fonsi Nieto - Nieto, another ex-GP star, was originally thought to be another ride who would challenge for the championship but has failed to live up to that expectation. This was particularly true at Silverstone where Nieto ended up retiring in both races. The SC Caracchi team has surely suffered after their glory days with Bostrom and Chili as their riders.
"It is a mistake to try to look too far ahead. The chain of destiny can only be grasped one link at a time." – Giovani Bussei - Fan favorite and winner of the 2004 sportsmanship award is steadily improving as he comes to term with his Kawasaki. He had an eighth in race one and a sixteenth in race two. He needs to continue to get championship points this season to show everyone that he deserves to be in the series not just because he is a nice guy but because he is a talented rider.
"It is a good thing for an uneducated man to read books of quotations." - me - When all else fails, use other people's words so you look smart. Hopefully this contrast of historical quotes and rider reviews has made some small progress in that regard.
[image from the Silverstone Circuit web site.]