The second company to get a thumbs up from me is motorcycle luggage maker Chase Harper.
I've been a satisfied customer of Chase Harper for a long, long time. I bought my first soft luggage from them back in '91: a set of Aero Pac saddlebags, an Aero Pac tail trunk and an 1150 tank bag. I was immediately happy with them and couldn't wait to try them out with a bike camping trip. Unfortunately, that also meant that I had an immediate need to test their warranty. You see, Chase Harper makes a great product and in addition to a top notch build quality and excellent features they also include an amazing unconditional lifetime warranty.
Their saddlebags include a little plastic shield, which should protect them from your common idiotic mistakes. Well, as I've proven from my Box of Shame postings, at times I can be a particularly uncommon idiot and this was one of those cases. I pre-packed the saddle bags the night before leaving for a bike trip to Road Atlanta to enjoy the '91 WERA GNF races. When packing, I was careful to put the camp stove fuel in the saddle bag that would be on the opposite side of the bike from the exhaust pipe. Well, Saturday morning I went to put the bags on the bike and realized they fit better swapped around the other way. What I didn't realize was that this change moved the fuel directly above the exhaust. During the ride, the hot Yoshimura pipe heated the fuel bottle to the point that it pressurized and misted Coleman fuel inside the saddle bag. That then started smoldering resulting in my GSXR trailing a cloud of smoke like a wounded WWII fighter plane. My riding buddy Troy waved me over and we managed to frantically remove the bag and extinguish the charred clothes inside but not before a four inch hole was melted through the back of the right hand saddle bag.
So that story clearly shows that I made an incredibly stupid mistake and roasted my new saddle bag. Nonetheless, when I called Chase Harper to get a new saddle bag they reiterated that their warranty is an unconditional guarantee and that includes user error. A few days later I received a box in the mail the contained a brand new right side saddle bag. Wow, how do you argue with a company that offers that kind of service?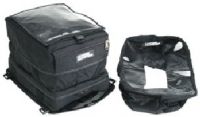 That story alone would make me a lifetime devotee of the company. But I had another chance to experience the benefits of their warranty and this time it wasn't because I was brain dead… In 2003, I finally got my old GSXR running again after a mini-restoration and went through all my storage boxes and dug out my old Chase Harper gear. The saddle bags and tail trunk looked great but the 1150 tank bag showed every bit of the 70,000 miles it had endured over 12 years. All the velcro was worn out, one of the strap rivets had come apart, the map case was sun faded till it was opaque and the front compartment's zipper was broken. I sent the tank bag back to Chase Harper to get a repair estimate for the various bits and pieces. A few days later, like deja vu, a box arrived with a band new 1150 tank bag. No questions asked, no money owed, just a new tank bag to replace the one that I'd flogged like a rented mule for over a decade.
As I said in my first Product and Company Review blog entry I think that a company's service is even more important than their product. In this regard, Chase Harper is probably the best manufacturer in the entire motorcycle industry. I've bought Chase Harper luggage as gifts for two other people based strictly on my knowledge that Chase Harper stands behind their product like no one else. If you're looking for soft luggage for your bike (or storage bags for hiking, bicycling or winter sports) check them out.
[image from the Motorcycle Accessory Warehouse web site.]