Author: site admin
Category: Motorcycles
There are people all around me that spend their entire lives fighting horrible addictions, some more successfully than others. I know people who are addicted to drugs, others who are addicted to alcohol, many who are addicted to cigarettes, others addicted to sweets. It could even be argued that many of my friends, myself included, are addicted to motorcycles. I've known people brave enough to fend off one addiction and then fall hopelessly into another. I even know people right now that are so addicted to healthy things, like exercise and dieting, that it becomes unhealthy. Addiction is truly a complex and dangerous thing.
Well, no matter how much I'm obsessed by motorcycles, my true addition is to motorcycle racing. My wife recently saw a trailer for the movie Fever Pitch, a movie in which a woman's fiancee is addicted to the Boston Red Sox baseball team, and immediately said "Hey, that's like you and motorcycle racing". Uh oh, the first sign you have a problem is when other people are pointing it out…Should I be on the lookout for an intervention soon?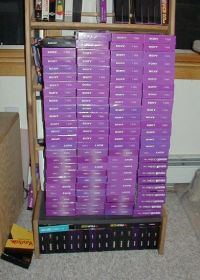 Well, the strongest sign that I'm addicted to motorcycle racing is to look at the massive pile of video tapes I have stacked up in my living room. This pile of approximately 120 eight hour VCR tapes contains every motorcycle race shown on SpeedTV (and many shown on OLN and ESPN2) over the past five years. The fact that I have that many video tapes is staggering to most people. Then I drop the real bomb on them…these only represent the unlabeled tapes (Getting married gave me enough of a life that I couldn't keep up with both recording, watching and labelling the tapes each week). There is a Rubbermaid storage box in the basement with around another 100 tapes which are already labelled.
"Really", my friends ask, "do you ever intend to go back and watch any of these tapes?". Well, I can only answer with a definite…uhhh…maybe. While I realistically know that the chances of me actually digging out a tape from 1997 to rewatch a Grand Prix race and see Doohan give the smackdown to Criville and Okada is slim its just the fact that I *could* that makes me hang onto them. And how can I possible destroy a tape that may have some spectacular race on it like the famous Eric Bostrom, Jamie Hacking and Kurtis Roberts incident from Willow Springs in 2000 or the brilliant Colin Edwards/Troy Bayliss WSBK Imola race in 2002?
I have decided to take one bold step. No, I'm not getting rid of the tapes but I am starting to go through the five year backlog and label them. I work in the television industry, so I have a TV at my desk. Last week I bought a cheapo VCR and hooked it up. Now I bring one unlabeled tape in to work each day, throw it in the tape player and write down the contents as they play during the day. Then I label the tape, bring it home and put it in the storage box. Slowly but surely I'll reduce the size of the stack in the living room so its no longer an eye sore.
In the big picture, I try to explain it to my wife this way…there are people out there whose spouses are addicted to crack. Me? My addiction costs around $1.50 per tape and the worst thing it can do to our marriage is take up storage space in the basement. Beyond that, its just an irrational thing like chewing finger nails or eating bon-bons until you throw up. Besides, I can quit any time I want…
[image from my photo collection.]