The month of July is almost over so here is this month's list of items that aren't gonna get longer write-ups. This is the third of my "Odds and Ends" postings so it looks like this is going to be a monthly occurrence during these crazy summer months.
The Long Way Round web site has news that an extended version of the Long Way Round TV series is being shown in England. This new edit of the series is ten episodes long and includes some new footage not shown in the original. Lets hope that Bravo will opt to air this enhanced version of the series. On the down side, there still isn't any news about a US release for the DVD.
As long as I'm talking about Long Way Round, I read on a few different web sites that Charlie Boorman is entered to compete in the 2006 Paris Dakar rally. Better yet, it is supposed to be filmed for British Sky TV. Since SpeedTV dropped their Dakar cover and OLN did a poor job with their coverage last year, perhaps Bravo will pick up this new series in 2006 and give us Dakar fans another way to get our fix.
Also in Paris Dakar news came a press release that this is the first time in the events 26 year history that the rally registrations for all classes have been filled as early as July. With more applications received than spots for participants and with those applications showing up earlier in the year than in the past, the 2006 Paris Dakar is proving more popular than ever before. What is surprising about this is that the event run this past January featured two fatal accidents, including Italian superstar Fabrizio Meoni. Many, including myself, felt that these deaths might dampen enthusiasm for rally racing. It is great to see that interest in the sport is still booming despite this year's tragedy.
The news that shocked me the most this month was the press release from Polaris Industries that it is purchasing a 24% stake in Austrian motorcycle manufacturer KTM for $80 million. This agreement means that Polaris and KTM will cooperate on R&D (hmmmm…KTM motors in Polaris ATVs?, Victory assembly line technology helping KTM ramp up their manufacturing) and that KTM bikes can be sold through the Polaris/Victory dealer network. Even more intriguing is the news that in two years, either KTM will buy back the 24% stake purchased by Polaris or Polaris will buy the remaining 76% of KTM. The combination of Victory and the new line of KTM street bikes could put some serious hurt on Buell. Victory gaining a sport bike line-up and KTM engineers gaining much needed knowledge with ATV, watercraft and cruiser products. My hope is that it speeds up the importing of the 990 SuperDuke which I'm seriously lusting over as Victory's involvement may help KTM speed up US DOT approval for their 990cc motor.
In another case of me waiting for something cool to make it to the US, it looks like a second volume of the Joe Bar Team comic has been translated into English and should be available in Britain some time this year. Aerostich carries the first volume, so hopefully they will carry this one as well. Less exciting is the knowledge that they are up to volume seven in the author's native French language and it has taken something like 10 years to get the first one translated. Volume seven may not be available in a language I can read until 2015…I can probably learn French faster than that!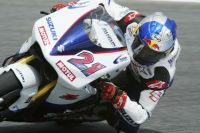 Another import, English born John Hopkins, is set to test Red Bull driver Antonio Liuzzi's F1 car at the Silverstone track. Even more fascinating, Liuzzi is supposed to ride Hopper's Suzuki MotoGP bike. Putting a non-racer, even if they are an experienced motorcycle rider, on a 250hp Grand Prix bike seems fairly dangerous. Then again, maybe this is part of the plan since it seems like the Red Bull F1 team is hoping to get rid of Liuzzi anyway.
In other MotoGP news, a French court finally resolved a lawsuit filed against Alex Barros by Altadis after Barros broke his two year contract with the Gauloises Yamaha team early to accept a ride with the Camel Honda team this season. The court ruled against Barros which resulted in fines, penalities and court costs which will total over two million Euros. Ouch! I don't know what Barros' salary has been for the past few years but surely two mil takes a bite out of the old retirement fund.
The final news is my favorite: The date for the 2006 USGP race at Laguna Seca has already been set for July 23. Tickets go on sale September 1st. You can be sure I'll be on the phone first thing that morning!
[image from the Yahoo Italy Sports web page.]