I love my wife. I think everyone that reads this web site knows that I love motorcycles but I want to emphasize that I also love my wife. You see, this past weekend was our fifth wedding anniversary. Many wives in this big, wide world expect jewelry or clothes or other baubles for an anniversary gift. My wife? She asks if we can jump on the motorcycle and ride to northern Wyoming to go hiking in Grand Teton National Park. Did I mention that I love my wife?
So this past Thursday Jonna met me at my office after work where we loaded up the GS and headed north. We stopped in Cheyenne for a quick bite of Chinese take-out then did a two hour night ride to a hotel in Casper. On Friday, we left the slab and spent the morning on little two lane roads going across the Wyoming prairie. By noon we were in the little town of Dubois where we checked into the Stone House B&B. After a quick lunch we headed over Togwotee Pass (a 55 mile long and 9650 ft high slice of curve nirvana) to Grand Teton National Park.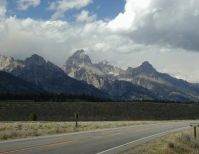 The park is a beautiful place. The Tetons are stunning mountains, even to someone who lives in the middle of some pretty incredible mountains. They tower about 5,000 ft over the surrounding landscape with the highest peak at 13,770. A series of lakes line the front of the range and the Snake River curls its' way from Yellowstone in the north to the city of Jackson in the south. Throw in the odd assortment of elk, moose, bison, wolves, bear, eagles, osprey and smaller critters to have a wonderful place. Then go hike there for a weekend. Sweet!
We did a short hike on Friday afternoon and then back over the Pass for dinner in Dubois. We woke up Saturday morning to cold, overcast skies but headed back over Togwotee again (as you can imagine, having to ride this pass twice a day was just killing me) so we could do a float trip on the Snake. It turned out to be too cold and too rainy to see any big animals and the weather just got colder and wetter as the day progressed. After the raft trip we decided to beat feet back over the pass…if it was cold and rainy at 7,000 ft the weather could be worse up high. That turned out to be the case as it dumped snow for 30 of the 55 miles over the pass on the return trip. A worn rear tire and heavy snow made for some nerve racking riding. We both spent the next tour hours huddled in front of the fire place in the B&B trying to warm back up!
On Sunday, we turned south on some more two lane roads all the way to Rawlins. Then it was an Interstate blast on I-80 to Laramie, where we grabbed lunch. A few back roads to cut across to I-25 and then all the way south to my office. My normal commute up Boulder canyon to Nederland and home by 7pm. The mileage total for the weekend was 1379 miles and the only bike problem was a rear tire that was stretched about 500 miles more than was appropriate. Wore the rear Metzler all the way down to the cords…a stupid move on my part.
A great way to celebrate our anniversary and another reminder of why I am so glad I married this woman.
[image from my photo collection.]