Author: site admin
Category: WSBK
After I moved to Colorado I started watching the local MRA races and noticed a young kid racing a 125GP bike. I thought it was cool that a guy was giving his son a chance to race and thought that was a pretty neat way to get in some father-son bonding as the father was clearly proud to have his son with him at the track. Over the next few years I was happy to see the kid was doing well. In 2002, he went into what I believe is the best possible training ground for young riders: The WERA National Endurance Series. He raised some eyebrows there by helping his team win a few races, probably a better performance than expected from a kid that wasn't in high school yet.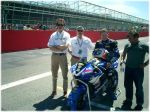 Well, the kid's father, Jurgen Wimbauer, moved them to Germany and the kid picked up where he left off by racing in a couple of the European national race series. The next time I heard about the guy, he was doing some wild card races in the World Supersport series on a factory Yamaha R6, with a best finish of 16th at Misano.
Well, now the news is out that 16 year old Nicky Wimbauer has signed with a factory supported Suzuki squad to race a GSXR in the European Superstock Championship, which is one of the support classes for World Superbike. I guess that little kid from Colorado has shown he has what it takes to race on the world stage, something that will make more people than just his father Jurgen proud. Bravo to the Moto 1 team for hiring him and best wishes to Nicky Wimbauer for a great season in 2005.
[image from Team Trasimeno web site]