Author: site admin
Category: AMA MX/SX
Say that you'll be true
And never leave me blue
My Susie Q
— Credence Clearwater Revival
First, let me say that yes I have heard the saying "Don't count your eggs before they hatch" and I'm not yet talking about chickens. However, I am predicting that the folks at Suzuki may have a lot of poultry on their hands at the end of the year. Suzuki has consistently hired great riders and then given those riders great bikes. What makes this exciting is that Suzuki is the third largest of the four Japanese manufacturers and thus works with a budget that is probably half what Honda or Yamaha have available. Clearly they have something figured out both in how to make motorcycles and how to motivate riders to race under the Suzuki banner.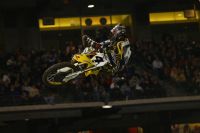 Where to start is easy…Ricky Carmichael. I have run out of cliches to use in describing what the guy has done to the 2005 Supercross field. I don't think I've used annihilate yet, so that will have to do. I thought that Ricky's win last week after crashing in Atlanta was going to be the highlight of the season but I think his annihilating the field at St. Louis has topped it. From the first practice until the waving of the checkered flag, RC was at least a second a lap faster than anyone else in the field. He has radically changed Supercross this season and is also changing the other riders. Chad Reed, a great Supercross racer, looked demolished on the podium at St. Louis. He had ridden a perfect race and was down *5* seconds after the first three laps. I don't know if Reed has the stamina to keep picking up the shattered pieces of his self image after every race. Kevin Windham, on the other hand, looks like a guy on valium. He yet again got a 1-2 punch from Carmichael and Reed, this time finishing 20+ seconds down on RC and 14 seconds behind Reed. On the podium the guy seemed to be staring off into another world while describing how happy he is with his riding. The AMA better bring in a team of psychologists fast, while there are still some shreds of ego left to work with. What really highlights the job Carmichael has done with SX is to look further down the time sheets. Names like Tortelli, Vuillemin, Fonseca, Byrne, Short, Ferry, Preston, Larocco and even McGrath would be headline news just a few years ago. Now the best of them finishing more than 30 seconds behind the winner. With a 49 second lap time, most of them are being lapped. Carmichael has created a new sport which just happens to take place on a Supercross track and so far no one else can play. There are still seven races left in the season but I'm sure Suzuki's PR department is already writing up the ads about their winning the AMA SX title for the first time in 20+ years.
Second on the excitement list has to be their start to the World Superbike series. After dominating the pre-season tests, the Alstare Suzuki team swept the season opener in Qatar by swapping 1-2 finishes. Now I'm not saying that the WSBK title is already being engraved with Suzuki's name but surely their Marketing department is busy re-learning how to spell "World Superbike" since they haven't even had the hope of doing well in that series this millennium.
Third would be returning to the domestic stage to talk about Mat Mladin and the rest of the Suzuki teams in AMA Superbike. 5 time AMA Superbike champ Mat Mladin gave some insight into his determination by running fast laps at the Daytona tire test, and the other pre-season tests in California. He has a new monsterously powerful GSXR1000 and was able to start pre-season testing earlier this season than last. Considering how well he raced last year, giving him even more testing time spells trouble for the other racers. Even if Suzuki doesn't want to put all the proverbial eggs in one basket by hawking Mladin, just look at his team-mates at Yoshimura Suzuki. Until his disastrous 2004 season, Aaron Yates looked like one of the few men in the paddock who could run with Mladin. It remains to be seen if Yates can bounce back from last season's troubles and return to form. Superbike rookie Ben Spies is the most exciting thing to happy to AMA Superbike racing since Nicky Hayden. The kid is unbelievably fast and after two seasons racing the GSXR in Formula Xtreme and Superstock, he is already comfortable with the bike. I think Spies has to be a title favorite in both Superbike and Superstock in 2005. That would certainly get the publicity hacks at Suzuki in a fervor.
That not enough for you? Okay, then imagine how much press Suzuki is going to generate in 2005 thanks to the Michael Jordan Suzuki team. Riders Jason Pridmore and Steve Rapp should be front runners in Superstock, if not Superbike. Rider Montez Stewart brings much needed ethnic diversity to the grid, which should bring in new fans, and he should rapidly improve his riding this season thanks to his two team-mates. If Montez can up his game, the press levels will ratchet up even higher. But most of all, just having Michael Jordan walk in the front gates of a race track will get Suzuki more street creed than anything else. He brings with him a flood of publicity from Nike to Sports Illustrated to ESPN to People magazine and that is guaranteed to bring more people into Suzuki dealerships all across the country.
If Suzuki really wants to brag, they can talk up their development agreement with Kawasaki. When this was first announced, I think a lot of us were disappointed as we were afraid we'd start seeing Ninja's that looked a lot like GSXRs. What has happened is that both manufacturers have learned from each other and gone on to produce unique bikes that out perform those of Honda and Yamaha, both companies whose R&D budgets are bigger that the total company budget of either smaller brand. The result has been the new ZX-10 and GSXR1000 power houses, the KX and RM 125 and 250 four stroke motocrossers, the zx-6RR and GSXR-600 which lead the Supersport class in power. It has also resulted in Kawasaki and Suzuki dominating 125 Supercross races in both the East and West series. Kawasaki winning the ultra competitive AMA Supersport series. Suzuki ruling the AMA Superbike series. Suzuki has also dominated other forms of racing like the AMA Grand National Cross Country series and the ATV MX series. Kawasaki is also challenging for wins in AMA Superstock and Enduro series. Clearly Suzuki has a lot to be proud of in their cooperation with Kawasaki. Add that to the bullet points that Suzuki can use in their Marketing campaigns. In fact, it is only the MotoGP series that is giving Suzuki an ounce of humility at this point…
In 2003, Suzuki swept all but two of the AMA road racing championships with Superbike (Mladin), Superstock (Hayes) and Formula Xtreme (Spies). That year their Marketing and PR departments had the opportunity to go nuts. I'm predicting that 2005 may give them another chance.
[image from the Motoworld Racing web site.]