Author: site admin
Category: AMA MX/SX
Just a quick follow-up to a post I made in February about Mike Larocco. For the first fourteen rounds of this sixteen round Supercross season, Mike Larocco has been stunning. He's only been out of the top five four times. He's been on the podium four times, had three straight fifth place finishes and, other than the second race of the season, has been in the top ten every race. Coming into the penultimate round he was forth in points behind Carmichael, Reed and Windham. He's just flat sticking it to the young guys which is freakin' awesome!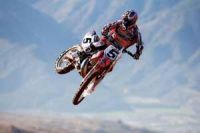 Sadly, this amazing streak ended last weekend in Houston when Larocco had a bad crash during his heat race, the crash happening when Larocco came up short on a triple. He got bounced off in the landing and slammed into the face of the following jump. The impact resulted in a bad concussion and a injury to his shoulder. Perhaps the most lingering affect will be his falling down one spot in the championship battle, with his final ranking likely to a fifth behind Vuillemin. Still, he will almost certainly finish the season ahead of factory riders like Ferry, Tortelli, Fonseca, Voss, Byrne, Pastrana and probably even the super star of Bubba Stewart.
I'm sure Larocco is disappointed with his season because racers race to win not come in fifth. Being the best of the rest, given that the top four of Carmichael, Reed, Windham and Stewart have dominated most of the races, won't be consolation to someone with the racer's drive to succeed, no matter what their age or how good their equipment. But I hope that Larocco can have some sense of perspective and see just how good his performance this season has been. I suspect all the factories will continue to look for fresh, young blood for their factory bikes in the hopes of signing the next Ricky, Bubba or Chad. Hopefully Honda will continue to see the value in having an incredibly fast veteran like The Rock out there to show the younger riders the ropes and also to keep the team managers casting a critical eye at the performance of their young rookies. The young kids have to know they better be able to beat the old guy, if they ever hope to beat the other talented young bucks they'll race against the rest of their careers.
Best of luck to Mike Larocco in his healing and a hearty "Well done" shout out for his performance in 2005.
[image from the AMSOIL web site.]