Author: site admin
Category: MotoGP
It must be getting a tad chilly down under these days, and I don't mean in Australia. Honda just did a press release confirming they they are in discussions about supplying engines to Kenny Roberts' MotoGP team for the 2006 season, assuming that Team KR can find the sponsorship necessary to lease the motors from Big Red. This is surprising for a few reasons…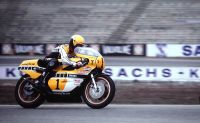 First and foremost, is the fact that Honda and Kenny Roberts have never been on particularly friendly turns. Roberts made his reputation as a motorcycle racing demi-god by campaigning Yamahas. First against the might of Harley and Honda in American dirt track, then road racing against Honda, Kawasaki and Suzuki in the AMA Formula One and finally winning three consecutive 500 GP titles against Honda and Suzuki. Did you notice the name that was consistent across all those years of racing rivals? Additionally, Roberts has stated publicly for the past eight years that his aim for creating his TeamKR GP bikes was to best the major manufacturers in general and Honda in particular.
On the other side of the coin, Honda is a very traditional Japanese company where loyalty is the highest virtue. When a rider, a manager or a vendor breaks that bond then they are rarely ever invited back into the hallowed halls of Honda. Given Honda's long history of working against Roberts, not to mention his long history of bad mouthing the Japanese firm, it seems strange from both sides that the two would come to an agreement to partner up in MotoGP.
From Robert's perspective he may not have a choice. With KTM dissolving their partnership midway through the '05 season and with sponsorship money become harder and harder to find, I'm sure Team KR knows they can't rejuvenate on their old V5 development program in order to build a competitive motor. As I said in a blog write-up this past February, building motors is the downfall of most small motorcycle producers and I'm sure many of the same roadblocks lie before a small race shop as well. The current Honda motor is among the best in the class and I'm sure they have a head start over everyone else in developing their 800cc engine. Having a competitive motor would allow the Roberts gang to cut costs and focus on handling which is where the TeamKR bikes have always excelled.
From Honda's perspective I think that working with TeamKR, like their partnership with Moriwaki, would accomplish a few things. First, it would keep another team in the MotoGP championship which I'm sure is vitally important to both Honda and the FIM since a world series with only two or three manufacturers involved loses all of its legitimacy. Second, Honda has always promoted the idea of having strong involvement in the GP series by factory supported satellite teams. In the 90s, Honda created a lower cost (but only marginally competitive) 500cc V-twin specifically to provide to satellite teams that couldn't afford the astronomical leasing costs of the four cylinder bikes. They have done the same in the 250cc class by retiring their NSR GP racer and instead using a more mundane RSW250 which is available to other teams (but using factory kit parts to bump up its performance for star riders like Dani Pedrosa). To that end, having another bike on the grid powered by a Honda motor would help fulfill their dream of moving MotoGP more in the direction of Formula One where companies build engines and teams build chassis.
Okay, so all that makes sense. What's the rub? Well, if there was ever someone that is not a company mouthpiece it has gotta be King Kenny. That Honda would align themselves with someone that has been so blatantly critical of them for the past three decades is amazing. Additionally, look at the risks involved. If the Honda powered Roberts bike could actually be competitive it would be taking prestige away from Honda. After all, if the TeamKR bike wins then it implies the Honda chassis is flawed. If the bike, like the current Moriwaki project, can't hang with the big boys then KR is probably the first person who will be critical of the partnership and/or the engine's capabilities which isn't going to do Honda's marketing department any favors. Either way, there is definitely a lose-lose situation brewing.
Another person that will likely be hurt by his is Yamaha. While the relationship between Roberts and his former employer has been tenuous at best over the past few decades there has nevertheless been a continual effort by Yamaha to use Roberts' successes in their marketing. Lets face it, Yamaha built their entire 50th Anniversary celebration at this year's USGP around Robert's GP victories in the early 80s. If Honda starts supplying motors to Kenny's race team the facade of him bleeding yellow will certainly be broken. I'm not sure who will faint first at the sight of a Honda ad with Roberts in it, the marketing department at Yamaha or the fans who grew up watching bumblebee bikes dominating the AMA series in the 70s.
Don't get me wrong, as I said when KTM stepped in with motors earlier this year I think it is fantastic to have Kenny Roberts involved in the sport. Not only does his involvement represent the best of the David versus Goliath situation, his personality harks back to a time before riders were hired as mouthpieces for sponsors rather than to win championships. The very issues that make a potential partnership with Honda so unlikely are the same reasons I want to see him in the paddock in '06. Still, no matter what the personalities and corporate cultures that are involved, the real trick will be for TeamKR to find the cash required to go racing with *any* motor, Honda or otherwise. Once they've overcome that hurdle then we can see if a V5 Honda appears in their chassis.
Once before on this blog I mentioned that Hell must be freezing over and that was when Mick Doohan was let go by Honda. With this latest rumor of a partnership between Roberts and HRC I'm sure the demons are buying ski gear in hades tonight!
[image from the Saro di Bartolo web site.]