Well, another page of my MotoGP calendar needs to be turned over and that means it is time for another of my monthly Odds and Ends "catch up" postings. September has been really busy, especially with both silly season and new bike announcements trickling out, so I'll have to skip a few things just to keep this post from being too long.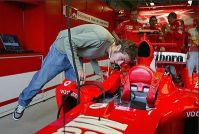 First up, is a news item about newly crowned '05 MotoGP champion Valentino Rossi. No matter how talented the guy is on the track his real talent is his ability to constantly keep his name in the news. He has monopolized the headlines for most of September as people focused on what he was already doing in 2005, questioned his 2006 plans and speculated about what he would be doing in 2007. For 2005, he has been winning races but has also now had two controversial accidents. The season opener at Jerez with Sete Gibernau and now one with Marco Melandri at Motegi. I've covered all this in my MotoGP blog entries but the overriding message is that Rossi continues to keep people guessing. As for 2006, I covered Rossi's re-signing with Yamaha in my August Odds and Ends posting so that isn't new news but who will be sponsoring the Italian superstar's Yamaha has been the topic of endless speculation. Rossi is currently sponsored at Yamaha by Altadis' Gauloisis cigarette brand but has apparently asked to be run without tobacco sponsorship on this bike in '06. The most likely reason for this, other than a possible dislike of tobacco companies, is that he is still flirting with racing a Ferrari F1 car in the near future. The best way to avoid problems with Philip Morris, the long time sponsor of Ferrari, is to make sure he has no contractual obligations to a competing tobacco company. What colors Rossi will be running next year is yet to be decided but the rumors continue to pop up on motorcycle racing news sites. Finally, there is the constant speculation about Vale becoming a F1 driver in '07. Again, the flurry of rumors continued all through September. First, Ferrari sent out a press releases claiming Rossi was basically signed as a test rider in 2006 then Rossi responded with a harsh public statement saying no such thing had been signed and finally Ferrari sent out another message which back pedalled considerably from their earlier claims. Presumably Valentino's manager has been frantically fielding phone calls from Yamaha, Ferrari, Altadis and Philip Morris all month long and I suspect the actual situation probably isn't clear to any one of these people yet. All the while, Rossi's popularity is growing ever stronger and his name is showing up in news reports the world over. We'll see if October brings any answers…
The rest of silly season has been so completely dwarfed by the Rossi story that very little has made the news. It seems that most of the 2005 championship winners (or likely championship winners when you look at the two international series) are already tied up for 2006. In the AMA series, Mladin (Suzuki), Yates (Suzuki), Duhamel (Honda) and Hayden (Kawasaki) are all staying put for at least another year. The biggest news in the AMA paddock has been Eric Bostrom's move from Ducati to a Supersport/Superstock ride with Yamaha which, in my opinion, seems like a waste of his talent. The MotoGP silly season has been excruciatingly slow to play out this year and many of the top riders are still unsigned for next year. Leading that list is Sete Gibernau who may be back with Movistar Honda or may be riding for Ducati. Max Biaggi will almost certainly stay with Honda but probably won't be in Repsol colors. Whether he ends up with the Movistar or Camel team is probably dependent on where Sete ends up. Bayliss and Barros, both teammates at Camel Honda, are unsigned for next year as is Suzuki's Kenny Roberts Jr. It also appears that Yamaha's Ruben Xaus, Ducati's Carlos Checa, Kawasaki's Alex Hoffman, and all the smaller teams riders like Shane Byrne, James Ellison, Franco Battaini and Roberto Rolfo are without contracts for next season. It seems pretty late in the year for this many teams to be without a signed rider but that may be because the current season still has four races to go. I expect all of these riders to have clarification within the next month. As far as World Superbike goes, it seems certain that Corser will be back with Suzuki next year. However, both Ducati riders, Regis Laconi and James Toseland, appear to be up in the air. Likewise, most of the Yamaha riders (Haga, Pitt, Abe, Gimbert) are still looking for jobs. Honda is rumored to be moving Chris Vermeulen to MotoGP so that opens up a seat at Ten Kate, though presumably his teammate Karl Muggeridge will stay on another year. Who knows what is happening with Kawasaki. Again, I suspect a lot of the WSBK riders will be confirmed in the next month but in the meantime you can always follow who is going where on my silly season web page.
Speaking of the AMA series, a tentative 2006 race schedule has already been announced. Combine this early release of dates for next year with the long term commitment that the AMA Pro Racing board announced earlier this summer for the superbike class rules and you'd almost get the idea that they have been listening to the criticism that has been leveled at them for the past decade. These efforts to get things nailed down early and with more solidity mean that teams can better plan and prepare for the upcoming year. Even better than the AMA's promptness in this regard is the content of the proposed '06 series: As late as February of last year there were only nine circuits listed on the '05 schedule while the tentative '06 schedule already shows 11. Only three ovals are on the list (Daytona, Fontana and PPIR) while the remaining eight rounds will be at true road race tracks. This year the AMA raced at the same three ovals (and eventually at VIR to make ten rounds) so I'm glad to see that the new addition to the schedule is a venue with a true road race track. Racing at more places that don't just cram a flat infield into a NASCAR oval will help make the sport safer and will keep the racing more interesting. It is only a baby step but adding one new track is definitely a step in the right direction. Now if only they can find a series sponsor!
Speaking of the new road race track the AMA announcement shows a mid-June date for the inaugural Superbike race at the Miller Motorsports Park near Salt Lake City, Utah in 2006. Even better, this is currently slated to be a doubleheader round so it increases the races on next year's calendar by *two*. I'm excited about this news for two reasons, the first of which is simply that its close enough that I can actually attend which means I should hit three AMA Superbike races in '06: Miller Motorsports Park, PPIR and Laguna. Second, the AMA adding another event in the Rocky Mountain region means that they can now seriously consider dropping PPIR event off the schedule in the future. Its a crappy track for road racing and losing it from the '07 AMA schedule wouldn't be much of a loss. Lets hope the clock has started ticking on how much longer the AMA guys will have to suffer through going round and round the PPIR merry-go-round.
Another bit of exciting AMA Superbike news as the announcement at the Kawasaki dealer show that Team Green would be racing the ZX-10R in Superbike next season with Tommy and Roger Lee Hayden as their riders. This again is great news for the sport because it gets the premier superbike class that much closer to having full participation by all the major manufacturers. Additionally, it puts two of the most talented riders in the series into the top class in the series which again increases the excitement of the racing. Both riders deserve a shot at the top prize in AMA road racing and I'm thrilled to see they are getting their shot. Kudos to Kawasaki for taking up the challenge. Now if only Yamaha was so brave.
Also on the domestic front the AMA Pro Racing board made news this month when they handed down fines to motocross riders Mike Alessi and Matt Walker after the Tedesco/Alessi/Walker incident earlier this month at Glen Helen. At issue was an accident in which Alessi appeared to intentionally take out 125cc championship rival Ivan Tedesco but ended up taking himself down as well. Alessi then stood on Tedesco's still running bike to prevent him from being able to continue the race. Meanwhile Tedesco's teammate Walker doubled back on the track to knock Alessi of the Kawasaki so Ivan could get back underway. The AMA decided that because of his actions Alessi needed to take a $5,000 hit to his wallet, as well as a disqualification from the entire Glen Helen round and a 12 month probation. Finally, and perhaps the most painful, is that Alessi is also taken out of the running for the AMA Pro Racing Rookie of the Year award. Walker was deemed to have also acted in a way that negatively affects the sport and was given a $2,500 fine, a disqualification from the second moto at Glen Helen and a was put on probation for next year's Supercross and Motocross seasons. I have mixed feelings about the reprimand for Walker but I'm thrilled to see Alessi get such a heavy penalty after acting so immature. Bravo to the AMA for taking action on this.
Shifting gears completely, let me mention two completely unrelated things to close out this month's Odds and Ends.
First, Yamaha did an initial announcement of their new bikes earlier this month and included in that a quick photo of the '06 FJR1300 sport touring bike. Then all the info associated with the FJR was removed from their web site which caused all sorts of rumors to start flying around the net. Well, at the Paris Motorcycle Show today the European model FJR was officially announced and the mystery was finally revealed: the 2006 FJR will be released with a semi-automatic transmission. This means it will have a conventional gearbox but will use electronics to handle the shifts without the rider having to use a shift lever. It remains to be announced if this auto tranny will be available on US models or not. This will be the first production street bike since the old Hondamatic and Moto Guzzi Convert to have an automatic transmission so this is pretty big news from a technology stand point. However, as a rider I have zero interest in such a thing as shifting gears is a fundamental part of the motorcycle experience for me.
Finally, I wanted to mention that a new motorcycle movie about New Zealander HJ "Bert" Munro has been released Down Under called The World's Fastest Indian. I doubt this movie will make it to US theaters but it should eventually be available on DVD some time next year. If you haven't heard of HJ Munro he build Indian motorcycles in the pre-WWII era as land speed racers. Like John Britten, who came along much later, Munru hand build most of his bike's parts in a little shed in on the south island of New Zealand and was a real innovator at a time when the application of technology to motorcycles was still at a relatively early stage. His story is a fascinating one to anyone interested in the people who pushed the limits of motorcycles during the infancy of the sport. I think it will make a nice addition to my library of motorcycle movies so I hope the DVD does make it to the US so I can buy a copy. Maybe it will inspire me to finally buy that welder for the garage I've been dreaming out…
That's it for this month. Thanks for reading.
[image from the Drive.com.au web site.]