Author: site admin
Category: AMA MX/SX
Colorado in general and Denver in particular is a sports crazy place. Football, hockey, baseball, basketball, soccer…even indoor football and lacrosse seem to have huge followings. It seems like the entire place turns blue and orange during football season (whenever that is…I can't keep track of which damned stick and ball sport happens when!) Likewise, don't even think of driving through downtown just after a baseball or hockey game as the interstate will be jammed. Why is it then, that there seems to be so little support for motor sports here? The closest national level roadrace track is 90 miles away in Fountain, Colorado? Worse yet, why it is such a dumpy little track even by NASCAR oval standards?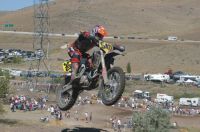 Well, chalk up another question… This year the AMA motocross series is returning to Colorado have a 20-something year absense. The event is going to run this coming weekend at the Thunder Valley MX Park in Lakewood, Colorado. This track is a nice local MX track. Its carved into the side of a hill and, until recently, was owned by the city of Lakewood who provided it as a resource to the community. Nice work and a great place to go ride motorcycles. What it isn't is a national caliber track…certainly rinky-dink when compared with the classic tracks on the AMA MX schedule. Why can't Colorado provide something better?
This morning, I was ready to turn this blog entry into one of my rare rants. Railing (futilely, as always) against the craziness of the world but mainly just embarrassingly admitting that once again the best stars of the various forms of motorcycle competition will be laughing behind our back at Colorado's sad state of affairs when it comes to race circuits. However, before I could summon up all my righteous indignation, a co-worker pointed out a link on the Racer X web site that showed some "secret" photos of the work that has been carried out at Thunder Valley over the past week. While this hasn't turned the place into another Budd's Creek overnight, it has added significant length to the track as well as increased the complexity of the place. I don't know if the plans to make these last minute improvements have been in place all along or if they are a last minute addition based on the feedback offered from the factory teams which tested at the the circuit over the past couple of months. Either way, I am now reserving a bit of judgement about just how inappropriate the place is for holding an AMA national until I see it for myself. (Which, BTW, I plan to do Friday at lunch in hopes of scoping the scene out before heading down on Sunday for the race).
This desperate lunchtime scouting foray leads to another issue that apparently hasn't been addressed…access to the park. Again, Thunder Valley seems like a perfectly adequate local track. Riders can park close to the entrance and the smattering of fans that may show up for a local MX race can easily filter in or park along the nearby access road. But an AMA national is a whole other beast. Even Pikes Peak has trouble dealing with the fans that show up for an AMA Superbike race and road racing isn't nearly as popular as motocross. While I'm reluctant to throw out an prospective attendance figure, after all this is the first time the AMA has raced here in two decades, I still suspect the number will be in the thousands. The current plan is to force all the attendees into the track via a single road: South Rooney which is off of Alameda. This seems like a prime fustercluck in the making! Even if the crowds naturally enter the track over the course of a few hours on Sunday morning, you can be sure everyone will try to leave all together once the second moto is over. Nearby E-470 and I-70 can handle a lot of traffic but that doesn't matter if all of it has to funnel through a single two lane road to get there. Then there is the whole question of parking. I'm not sure the city of Lakewood or the track owners are really ready for this event as there aren't huge parking areas available in that area…Add in record setting temperatures, along with the last minute news that Bubba Stewart is sitting out the race due to injury, and things are bound to be interesting. Lets hope for a lot of patient fans this weekend!
The recent improvements at Thunder Valley notwithstanding, I still wonder why Denver can spend who knows how many metric crap-loads of cash building a baseball stadium in the middle of downtown and another pile building a huge arena for hockey games, why can't just a little money get slipped into the budget to build a decent motorsports facility with multi-use tracks (roadrace, oval and MX for example) and with decent highway access?
[image from the Thunder Valley MX Park web page.]