Author: site admin
Category: AMA MX/SX
Well, I'm glad to say I was wrong. In my posting last week about the Colorado round of the AMA Motocross series I said didn't seem that Thunder Valley was ready to host a national. Well, I'm glad to say that I was wrong.
I headed down on Sunday with my co-worker Michael, his brother Dave and his friend James. Because most of Rooney Road was closed, Michael had forecast that traffic coming into the track via Alameda would suck. We came over Dinosaur Ridge instead and breezed right up to the parking area. It was 8:30am and there was already a 2+ mile long line of cars backed up on Alameda. Whew, good call.
The first thing that was obvious is that the track and the city of Lakewood had put a lot more thought into this event that I'd anticipated. Parking was plentiful, though packed to the gills, and there were hired buses to shuttle people to/from the remote parking areas. There was a motorcycle only parking area in the Dinosaur Ridge parking area but it was in an uneven field which wasn't particularly flat. This made for a lot of unstable bikes. Its a minor nit to pick but a better motorcycle parking area would have been appreciated!
Another issue that was immediately obvious was that the vendor area wasn't ready for the massive turnout. From what I could see there were only three food booths and that meant hour long lines for any lunch or drinks. I packed in some snacks and a water bottle but was unable to refill with H2O once I ran out of water. This was potentially the worst problem at the track since 100 degree heat and limited water supply could have been a deadly combination. Fortunately, the cloud cover cooled things off a bit.
Vendors aside, the track itself was a revelation. Michael and I rode down to the track on Friday at lunch so we'd already gotten a peek at the track improvements but once we got inside on Sunday it was even more impressive. First, the track was laid out so that you could walk to nearly everywhere in the infield and all around the outside of the course. There were a few new sections added to the track and a massive amount of dirt brought in to improve the entire circuit, changing it from dinky to national caliber. In most sections, the fresh dirt was two to three feet deep and, unlike the majority of Colorado, soft and loamy rather than hard and rocky. Best yet, the track staff were equipped with water hoses to keep the place damp and tractors to groom out the ruts. Overall, it was a class A facility.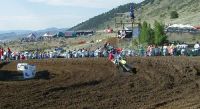 The racing was class A as well. I'd have preferred it had been tighter racing but it was awesome to watch Ricky Carmichael at the height of dominance. RC just ran away with both main event motos, with the duplicate finishes continuing when Kevin Windham was runner up and Chad Reed rounded out the podium in both races. While Windham put up an admirable defense in the second race, the writing was on the wall after seeing how easily Carmichael had run away with the win in the earlier moto. Ricky was blazing fast in the early laps, seemingly on the verge of crashing all through the rough stuff, then cranked it back down to a smooth consistent pace once he had a gap over Windham. Windham tried to hang tough and was clearly pushing the whole race but ultimately lost time on each lap. Reed was well off the pace and its a miracle he made it through 30+ laps without getting thrown off the bike…make that a double miracle because he still managed two third place finishes. Chad was clearly not comfortable running the times of the front runners.
By the time the second set of motos started, the track was horribly rutted. The braking bumps coming down from the highest point on the track looked like a wicked mogul run at a ski resort and regularly had the fast riders up on the front wheel…fantastic saves were the norm. The knarly track affected the lighter, less powerful "125″ class (actually four stroke 250s) the most. There were some spectacular crashes in the 125 class, including front-runner Grant Langston who got kicked off during the second moto. One person that didn't have problems with the ruts was Ivan Tedesco. He blazed to wins in both motos with a sizable margin of victory in both. Ex-local boy Andrew Short netted two second place finishes and was clearly the crowd favorite. I was worried that Short would throw it away because he had Tedesco in sight both times and the throngs of fans were urging him to go for it. Thankfully, he put in a very mature ride to earn his two podium spots. Langston lead early but faded back to eventually finish third after being challenged by Short. In moto #2, Alessi took up the fight with Short while Langston crashed and spent the race trying to salvage points. Alessi looked strong the whole race but Short was ultimately stronger…just not strong enough to catch Tedesco. The rough track made passing difficult but unlike the bigger bikes Short made things interesting by providing a bit of dicing in the battle for second.
It is my understanding that Thunder Valley has a two year deal to host an AMA motocross event here in Colorado. With 22,000 fans showing up this weekend, it would seem that this could easily become a run-away success. There are still a few things that need to be sorted out, parking still needs some help and more food vendors are a must, but overall the event was fantastic. Perhaps if I forecast a failure again next year, it will turn out to be even better.
[image from my photo collection.]