Author: site admin
Category: AMA MX/SX, MotoGP
Time to do another catch-up, this time a few updates about what has been happening in August that hasn't warranted a full length write-up.
I think the biggest bombshell for August was the news that Valentino Rossi has signed a one year contract to continue racing in MotoGP with Yamaha in 2006. After a summer of rumors and press leaks claiming that Rossi was going to make the jump to Formula One car racing with Ferrari, suddenly Rossi is solidified in MotoGP for another year. This is great news for Dorna and the FIM both of whom will have the greatest living motor sports personality in their series for another season. It is also great news for Yamaha who will have motorcycle racing world's greatest rider with their brand name smeared across the side of his bike in 2006. In contrast, this is devastating news for the other riders who were either hoping to sneak in one more shot at a GP title in 2006 before retiring (Biaggi, Gibernau, Barros, Bayliss, Checa) or the youngsters who are hoping to get their big break (Melandri, Hayden, Hopkins, Elias, Pedrosa). Expect the news for the 12 months to again center around Vale.
Speaking of Formula One, immediately after announcing his MotoGP extension Rossi then spent two days testing the Ferrari F1 car. It appears that this is still a pretty serious interest for the Italian though obviously not for next year. Rumors have now shifted to a possible link between Rossi and Ferrari in 2007. Perhaps Rossi is hoping to get a gig with the Italian powerhouse in '07 either as a full time driver or a tester. If that happens it will be a birthday, Easter, and Christmas present for the prototype cage racing crowd as they have struggled with boring racing carried out by boring personalities for years. Rossi would make a splash in the F1 world like tossing a elephant into a kiddie pool. Whether he can be competitive a whole different story…he has only been a few seconds off the pace in testing but finding those last few ticks of the stop watch is the difference between a good driver and a race winner. Still, just imagine an Italian driver in an Italian car racing in Italy where F1 racing is tremendously popular…the only thing better would be having him race a Ducati in MotoGP…
Speaking of Italians, it seems as if yet another Italian motorcycle company is struggling. Over the past half decade we've had Ducati's woes (before being bought by American company TPG), Moto Guzzi's woes (before being bought by Aprilia), Laverda's woes (before also being bought by Aprilia), Aprilia's woes (after running out of money and then being bought by Piaggio), MV Agusta's woes (after being rejected by Piaggio and bought by Proton) and Bimoto's multiple woes (the latest being resolved after being purchased by a group including members of the Ducati family). Well, the latest Italian motorcycle company to take a dive is Benelli which has apparently shut down production of all their models. Benelli, one of the oldest of the Italian manufacturers, was out of business for a long time after going under in the '60s but revived in the 1990s. Now it looks like they are again having money problems and unless they can pull out of their nose dive the awesome looking TNT naked bike and innovative Tornado Tre sport bike seem doomed. It is also unfortunate since Benelli is one of the few companies in the past couple of decades that has been willing to go head-to-head with the Japanese in World Superbike racing. Lets hope they somehow manage to resolve their financial crisis and that Benelli continue to make their interesting motorcycles.
One rescue that has already taken place is that of the AMA Supercross series which has found a new home with SpeedTV after being cut loose from ESPN2. This appears to be a move for the better since it seems that Speed is going to make Supercross their flagship motorcycle program as opposed to jamming it in between semi-pro volleyball matches and bass fishing. Supposedly this is a multi-year contract so hopefully this will keep Supercross's TV status assured for the foreseeable future. It remains to be seen what will happen with AMA Motocross TV coverage which is currently being shown on OLN.
To continue with the TV thread, how about the three Hayden brothers (Tom, Nicky and Roger Lee) who have been making regular appearances on the boob tube. First, Nicky was on the Today show back in June. Then in August all three brothers were on Leno and this past weekend all three were showcased on NBC's Jeep World of Adventure Sports TV show. With MotoGP growing in popularity world wide all of this TV exposure will hopefully help give the sport a shot in the arm here in the US. I think this is quite possible not only because the sport is incredibly exicting but also because I can't imagine better spokes persons for the sport than the three Hayden brothers. All three are talented, all three are very professional and all three are just plain nice guys. Keep those cameras rollin'.
One sport that could use some more press is the AMA '05 Endurocross race which is scheduled for November 19th at the Orleans Arena in Las Vegas. This sport is the bastard child of an unholy union between Enduro racing and Supercross. Its a fiendishly difficult track that includes many of the challenges commonly found in an Enduro race but built into a tight track that can be assembled inside a sports arena. In the same way that Supercross has shrunk the size and quadrupled the popularity of motocross the AMA is hoping the same will happen with Endurocross which brings the excitement of technical trail riding into a more physically concentrated location. Seems very cool to me and I'd love to see it get more press.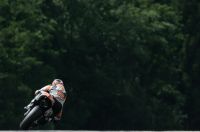 Rossi's 2006 plans isn't the only MotoGP news this month. Another bomb that was dropped was KTM suddenly deciding to drop their support of the Team Roberts KTM/Proton project. KTM had been supplying engines to Team KR, as well as footing the bill for the top spec Michelin tires and covering the salary for rider Shane Byrne. Their abandonment of the project has left Kenny Roberts and this Team KR squad up the creek. For Brno last weekend they rolled out last year's hand built V5 and brought in hired gun Jeremy McWilliams but teething problems with the motor ended their weekend early. It will be a miracle if they can scrap together the parts and funding to run the rest of the season. I had been forecasting that they would certainly be out of MotoGP by 2007 since KTM would be unlikely to build the 800cc motor necessary to meet the '07 rules but it looks like things are fizzling out even sooner. If anyone has $20 million or so to invest I think keeping Team KR in the MotoGP game would be a great investment…
With the 800cc rule solidified in MotoGP all the manufacturers are starting frantic development on motors to match the new format. Hot on heels of the press release of the displacement change came rumors that Honda is planning to built a V3 for the 2007 series. As with most bike rumors, only time will tell if that is true. If it is true expect Honda to go all out with a V-5 engined, RC211V based production superbike bike so that they can get some real sales benefit out of their investment in their MotoGP program. If a Hayden replica will be made just point me where to put down my deposit right now.
In lieu of buying a MotoGP based V5 sport bike then I wouldn't mind picking up something from an auction of 130 classic bikes previously owned by Gilbert Tiger which will take place in Colorado Springs, CO on September 16th. I've always had a soft spot in my heart for 1960s era single cylinder bikes so the BSA and Ducati bikes in the collection look particularly nice. Still, I don't think any of these will end up in my garage since I'm still struggling with the choices available for when I finally buy a new sport bike much less trying to get rid of something else to make room for a vintage bike…
My final August Odds and Ends item is the great news that money for a new motorcycle fatalities study has been tucked away in the 2005 transportation bill that was recently approved by the US Congress. Given that motorcyclists have been forced to use the ancient Hurt report which was done twenty five years ago as the basis for all discussions resolving around bike safety, a more modern examination of motorcycle accident statistics is long overdue. It will undoubtedly take many years to gather all the necessary data to get meaningful results but once this study is complete it promises to have far reaching impacts which will hopefully help with rider training, design of safety gear and a better focus of legislative action as it relates to motorcycles.
[image from the Team KR KTM/Proton web site.]