Author: site admin
Category: AMA Supermoto
This coming weekend is the 3rd annual Suzuki Cyclefest at Copper Mountain. This event was started in 1993 by Colorado's Race Promotion Management, aka RPM, and features a wide variety of attractions including demo rides, a market place, trails riding demonstrations by Geoff Aaron, two rounds of the AMA Supermoto series and organized rides in the Colorado mountains. Something for everyone!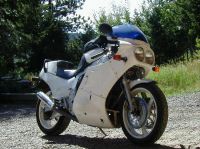 For me, there are only two attractions. First, Suzuki is using CycleFest as one of the stops on their GSXR 20th Anniversary Tour. As a result, GSXR owners get free entry into the event, preferred parking, a free T-shirt and various other perks. I'd intended to ride my old ex-Team Hammer '88 GSXR1100 to the event but have been having problems with the hydraulic clutch getting air into the slave cylinder. I ordered clutch master cylinder and slave cylinder rebuild parts from Colorado Powersports two weeks ago but this week found that they ordered the wrong parts. They ordered a brake master cylinder kit instead of the parts to fix the clutch slave cylinder. (Since I had to re-order anyway to get the correct parts I went ahead and ordered a stainless steel line to replace the 17 year old stock line as well). At this point I'll either ride the GSXR and just plan on bleeding the clutch numerous times or I'll have to ride the Beemer. We'll see how much of the GSXR 20th Anniversary celebration I get to enjoy.
The second thing on my list for the weekend is to watch the AMA Supermoto race on Saturday. I have plans for Sunday so I'll only be able to watch half of the weekend's double header. The track at Copper Mountain is the shortest of the tracks on the Supermoto calendar (surprise, surprise, another rinky dink track in Colorado) but it appears they have lengthened the dirt section this year so RPM is clearly making an effort to improve that shortcoming. Now they just need to make the paved back straight a little longer so that the guys with a roadrace background have a chance to show their stuff with some really fast sections…
No matter what the track looks like the racing looks like it will be good. For one thing, the AMA has added a new class this year. In addition to the Supermoto and Supermoto Unlimited classes, there is also a Supermoto Lite class for 250cc four strokes. Given that this weekend is a double header and that the Supermoto class races twice each day there will be a total of *eight* races spread over the two days. That is the best race value of the year! Add in the big names racing in the series like Doug Henry, Jeff Ward, Jurgen Kunzel, David Baffeleuf, Alex Thiebault and Thierry van den Bosch. The rest of the field, while not as well known, is also packed with talent. Returning from last season are: Mark Burkhart, Chris Fillmore, Ben Carlson, Leonardo Bagnis, Alex Thiebault, Kurt Nicoll and Micky Dymond. Even the new comers add excitement with European stars and talented new comers like Andrea Bartolini, Massimiliano Gazzarata and Troy Herfoss joining the seriers. Perhaps the biggest change for this year's Copper Mountain event will addition of two female riders with Michelle DiSalvo racing Supermoto and Erin Normoyle racing Superrmoto Lite . That is guaranteed to increase the popularity of the event!
There are still a few things that need to be improved with CycleFest. For one, the demo rides fill up first thing in the morning so if you get to Copper Mountain after 8am you aren't taking a demo bike for a ride. Second, the market place area has been a little short on quality vendors for the past two years. The first year I got a chance to meet Malcom Smith since he had a booth for MSR but otherwise the vendor area has mainly been booths selling sunglasses and metal polishes. Hopefully, as the event gains popularity it will also draw a wider variety vendors for the market place.
Even if the event is still in its growing stage, having a chance to ride into the mountains on a weekend and watch some racing makes it a "must see" event. I'm looking forward to being there this coming Saturday and hopefully I'll be there on my old GSXR!
[image from my photo collection.]