Author: site admin
Category: AMA MX/SX
Back in May, my "Odds and Ends blog entry" was lead off with the news that ESPN had decided to drop their coverage of the AMA Supercross series. OLN was quick to pick up the TV contract for the 2005 Motocross series but it was unclear about whether they would also be showing this coming Supercross season. Well, now the answer is clear as SpeedTV today announced that they have signed a five year contract to televise the AMA Supercross races.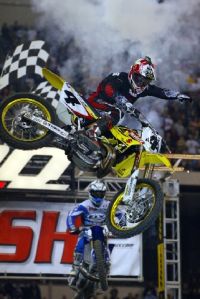 With Supercross popularity continuing to rise, thanks mainly tothe personalities of riders like Ricky Carmichael and Bubba Stewart, it is fantastic to see such a commitment from Speed. It is also interesting to see that the AMA is now marketing the television rights to the Motocross and Supercross series separately. This highlights the issue recently mentioned on Motorcycle Daily about how Supercross as far outstripped Motocross in prestige. This is further illustrated by the recent press releases explaining how riders like Chad Reed and Bubba Stewart are skipping motocross races in order to be ready for the upcoming Supercross season or the news that factory star David Vuillemin has signed a Supercross only contract with Team BooKoo for the 2006 season.
Now it really isn't all that surprising that Speed would be interested in picking up the TV rights for Supercross. First of all, they have been airing the thirteen episode TV show "The Reality of Speed" which chronicles the lives of the five riders on the Samsung Wireless Sprint team throughout the 2005 Supercross season. Good stuff and a much better use of their air time than some of their other crap like Texas Hardtails and NASCAR Nation.
Speed has also been watching as viewer ratings for their motorcycle coverage of MotoGP have risen this summer. It is hard to quantify exactly what their stats are but it does appear that the numbers for MotoGP are equal to, if not higher than, some of their bread-n-butter car racing programming. While the NASCAR-centric programming directors may not be interested in motorcycle racing I'm sure the accountants are quickly becoming big fans. Speed already has the rights to MotoGP (and its support classes of 125GP and 250GP), World Superbike (and World Supersport), AMA Superbike (Supersport, Superstock and Formula Xtreme), AMA Arenacross, FIM Motocross and FIM Enduro. Quite an impressive line-up of two wheeled racing ('course, they have also reduced Two Wheeled Tuesday to a half-hour, added Biker Build Off and the aforementioned Texas Hardtails so things are all wine and roses).
I'm excited that Supercross not only has a home again but also that it is a more appropriate home than it had previously with ESPN. Now my concern is the impact on their current motorcycle programing because of Speed's commitment to to show the entire Supercross series 250 races with next day coverage and same week coverage for the 125s. (Hopefully, they will have more appropriate names by this winter!). With some of the roadracing support classes like World Supersport and 125GP currently being televised as much as a month after the race, it will suck if those get superceded with the new SX races. This may even be part of their plan given the wording in Speed's press release that says "THQ World Supercross GP/THQ AMA Supercross Series will be positioned as the premier motorcycle property on SPEED Channel". (Sounds like Speed has placed their vote on whether Ricky Carmichael or Valentino Rossi is the greatest of all time!)
Oh well, at least what was once on the way to becoming NASCAR-TV is now becoming Motorcycle-TV. That's a change I can deal with!
[image from THQ World Supercross web page.]