Author: site admin
Category: AMA Supermoto
As I mentioned in my Friday evening blog posting, this past Saturday I rode up to Copper Mountain for the first day of the weekend long Suzuki Cycle Fest. I headed up with just two things in mind: To participate in the Suzuki GSXR 20th Anniversary event and to watch some Supermoto racing. I'm happy to say that I was successful on both accounts!
I got up early on Saturday so that I could do some work on my old GSXR 1100's hydraulic clutch system. I didn't have the parts needed to repair it properly but some judicious application of teflon tape and RTV, along with some re-torqueing of all the bolts and thorough bleeding, managed to get some pressure back into the clutch lever. I checked the weather before leaving the house and found that rain storms were expected in the mountains in the afternoon. With some spare tools and brake fluid to deal with possible roadside repairs thrown into the tail trunk with my rain suit I headed west into the mountains. The GSXR is still a hoot to ride especially with a properly functioning clutch but the suspension that I fully rebuilt recently is set up horribly. It somehow manages to pogo and bottom (too soft?) while transmitting each little bump straight into the bars (too hard?). Back to the drawing board…
It started to rain just before I reached Copper Mountain but once I arrived I found the first thunder claps had already occurred. First, the GSXR events were already in full swing. Unbeknownst to me, a free lunch was available for GSXR owners as well as the customary swag: T-shirt, pins, stickers, posters, etc. I also got to spend some time talking with ex-Suzuki GP star Kevin Schwantz, mainly hearing how dedicated he has become to bicycling and how enthusiastic he is about the Kevin Schwantz Suzuki school. I opted to skip the dyno shootout and the parade lap through the Copper Mountain village as I figured I'd have enough trouble getting home on the GSXR clutch *without* any added abuse!
The bit of news that rained on my day was hearing that Yamaha rider Doug Henry had started the day as the fastest rider but then crashed in practice and was sent to the hospital. During the early laps of practice, Suzuki rider Travis Pastrana was making a triple jump out of a section of two small kickers with a low table top in between. Henry successfully followed up with his own triples through that section but then came up short on one attempt and cased the bike on the final kicker. He got thrown over the front and then his YZ450 threw a pile driver onto his chest. The result: a broken pelvis, broken ribs and a collapsed lung. Ouch! Doug's weekend was done.
This is, of course, proof that the proverbial lightening of supermoto bad luck can in fact strike twice. Last year's supermoto races at Copper Mountain started out great for Henry but then turned sour when his bike had a mechanical failure while he was leading the second race. As a result of the DNF, he handed the lead in the title chase over to his then-teammate Jeff Ward and was never a factor in the 2004 championship battle again. Well, Doug came into Colorado leading the '05 AMA Supermoto title chase and left with *four* DNFs (this weekend was a double header and each day had two Supermoto races) and with Ward once again in the points lead. If the physical injuries are an "ouch" then the quadruple goose eggs in the score column is the mega-ouch.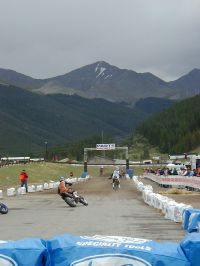 As for my view on the racing it mirrors my view of supermoto overall. First, it is spectacular stuff…moreso even than supercross, motocross or road racing. In fact, the only other motorsports that I find so immediately breathtaking are trials competition and mile long flat track races. Watching riders pitch a bike sideways on pavement and surf it to the apex of a corner is just astounding. Throw in some jumps, a wide flat-track style corner and some high speed paved sections and you get a lot of "Wow!" in a very small space.
Additionally, the AMA has done a fantastic job of getting factories involved. In just three years, the event has grown from a few small vans and some 10×10 canopies to full factory semi-trucks, hospitality areas and teams of mechanics. Having this kind of professional presence gives the series instant credibility both with sponsors and fans. It also helps that so many different manufacturers are jumping in: KTM, Honda, Yamaha, Suzuki, Kawasaki, Husqvarna and Husaberg all had at least some presence in the Copper Mountain pits. This is amplified even more because RPM does such a phenomenal job with their events. At Copper Mountain there was not only the racing and the Suzuki event but also the Red Bull Freestyle Motocross demonstrations, stunt riding show, trials exhibition, demo rides from multiple manufacturers and an ATV test ride area. Nice!
Finally, the AMA series already has a great depth of talent, including big name riders like Doug Henry, Jeff Ward and Travis Pastrana. Most of the riders are older and have a lengthy history of success in other forms of AMA pro racing. This means the series has instance fan appeal while waiting for new riders to grow into stars specific to this form of motorcycle racing. To give the series even more credibility and an international flavor, there has been an effort by either the teams or the AMA to bring in some talented European riders like Jurgen Kunzel, David Baffeleuf, Alex Thiebault, Troy Herfoss, Ivan Lazzarini and Massimiliano Gazzarata. All of these riders are top notch and all bring more to the weekend's program than just an unusual name. They bring the prestige of international riders coming to compete in a US series.
As a side note there were two women riders who were attempting to qualify for the races at Copper Mountain but unfortunately neither turned fast enough laps in qualifying to make the mains. Hopefully both will keep trying because getting some fast ladies mixing it up in Supermoto will go a long ways towards breaking the gender barrier in motorcycle racing. Anything that can bring greater diversity, both in terms of gender and race, to the motorcycle racing community is definitely a good thing.
My only complaint with the AMA Supermoto race series is that it seems to to have very little actual dicing. I don't know if this is because of the style of tracks used in the US, the varying quality of the riders or just the reluctance of Supermoto guys to mix it up but the races are often too processional. Every Supermoto race thusfar held at Copper Mountain has basically been a romp by the eventual winner. The last ingredient in the Supermoto recipe has to be finding a way to prevent these run away wins and develop track designs and rules that result in tight racing. Watching someone like Ward back a bike into a fast corner is very cool but it would be exponentially cooler if he backed that bike in underneath another rider on every other lap while involved in a battle for the lead.
To Sum up the weekend's racing: The old guys were sticking it to the young guys. The international riders were running near the front. But in all classes the winners inevitably ran away with the win. Forty four year old Jeff Ward went four for four in the Supermoto class, each of those wins being by a substantial margin after initially battling with guys nearly half his age. In the Supermoto Lites, Yamaha's Mark Burkhart went two for two, both times leading Kawasaki mounted riders Joel Albrecht and Brandon Currie across the finish line. The Unlimited class was another sweep with 18 year old Australian Troy Herfoss putting his Husqvarna atop the podium in both races. Just as Henry had a disastrous weekend at Copper Mountain, so did Unlimited points leader David Baffeleuf. He crashed his KTM on the rain dampened track Saturday and injured his knee. He missed the restart of the first race and then couldn't ride on Sunday, giving him a double DNF. Worse yet, his accident was caused by a run-in with his KTM teammate…things were probably pretty stormy in that pit Saturday evening!
Travis Pastrana never fails to grab attention wherever he goes. In this case, he was continually improving all weekend and was the fastest person in the dirt during the Supermoto races. Unfortunately, as is Pastrana's MO, he was a little to fast which resulted in a crash on Sunday while running near the front. I guess I can't really call him inconsistent anymore, since he is pretty consistent in his ability to crash motorcycles. Travis will always remain an enigma!
Perhaps a more interesting story is the comparison of the old guys versus the youngsters. The four Supermoto podiums were topped by old man Ward but his young teammate Chris Fillmore was second twice and third once in the four races. Also upholding the honor of the class rookies was Cassidy Anderson who came in second behind Ward in the first moto. Italian Massimiliano Gazzarata too the second place spot in the last race of the weekend. Seasoned rider (and KTM team boss) Kurt Nicoll once again put in an iron man performance with two third place finishes in Supermoto. Jurgen Kunzel filled out the final podium spot with a third in the second moto on Sunday. In this class, the old guys clearly still hold the high ground though a couple of guys half their age are steadily improving.
After a day of watching great racing, dodging rain showers and enjoying an overload of Suzuki GSXRs I headed back home. Like the rainbow breaking through a cloudy sky, the GSXR got all the way back home without a single clutch problem. Now, if only the crappy suspension action would mysteriously clear up!
[image from my photo collection.]