As the race seasons come to a close I find more time to delve into interesting stories and thus fewer items to put in the monthly "Odds and Ends" postings. This may be the last one until the road race season cranks back up next year. Nonetheless, there a are a few things that happened in October that didn't get the time they deserved so here is this month's catch up.
First, with the major race seasons all coming to a close, Fall represents a small window of opportunity for big name racers to get out and show their stuff in other forms of racing: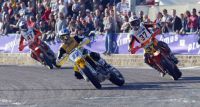 Newly crowned World Superbike champion Troy Corser, along with Ex-Harley roadracer and seven time dirt track champ Chris Carr, headed to Mettet, Belgium this month to participate in the Trace Superbikers super-motard race. This race is split between a "pro" class with supermoto regulars and a "stars" class with special guests like Corser and Carr. It shows just how popular Super Motard racing is in Europe that a star-studded event like this can exist.
Just across the channel that same weekend a bunch of stars like World Superbike regular Pierfrancesco Chili, British Supermoto champ Christian Iddon and British Supersport rookie Craig Jones all showed up at Mallory Park in the UK for the Moto 1 event. This is a very cool cross-genre motorcycle challenge that involved separate trials, multi-vehicle "pentathlon", supermoto, motocross and roadrace events. Its a sign of just how popular motorcycle racing is in England that such an amazing event can get started. A further sign of that support is that it is sponsored by Dunlop and attended by many of the big national stars from the various national motorcycle racing series.
Even more exciting is that a "best of the best" event is coming to the US this year thanks to Red Bull. They are sponsoring the Last Man Standing competition which is a cross-discipline event to be held in Texas this November. This four stage event is set-up to run over a 40 mile enduro circuit. Nearly all the best National level Enduro, Trials, Cross-Country, Hare Scramble and Desert racers will be showing up. At the end of each stage, half the contestants are removed. The first two stages are run during the day, the second two at night (and in reverse). At the end of the final lap, a single rider will be crowned as the winner. This is a great idea and I hope that more events like it are spawned which may eventually bring in Motocross, Supercross, Roadrace and Supermoto riders. Kudos to Red Bull for again spending some of their corporate bankroll to promote motorcycle events.
Another end-of-the-season event which always draws an interesting list of participants is the annual Macau GP. This event challenges the Isle of Man's reputation as the most dangerous motorcycle race in the world but has nonetheless been in existence for 52 years. The majority of the focus is on the car races but motorcycles also race around the 3.8 mile track that is laid out on city streets which are lined with armco. The names on the entry list read like a who's who of real road racing: Michael Rutter, John McGuinness, Stuart Easton, Ian Lougher, Steve Plater and Adrian Archibald are all Isle of Man stars. Pere Riba is an ex-GP rider. Canadian (and ex-AMA Supersport champ) Steve Crevier is attending as are American roadracers Jeremy Toye and Mark Miller. The Macau GP has a long tradition and is an exciting event but a dangerous one as well. Best of luck to all those attending.
On rider who has had enough of danger is three time British Superbike champ (an ex-GP and ex-WSBK racer) John Reynolds. After enduring a season in the British Superbike series in which he suffered to horrible crashes with serious injuries he has decided to retire from the sport. The 2004 BSB champion started his title defense with a crash in the preseason that seriously damaged his leg. After healing up and re-joining the series at the halfway point he then had another crash which left him with multiple injuries including broken ribs, a punctured lung and a broken collarbone. Those old bones don't mend as fast as they used to and Reynolds has thrown in the towel. He is a fantastic rider and can rest comfortably on his many laurels. He will long be remembered at race tracks around the world.
One road race track that won't be around to remember any racers is Pikes Peak International Raceway which has been bought by ISC and permanently closed. ISC, who own many of the NASCAR tracks around the country, are slowly purchasing race tracks simply to shut them down and remove competition. I am definitely no fan of PPIR, in fact, I'm not particularly sad to see it go, but I must say that the method of it's demise does leave a bad taste in my mouth. Hopefully, the new Miller Motorsports Park in Utah will be so impressive that all us Coloradans will soon forget PPIR ever existed.
While the AMA's road race program is taking a hit their Supercross program is getting a huge shot in the arm. Hot on the heals of last month's announcement that SpeedTV has signed up to broadcast the entire Supercross series comes news that CBS is set to co-televise six of the rounds. Having a major broadcast network on board is a huge coup and should help boost the popularity of Supercross even more. With the season set to open in just a little over a month and with all the major players healthy (Carmichael, Reed, Windham and Stewart) the series should be ready to capitalize on all this TV exposure.
Another bit of TV related news which ties back to the first item is the rumor that ESPN is working on creating a new supermoto series in the US for 2006. With the pr0 AMA Supermoto series slowly growing and the new amateur NASMOTO series taking off it is hard to tell if adding another series is going to help or hurt. What will help is getting some TV coverage of Supermoto racing on a major sports network like ESPN. (Then again, given that ESPN dropped their AMA Supercross coverage it seems that their interest in motorcycle racing is fickle at best.)
Something which has already benefited from TV time is the Long Way Round series which aired on Bravo last year. Now the US version of the DVD is finally being released and should be on shelves this December.
Well, I think that about does it for the month. The other major news as consisted of new bike announcements and silly season news but I'm covering those topics in other posts. This will be the last "Odds and Ends" posting for awhile. I hope you have enjoyed them.
[image from the Roadracer X web site.]