Author: site admin
Category: MotoGP, WSBK
So, it has been over a month since I posted my last entry. I guess I took a longer break than I'd anticipated after hitting the one year milestone on the blog. Well, all that time off hasn't been completely wasted though it will take awhile for the full impact the break to actually bear any fruit here. On a more personal note, I also used that time off to take a relaxing holiday vacation to Savannah, GA, to catch up on some other aspects of my website that needed attending, to make a small dent in the large stack of books that had built up on my night stand and to watch quite a few movies that had been on my "must see" list. I'm now recharged and very excited about resuming the blog here in the new year. I hope all the readers had a good holiday and that you are excited about the upcoming year of motorcycling. Now, on to one of the backlog of topics I've been wanting to write up…
When the MotoGP class introduced 990cc four strokes in 2002 (after having been dominated by 500cc two strokes since 1975) it brought Grand Prix bikes to a new level of performance. It also opened the door for speculation that the racers of four stroke production based Superbikes could be the future stars of MotoGP rather than the two stroke 250cc GP riders which made up the traditional training ground of world champs. The most logical feeder series for MotoGP was seen to be the World Superbike series and by 2003 two of the biggest stars of World Superbike were sitting astride MotoGP bikes: Colin Edwards and Troy Bayliss .
However, a funny thing happened on the way to the 2003 MotoGP championship…the old guard continued to dominate aboard the new four strokes. Rossi won the title in '03 with Gibernau and Biaggi rounding out the top three. Young American Superbike champ Nicky Hayden was the top guy with previous production bike experience finishing out his freshman year in fifth just behind Loris Capirossi.
Despite other Superbike pilots like Neil Hodgson, Noriyuki Haga, John Hopkins, Ruben Xaus, Shane Byrne, James Ellison and Kurtis Roberts all giving the MotoGP bikes a go over the past few years, none have had much success against the more experienced Grand Prix racers in general and Valentino Rossi in particular. For 2005 there appear to be only two riders on the MotoGP who came up through the World Superbike ranks: Colin Edwards and Chris Vermeulen.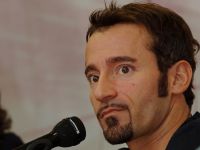 In contrast, half of the riders currently confirmed for the '06 World Superbike season have prior Grand Prix experience: Norick Abe, Alex Barros, Franco Battaini, Troy Bayliss, Max Biaggi, Pier Francesco Chili, Troy Corser, Michel Fabrizio, Noriyuki Haga, Regis Laconi, Fonzi Nieto, Andrew Pitt, Roberto Rolfo, Chris Walker and Ruben Xaus. Of these riders, eight are guys who came up through the GP ranks (Abe, Barros, Battaini, Biaggi, Chili, Laconi, Nieto, Rolfo) before moving into World Superbikes. This leads to the question of which is really the feeder series for which?
Granted, most of the riders moving from MotoGP to World Superbike are generally regarded as being in the twilight of their careers but that doesn't make the depth of the field any shallower. In fact, given the number of riders over the age of 30 who have won titles in the past few years the whole idea that someone is beyond winning at age 35 is being seriously challenged. The MotoGP series is banking on younger riders, primarily those from the 250cc class, to carry their torch into the future and of the current MotoGP riders only six have previous world championships (Rossi, Edwards, Pedrosa, Melandri, Vermeulen, Capirossi). World Superbike, on the other hand, seems to have built a hugely competitive roster made up primarily of experienced riders of which ten have prior world championships (Corser, Bayliss, Biaggi, Iannuzzo, Foret, Gimbert, Fabrizio, Muggeridge, Alfonsi and Pitt). Clearly World Superbike holds the edge when it comes to bragging rights about their riders.
Now, I don't think that any current rider would pass over a decent MotoGP ride for a World Superbike ride but I do think that the World Superbike series has taken a huge step forward in the past year towards becoming the premier world class motorcycle road race series. Depending on what happens with riders and teams in '07 when MotoGP switches to the 800cc bikes (and costs again take a big jump) there is still a chance for World Superbikes to surpass MotoGP in power, popularity and perhaps even prestige. In the meantime, MotoGP needs to hope some of their young riders can finally beat Valentino Rossi so they will deserve the reputation afforded GP racers.
[image from the Max Biaggi web site.]