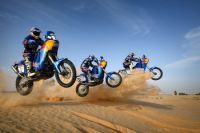 First, KTM and Red Bull both deserve some public acknowledgement for supporting a US team in this year's Dakar rally. With the sport growing in popularity overseas, it is great to see a single manufacturer work so hard to grow interest in the sport of rally racing here in the states. KTM has sponsored a US team including Scot Harden, Chris Blais and Kellon Walch to run the rally and all three have been running inside the top 20 for most of the rally, with Chris Blais inside the top ten.
Now for the bad news. This may not be the growth year that everyone was hoping for when the 2005 Dakar was first announced. Motorcycle road races like the Isle of Man, the Macau GP and the NorWest 200, have been highly criticized for the inherent danger involved and all of them have lost a lot of their prestige because of it. Now it looks like the Dakar Rally may suffer from the same image. Just four months ago, the amazing Richard Sainct was killed while racing for KTM in a rally in Egypt. Now there have been two deaths in the Dakar this past week with KTM rider Jose Manuel Perez and KTM rally superstar Fabrizio Meoni both suffering fatal accidents.
These devastating losses could spell disaster for a sport which has been steadily growing in popularity and which has helped fuel the growth of brands like KTM and BMW. It is possible that KTM will pull out of the sport of rally racing (BMW pulled out after a thorough trouncing by KTM in 2000) which would be akin to Ducati pulling out of World Superbike. The KTM marque is synonymous with rally racing and the Dakar wouldn't have a motorcycle class if it weren't for KTM. It is a symbiotic relationship in which both parties will undoubtedly suffer because of these fatal accidents.
Nonetheless, the real loss will be the lost talent of these riders, particularly the spectacular rally accomplishments of both Sainct and Meoni. These two men have virtually ruled motorcycle rally racing for nearly a decade and their rivalry helped grow the sport to a new level after Stéphane Peterhansel's domination in the nineties.
[image from Cycle News web site]