Author: site admin
Category: Bike Updates
Despite the best efforts of my work environment, I somehow remain an optimist. Though there may not be an overabundance of evidence to back up that claim, I think I have one thing in particular I can use to demonstrate that fact. You see, this weekend I will be mounting up new tires on two of the bikes in the garage.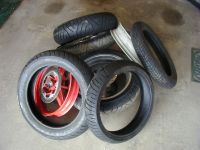 Its not that I haven't seen the weather reports that estimate multiple inches of snow this weekend. I am not deaf to the predictions of temperatures tonight in the single digits. I'm not so dim as to miss the asphalt covered with a fine dusting of ice melting gravel that makes keeping even a four wheeled vehicle upright a challenge. You see, I don't expect to ride in the next 48 hours anyway, so those items are not a deterrent. Its just that somewhere in the depths of my battered soul, there still smolders a small bit of eternal optimism and that softly glowing ember is what drives me to put fresh tires on bikes that will not be ridden this weekend. Instead I know that soon, perhaps even in the next few weeks, the sun will shine. The snow will melt. The gravel will be washed off the road. My helmet, which I washed last week, will finally dry out and no longer smell like a raunchy foot locker. Spring beckons just around the corner. The roads of Colorado will murmur the call of the curves. A little work now is not in vain, I will ride again!
Just one evening of knuckle busting, of freezing my fingers on 10 degree stainless steel tools and of straining my back as I do the gymnastics necessary to remove the bikes from the front end stand are all that is necessary to pay the final dues of winter. In return I shall receive the ticket to ride.
Any day now, these wheels will be turning…
[image from my photo collection.]