Author: site admin
Category: MotoGP
Brazilian Alex Barros almost won his home race today. The fact is, he did win the MotoGP race it just wasn't in his home country. The Brazilian Grand Prix, originally scheduled for this weekend, was dropped off the calendar this past winter due to contract negotiation problems and the Portugese Grand Prix at the Estoril circuit was added as a last minute substitution. I guess having a common language was close enough for Barros because he put on a riding lesson all weekend long by leading every practice session, taking pole position, turning the fastest lap and then winning the race.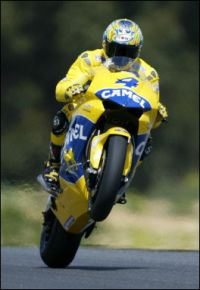 The real story of the race wasn't the racing it was things like the weather and rider injuries. Spitting rain all day long meant that the race was run under cloudy skies and early in the race the new "wet weather" rules kicked in allowing riders to pit for a backup bike (with different tires) if they chose. Despite some parts of the track becoming very slippery, all riders opted to stay out. The combination of slick tires, tricky track layout and misting rain meant lots of riders visited the gravel trap. The most dramatic instance being race leader and championship contender Sete Gibernau who threw his bike into the turn 1 kitty liter on the 17th lap. Also taking spills were Hopkins, Bayliss and Edwards. At the finish line it was Barros ahead of Rossi and Biaggi. This puts Rossi into the series points lead, followed by Barros, Melandri and Biaggi.
Added to the injured list this weekend were Honda's Makoto Tamada, Troy Bayliss also on a Honda and Yamaha's Tony Elias. Tamada crashed during qualifying and is thought to have broken his wrist. As a result, he missed the race altogether. The scaphoid, the same bone broken by Kawasaki's Alex Hoffman earlier in the week, is a very slow bone to heal since there is very little blood flow in that part of the wrist. The normal treatment is six weeks in a cast or inserting a metal pin but I doubt a top star like Tamada will wait that long. An improperly healed scaphoid can basically end a rider's career…just look at the wrist injuries that plagued Freddie Spencer during his career, so I hope the talented Konica Minolta rider doesn't rush back too quickly. Bayliss' injury wasn't as severe but that is only because the Australian rider apparently rubbed his lucky rabbit's foot the morning of qualifying. Troy had a *huge* highside that slammed him down on his head and shoulder. Aside from a sore neck, he is reported to be uninjured from the accident. He also crashed, apparently uninjured, in the race meaning it may be time to buy a new luck token because his current one is surely empty now. The final injury news was GP rookie Tony Elias who also crashed twice during qualifying. The second crash resulted in an injured knee. Elias rode in the race and finished a respectable 14th.
At this point, its easier to talk about who isn't injured that to talk about who is. Barros, Rossi, Biaggi and Melandri are all healthy…hmmm…they are also the top four finishers. Edwards (sixth today), Nakano (eighth), Xaus (tenth), Roberts Jr (twelfth) and Hopkins (DNF) round out the list of healthy factory riders. WCM's Battaini and Ellison and D'antin's Rolfo are also unscathed so far this season. Some of these are a surprise, given that Melandri, Xaus, Hopkins and Roberts have all spent a decent amount of time testing gravel traps so far this season. Toby Hirst's morning warm-up article at Superbikeplanet.com pointed out the fascinating statistic that this weekend marked the 14th crash so far this year for Ruben Xaus. Xaus may end up costing Yamaha more money than Rossi's salary! Adding in teammate Elias' two crashes this weekend and Edward's race crash means there is probably a shortage of M1 bodywork back in Japan right now.
Looking beyond the MotoGP to the 250GPs makes for a huge contrast. Where the bigger bikes were fairly processional, only interrupted by the occasional crash, the 250 race was a barn burner. It looked more like a 125 race than what the past season has shown from the quarter liter two strokes. From the green flag, Porto took off and built an impressive lead in just a few laps. The following gaggle of riders was incredible to watch with five or six riders all mixed up in a dog fight. Pedrosa, Stoner, De Punier, De Angelis, Dovisioso, Aoyama and Takahashi were all over one another while Porto continued to pull away. Around half race distance, Porto apparently started having trouble since his lap times fell and he was gradually caught and passed by the trailing pack. The top five (Pedrosa, Dovisioso, Stoner, De Puniet and De Angelis) pulled a gap on the following two Japanese riders and then with just a couple of laps to go Stoner, Dovisioso and De Puniet pulled a slight break. In the end, Stoner won his first 250 Grand Prix, Dovisioso earned his first 250 podium with a second place finish and De Puniet bounced back from his crash at Jerez to earn some valuable points. In the championship, Pedrosa leads Porto and De Angelis.
I'd like to comment on two things. First, the new flag-to-flag rule. This new rule means that a race where it starts to rain, after starting the race in dry conditions, will not be stopped. Instead, a flag will be shown that will allow riders to pit and change to a backup bike that is in "wet weather" setup. This pit stop will take somewhere between 30 seconds to a minute (and interestingly enough will void the FIM's own 22 liter fuel limitation rule). The idea for this rule is to keep the TV cameras rolling and to prevent "two part" races which, when scored on cumulative time, mean the first person across the finish line isn't necessarily the winner. This weekend's weather was dicey and made for variable track conditions. While no one was injured due to their crash today, I think this race does show that riders will not pull into the pits unless weather conditions are so bad that *everyone* is going to pit. It is today's conditions that offer the worst case scenario where the leaders stay out on the wrong tires in sketchy conditions because pitting may compromise their result. Instead, they are compromising their safety. I think the FIM knows how much scrutiny they will be under because of this new ruling and they certainly dodged the bullet today. Still, I hope this ruling will be re-thought before something more serious occurs.
Second, I want to point out one of the traits of a champion…they know how to take what they can get. In today's MotoGP race, both Gibernau and Barros had Rossi beaten. Rather than push and risk crashing while trying to stay with obviously faster riders/bikes, Rossi sat back and rode his own race. After Sete crashed, Vale was gifted second place and those points put him atop the championship points table. Likewise, in the 250 race, Pedrosa didn't push on the damp track to beat the youngsters like Stoner and Dovisioso. He finished forth in the race but those points were enough to put him on top in the 250 points. Both riders rode a smart race, knowing who their championship rivals are likely to be and only doing what is necessary to stay ahead of those riders. Even when a champion has an off day, its still often enough to further their cause. This is an important lesson for more hot headed riders to learn. Last year Barros and Stoner both crashed while trying to win races, today they both won. Perhaps it is a lesson they have both taken to heart.
[image from Yahoo Sports France web site.]